Accessibility means much more than venue access ramps. Use this accessible conference guide to design an event that's open to everyone. 
"Having organised a couple of conferences, I don't think anyone's ever said to me, 'Here's a book on how to make your conference accessible.'"
Professor of Gender and Employment Studies Dr. Kate Sang has carried out research into the experiences of academics with disabilities. What she found speaks volumes about the lack of accessibility at conferences. "People often assume if a venue has a ramp in it then it's accessible. But conferences are more than the building that they're in: they're how they are designed."
For Séan Richardson, a first-year PhD student, accessible conference design is about enabling people to attend no matter their requirements. "Defining accessibility is not easy and it's not neat. There are so many kinds of access issues. But there are certain things you can do that will generally make your conference more accessible."  
Why accessible conference design matters
Kate has presented her research at several conferences and wrote a piece on disability at academic conferences for The Guardian. She's had a lot of interest from conference organisers looking to do better. Because to not make academic and research conferences accessible has clear ramifications.
Not considering accessible conference design means you're limiting the number of delegates who can attend. You might also be opening yourself up to bad press if delegates who want to take part in your conference have difficulty doing so. "The last thing you want is for people going on social media to say, 'I wanted to go to this conference but I can't physically get into the building…'" she says. 
"The last thing you want is for people going on social media to say, 'I wanted to go to this conference but I can't physically get into the building...'" Click To Tweet
And by inadvertently preventing certain scholars attendance, you're reducing the potential for academic debate. In one of the conferences at which Kate presented her research, she did so in a room that wasn't accessible. When access issues are an afterthought, whose voices are you excluding from the room? 
So, how should you and your organising committee go about designing a conference that works for the widest possible group?
Here are 10 ways to design a more accessible conference.
1. Embed conference accessibility into your planning process
"There's no deliberate effort on the part of conference organisers to exclude," says Kate. The problem seems to lie in the fact that delegates' accessibility needs aren't embedded into the conference planning process. "My experience of organising conferences is that I'll ask, 'Is the venue accessible?' And they'll say, 'Yes, there's a wheelchair ramp.' And that's the end of the conversation."
Include someone on your committee whose job it is to embed accessibility into the decision-making process, right from the start.  And if you don't have a designated committee member, consider implementing a policy that requires your team to go through an accessible conference checklist for any new decisions they make. Taking a proactive approach like this can help to identify and tackle potential issues long before they have the chance to impact the smooth running or reputation of your conference.
2. Choose a conference venue that's fully accessible
There's lots to consider when choosing your conference venue, but location and in-venue accessibility should always be top of your list.
And accessibility goes beyond whether there's a ramp to get into the building. 
For example, are the networking events in spaces where there's no seating? "While this setup is designed to get people talking, someone who's got chronic fatigue cannot stand for a sustained length of time," says Kate. Are the toilets a long way from the conference rooms? For people with health conditions like Crohn's disease, a long walk to the bathroom can be extremely difficult. 
Consider the accessibility of the whole building, not just the main entrance.
And even if you've booked the same venue before, doing a site visit is important. Renovations, changes to the area around the property, and new management can all have an unexpected impact on accessibility. Not sure how clued-in you'll be to accessibility issues? Bring someone along from a local disability organisation who'll notice things that you might not.
3. Reduce or waive some registration fees
Your potential attendees can face barriers to conference accessibility that go beyond physical impairments. 
Both early-career researchers and researchers from the Global South often have difficulty funding trips to attend conferences. So consider the specific accessibility needs of both when designing your event. 
Consider things like volunteering stints in lieu of fees for early-career researchers.  And reduce registration fees for delegates from developing countries. These two actions alone can go a long way towards making your conference more accessible. 
Does your conference have bursaries? If not, consider offering some to help fund researchers who otherwise couldn't attend. 
4. Make your conference website accessible
A fully accessible conference should take factors far beyond its physical spaces into consideration. It's a pretty safe bet to assume your attendees will be engaging with your conference and your committee through your website and perhaps a mobile app.
Check that these are digitally accessible. For example, make them screen-reader compatible for the visually impaired and add closed captioning on videos for attendees with hearing impairments.
If you're interested in learning more about web accessibility, the National Disability Authority of Ireland has advice and simple techniques to help answer key questions. Or take a look at UC Berkeley's Top 10 Tips for Making Your Website Accessible.
5. Consider transport options in advance
When Kate was doing her research, she spoke with delegates who had found themselves stuck at airports with no information on accessible transport routes to the accommodation or conference venue. You don't want to leave your delegates in a tricky situation like this. 
Make sure your conference website has information about accessible transport options, for example: a wheelchair-accessible taxi company.
And consider options like having an on-call minibus from delegates' accommodation to the venue. This will allow delegates to easily leave the conference and return if they need to take a rest.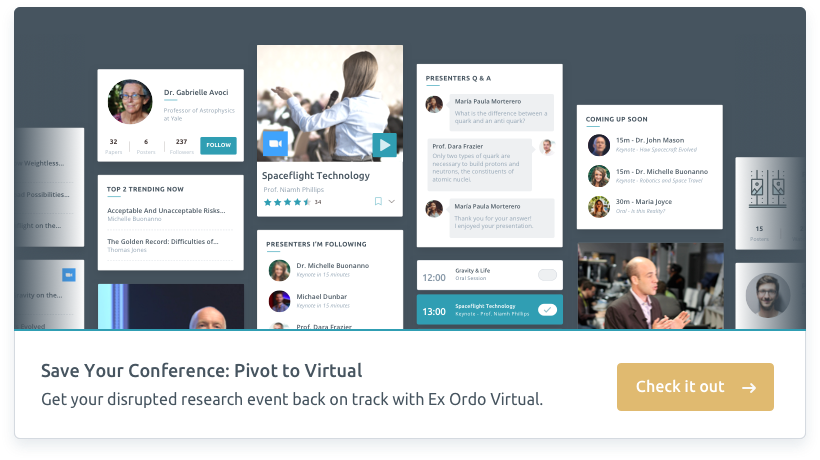 6. Give delegates quiet spaces and access breaks
"Designating a quiet space for people to break away from the conference is a common practice outside of academia," says Séan, "and it can be implemented quite easily in academic spaces."
A quiet room can be helpful for nursing mothers, delegates with physical or mental health issues, and people who need prayer space. Or just anyone who finds networking or big groups a bit overwhelming.
Beyond physical spaces, scheduling also plays a big role in accessible conference design. Are you asking delegates to go from 8am to 7pm with no major rest breaks? "You wouldn't do that in a workplace," says Kate. One of her interviewees had fallen asleep on a table at a conference; "Fatigue is a side effect of her condition and there was no break for her to go and get some fresh air."
Don't force people to choose between getting downtime, fresh air, or refreshments. Add plenty of breaks throughout the day so they can do comfortably all three.
7. Cater to restricted diets
Lack of accessibility also hinders the benefits delegates get from attending your event. For example, not providing food that works for everyone means some delegates will be forced to skip the meal. 
"If you're a delegate who's not able to interact with people at a conference, how do you then build new research teams to apply for funding?" asks Kate. "So as well as the personal implications for the researchers who are excluded from discussions, there are long-term implications for research itself."
The Americans with Disabilities Act has been around for about 30 years. Recently, it was changed to include issues like food allergies. But it's important to recognise that restrictions on diet go beyond allergy considerations. So ensure any food caters to a wide range of diets. "When I organise conferences I organise them 80% vegetarian, 20% vegan, with a certain proportion gluten free. Very few people will complain that there are no meat sandwiches," says Kate.
8. Design social and cultural events for everyone
"I went to a conference in Athens once where the conference dinner was at the top of a mountain," says Kate. "The footpath up to it must have been 2,000 years old. The disabled delegates couldn't attend, and even a lot of the able-bodied people said they felt unsafe. The organisers wanted to give us a fantastic night with a beautiful view, but a social event like that means you're penalising a certain group."
An accessible conference needs social events that all your delegates can attend. So include activities that are suitable for delegates with mobility issues and some events that are alcohol-free.
It can even be valuable to consider designing your events in unique ways inspired by inclusion and diversity. For example,  The Sensory Dinner in the Dark takes an interesting approach and helps attendees see things in a different light.
9. Implement a buddy system
"Conferences are not lectures, they're a chance to meet and network," says Séan. "But if you don't know anyone, they can just become a listening experience."
"Conferences are not lectures, they're a chance to meet and network. But if you don't know anyone, they can just become a listening experience."
Click To Tweet
Consider setting up a conference buddy system that pairs up delegates who are attending alone. They're especially useful for people who have anxiety disorders, attendees who are early-career researchers, or anyone who finds networking with strangers difficult.  
As well as a buddy system, doing simple things like creating pre-event social media posts that are designed to start conversations can make networking easier for everyone.
"Even an icebreaker event can help," says Séan, "as long as it isn't: 'Tell us a fun fact about yourself…'" 
10. Provide onsite guidance
As the conference approaches and bigger tasks get checked off your list, don't forget about the little details. It's important to provide resources that help delegates take full advantage of your venue and accessible conference design. 
Design signage for everyone. Post information like the best wheelchair routes to sessions and the ingredients for any meals and snacks you provide. 
Consider having a hub for this information on your conference website as well. Basic resources like this help reassure delegates that their needs are being considered. And it prevents them from having to double-check dietary restrictions or ask for special directions.
Benefits of accessible conferences
The benefits of accessibility extend beyond the people who require adjustments. The 2018 Peer Review Week, for example, recognised the strength that more diverse voices bring to the peer-review process. And the same goes for your conference. More thoughtful programme planning, quiet spaces to reflect, consideration of people's differences, and a broader pool of delegates boosts the experience – and the level of debate – for everyone.
More thoughtful programme planning, quiet spaces to reflect, and consideration of people's differences boosts the experience – and the level of debate – for everyone at your event.
Click To Tweet
"Delegates should just be able to go to the conference and know that they'll be able to access the rooms and they'll have food they can eat and somewhere they can sit. Then you've saved yourself a whole lot of hassle," says Kate.
As a conference organiser, you can't anticipate all the requirements your delegates may have. But you can try to think ahead and design your conference so it's accessible to all.
Wheelchair ramps alone aren't enough.
Further reading on accessibility at conferences
Ideas on Fire have an exhaustive list of issues to consider around accessibility for your next conference.
SIGACCESS highlights the valuable role of an 'accessibility chair' along with an extensive list of other things to bear in mind.