Organising a poster session at a conference? Use these ideas to make your event a beneficial experience for all.
The basic concept for poster sessions may have originated in Europe in the 1900s, where the diverse range of languages created the desire for conference delegates to absorb information at their own pace. While these sessions likely began as innovative, focused gatherings, they have evolved into a large and expected feature at most scientific conferences. Attending delegates expect to gain insight into their field and network with other researchers. And poster presenters (who are often early-career researchers) hope to promote their research and gain feedback on it. 
But the resources available to researchers have changed a lot in the past 100 years. So, how can you plan an engaging poster session that belongs in the 21st century?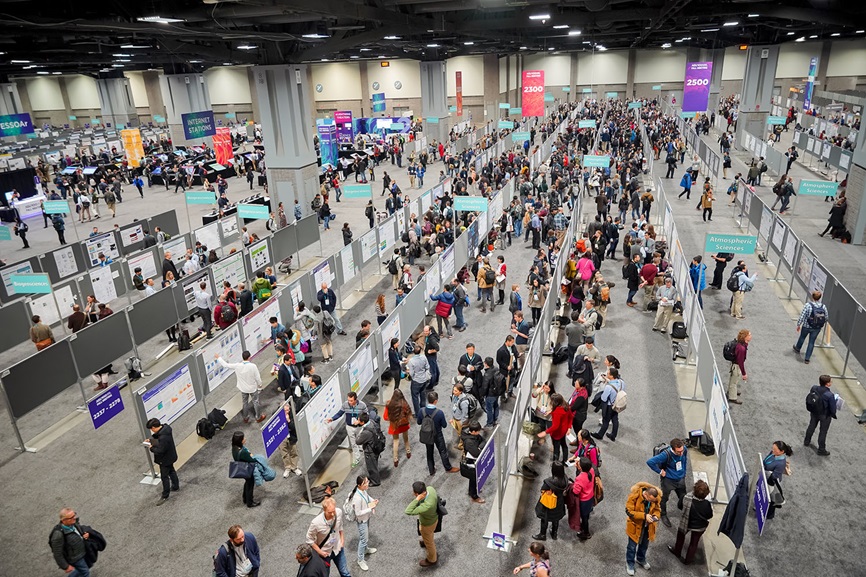 Poster sessions have turned into massive events with seemingly endless rows of material for delegates to scan through (Source: AGU).
Ditch the boring poster templates
Arguably, the only people who benefit from old-fashioned, required templates at conferences are awards judges and those presenters who leave creating their posters until the very last minute. The rest of your attendees are hindered by this approach. Presenters lose their ability to be creative with layout and content, while interested viewers are bombarded by rows of identical posters. So ditch the boring templates, and if you're concerned about presenters making a mess of their posters (or if you have required sections for a particular award), send them poster design tips instead.
If you are dead-set on requesting a specific design, at least make it beneficial to those who will engage with it. Presenters want to get their work noticed and should be using their poster like an advertisement for attendees to come up and speak to them. Viewers want to be able to scan posters as they walk past, gain insights, and decide which bits of research they'd like to learn more about. How can you design your session to help them meet these goals? Well, you could follow the lead of Mike Morrison, a student from the University of Michigan. 
Mike provided an innovative take on the dusty old research poster template, and the video he created about his theory has prompted other researchers to think about how to reinvent the wheel. One conference even adopted his format as a required template for posters.
Mike displays his poster layout (Source: NPR) 
Consider if e-posters are the right choice for your conference
At one point in the past, an e-poster revolution was expected to sweep paper posters away. But the revolution never quite materialised. While e-posters are seen much more frequently now than when they emerged in the 90s, it doesn't mean they're always the right choice for your conference. Consider the following:
How many poster submissions do you have? The size of your poster session impacts the feasibility of using e-posters. If every presenter will want their own space to stand and discuss their work with attendees, the cost and effort of using e-posters is unlikely to be worth the benefits for a large session. If you're holding smaller, focused sessions, with presenters that rotate as the day progresses, e-posters can be an efficient way to reduce set-up times between sessions.
Do your poster presenters have far to travel? For presenters, lugging a bulky poster board or transporting their paper poster without ruining it can be a big concern. Consider how far your presenters will be travelling and the transport issues they face. You can provide e-poster screens to make it easier on international delegates. If this is too complicated or out-of-scope for your event budget, you can also organise a sponsorship agreement with a local printing company and offer to print posters for people on-site (or deliver them on the day).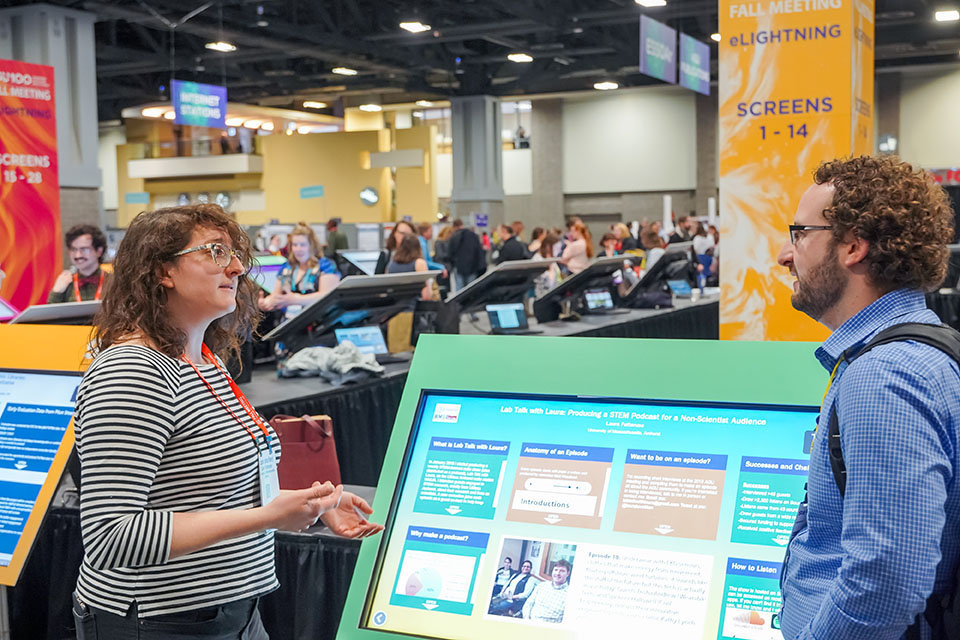 Example of an interactive e-poster session displayed on touch-screen (Source: AGU).
How will presenters and attendees want to interact with the posters? Using e-posters can offer presenters a wider variety of formatting options (like slideshow, video, or even expandable "more info" boxes). This functionality allows for unique poster presentations and can make the experience more engaging for attendees as well. Additionally, if you have the budget, providing a database of posters on a few "self-guided" touch screens can allow attendees to browse through posters and zoom in on areas of interest at their own pace. It's also a handy space-saving technique if you don't have room for a massive poster session in your venue.
Are you attempting to be a more sustainable conference? E-posters can be a good contributor to sustainability goals as they avoid creating heaps of paper waste.
E-posters are much more popular now, but many organisers choose to still offer physical printed poster sessions (while also making those posters available to access online). Or, like in Mike's poster, researchers are including QR codes that allow others to view the poster along with more detailed information on their phones. There are multiple ways to take advantage of e-poster technology to improve your poster session experience. Just make sure you consider why and how you'll use them before you invest the money and time required to pull it off.
Use an online system to collect and review poster submissions
Beyond providing the opportunity for e-posters, technology has revolutionised the way organisers are able to manage their conference submission and selection process. If you're organising a large conference with hundreds of submissions (for both posters and presentations), it's easy to get overwhelmed. Online abstract management software can provide an efficient way to stay on track. If you're already using an online system to manage submissions for oral or panel presentations, you can use the same system to collect and review poster submissions. Using a uniform system lightens the workload for your organising team and makes the experience more friendly for delegates submitting in multiple formats.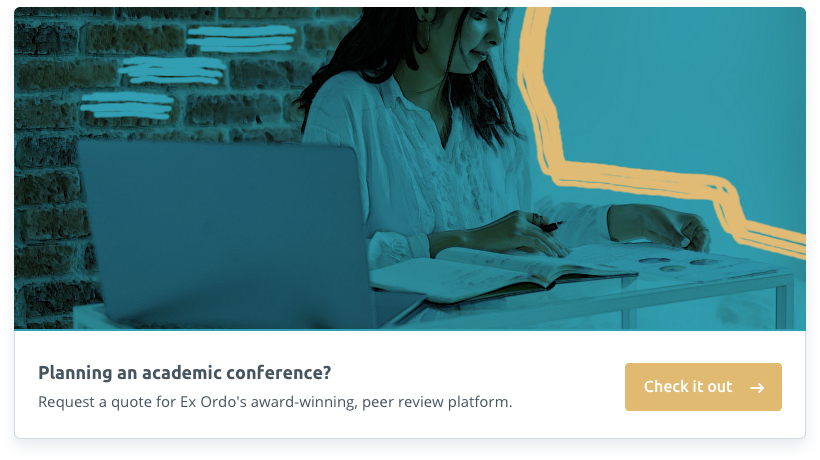 Drive discussion in-person and online
A primary goal for presenters and delegates attending poster sessions is the potential to build a network and have valuable discussions surrounding their area of research. As an organiser, you can create and promote platforms that help your attendees achieve these goals. One way you can do this is by holding small, focused discussion groups or workshops after each poster session. If you organise your posters by topic, you can easily sort people into relevant groups for this type of activity. A group like this can provide a great way for people to continue relevant conversations from earlier or for them to meet new people in their area that they might have missed while looking around the poster reception.
Another way to promote discussion and create a more casual atmosphere is to include topic-specific pop-up poster sessions in various locations. Having a smaller number of posters in one area reduces the likelihood of your attendees feeling overwhelmed. And having a focused topic increases the likelihood that your presenters and viewers engage with the research that is most relevant to them. Providing small drink and snack stations by these pop-up sessions during key times can also attract viewers, create a more casual vibe, and encourage people to hang around and chat longer.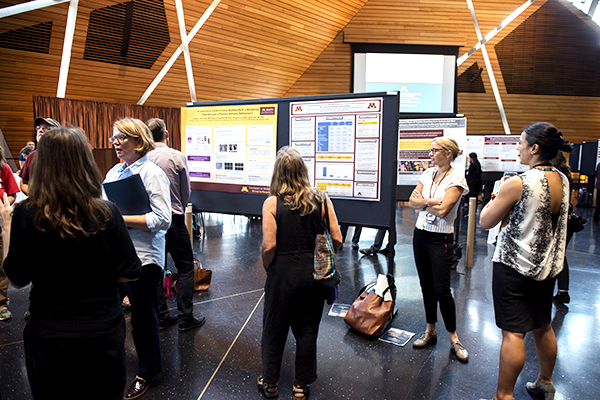 A small poster session with a casual vibe can lead to more discussion (Image Source: CTSI).
Finally, the discussion doesn't have to occur only in person. Regardless of your poster session set-up, you can create a virtual poster session using social media or your conference website. Encourage interested delegates to contribute to a digital poster session using specific a Twitter hashtag, and allow follow-up tweets about their work so that people can browse and discuss high-interest entries ahead of time. After the physical poster session, encourage attendees to continue their discussions online.
Help promote good poster session etiquette
"What happens in the poster session, stays in the poster session." 
When it comes to scientific posters, online exposure isn't always a good thing. For various reasons, some presenters may not be comfortable with their work being shared online. So if you're planning a poster session, it's good practice to hand out badges that presenters can tack above their posters to indicate their preferences. At the very least, include options for "no social media" and "no photos." Then, if you want to cater to both sides, you can add badges for presenters who want to encourage photos or social media sharing of their work. You could even suggest that they include their Twitter handle alongside the "social media friendly" badge.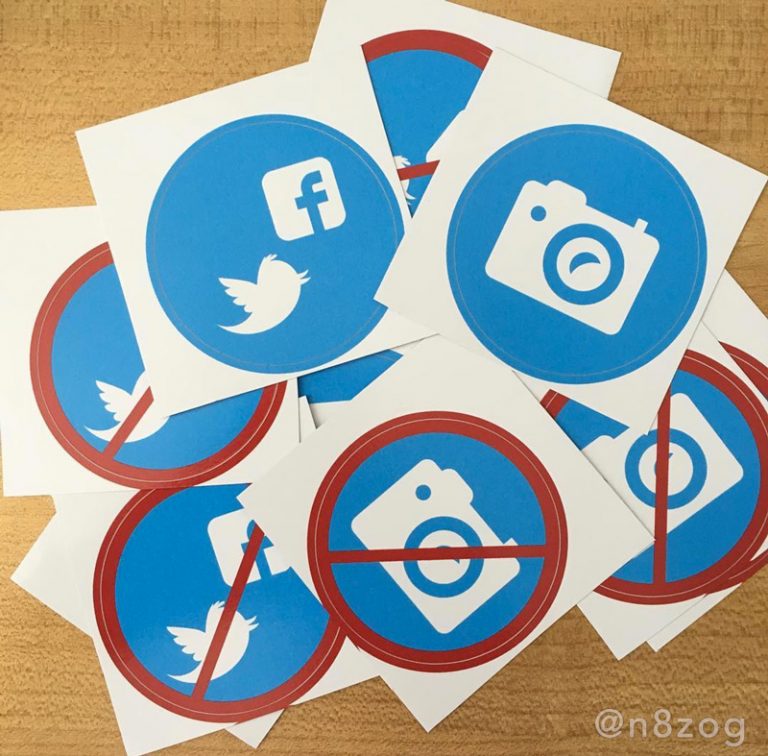 Social media badges can encourage better etiquette in your poster session (Source: Colin Purrington)
Although they should be fairly intuitive, make sure to explain the meaning of these badges in any poster session rules and on signs in clear view of people entering the room. On that note, providing a general list of attendee and presenter tips for poster sessions is never a bad idea. Promoting etiquette and respect at the conference is a valuable part of your job, and you can encourage attendees to help you with this.
Let delegates pick a winning poster
One effective way to foster engagement and encourage creativity in your poster session is to offer a range of "people's choice" awards, selected by your delegates. Use an online voting system and give attendees an easy way to pick their favourite posters. Then, offer a small reward for the winners of each category (or just bragging rights). Even if they don't receive any large grants or awards, there are often gems among the poster presenters that could benefit from a bit of recognition. An award-winning poster should be like an ad to talk to the presenter, and to convince people the related research is worthy of a closer look. This kind of competition can encourage presenters to think beyond their perspective on the research they've done, and consider their audience more carefully. 
For additional tips on organising a poster session…
Colin Purrington has a great list of things to consider in this post on his blog.
Stress the small details with this logistical list to use when planning your poster session.