Collecting conference feedback is a vital part of planning any event. So here's a checklist for collecting responses that are valuable, honest and insightful.
Conference planning is a whirlwind at the best of times. With hundreds of tasks and competing priorities, it's easy for an unsexy job like collecting conference feedback to slip down your list and only resurface once the post-event dust has settled. 
At the start, it can be tempting to focus on the big-name speakers and key social events. They're the most interesting parts to plan and will generate the most buzz for registrations to your conference. And in the days leading up to and during your event, keeping the logistics running smoothly and checking off all the last-minute boxes can easily take all your focus.
However, if you ignore the important task of designing your feedback strategy, it's easy to make mistakes that devalue your data and leave you with few actionable insights for next year's plans.
Instead, use this list to collect the sort of conference feedback that you can put to work.
1. Collect event feedback before the conference has finished
The easiest mistake to make when conference planning is to collect feedback after (and only after) the conference is long over. While a post-event survey is an important feedback tool, some of the most valuable feedback you can collect comes from attendees' views of the event as they're experiencing it, and even their expectations of your event before they've attended it. 
It's important to collect conference feedback during three critical stages (pre-event, mid-event and post-event) to help you understand the experience of your attendees on a deeper level. By surveying registered delegates beforehand, you can understand the events they are looking forward to the most and focus energy on these to ensure you meet their expectations. If you collect information during the conference, you'll gain more relevant responses as the experience is fresh in people's heads. You can even work "feedback time" into the event schedule, which will increase the response rates and engagement with your survey questions.
2. Give attendees an incentive to provide feedback on your event
As a conference planner, the value you place on improving your event can make it easy to forget that very few people find it inherently "satisfying" to provide detailed feedback on their experiences. Unless you ask for it, the majority of the feedback you are likely to get will come from angry or upset delegates who want their frustrations to be heard. Just as setting aside time in the conference schedule can improve response rates across the board, providing an incentive can motivate attendees to provide feedback. 
One way to do this is to collect conference feedback as part of a prize draw. At the end of each meal, ask people to write down their favourite part of the morning or afternoon to have their name submitted in the draw. 
If you're collecting feedback after the conference, consider offering discounts to next year's event as a reward to encourage reviews from more than just upset delegates.
3. Take advantage of conference management tech
It can be hard to justify spending a large amount of time carrying out an event feedback strategy when you've got so many other things on your plate. However, if you're using the right conference management software, the time it takes to finish your feedback task checklist can be significantly reduced. For example, you can use your software's communication hub to send out feedback requests at any stage to specific contact lists via email.

Use the communication hub in Ex Ordo to email lists of registered delegates, reviewers, organisers, or all your contacts in one go.
You can also take advantage of many mobile app features to manage your mid-conference feedback process. If you have a conference app, you can use it for something like the prize draw example from earlier and encourage downloads of the app to participate. Apps also give you the opportunity to gamify the experience, like giving attendees points for submitting feedback as part of a larger competition. Finally, push notifications sent directly to people's phones can increase the likelihood of people responding to your feedback requests.
Regardless of the tech you use, it is important to consider the timing of each. For example, while a mobile app is a valuable tool during your conference, very few delegates will look at the app after the event is over. So, if you're sending a feedback survey a week after, email is the way to go.
4. Don't use a generic event feedback template
Events come in all shapes and sizes. And academic conferences and association meetings have a unique structure that sets them apart from commercial or corporate events. If you've waited until the last minute to plan your feedback collection strategy, it can be tempting to download a generic conference feedback template and call it a day. While this might save you time, it will result in very few actionable insights compared to a tailored strategy. 
Instead, check out this survey guide, which includes a list of good questions to ask attendees at each feedback collection stage. Pull a selection of these and adapt them or come up with your own questions that are relevant to your event. It may even be valuable for you to design more than one survey layout to suit the varied groups attending your conference (i.e. delegates vs. presenters vs. volunteers). Consider the type of people who will be filling out each survey and what you plan on using their feedback for.
5. Limit the questions in your conference feedback survey
On the topic of creating your own survey, it's important to avoid getting carried away and including every single question you can think of. Surveys that are too long can exhaust participants, which often results in inaccurate data or incomplete responses. Attendees who fill out these surveys are doing you a favour, so be considerate of their time and the mental effort required.
Consider which questions will result in useful data for planning next year's conference and which are most important to you. Perhaps one of your feedback goals is to measure the success of a particular social event or responses to a change in venue. Maybe you featured a controversial speaker and want to know what delegates thought. Make sure your questions tie into actionable insights. If the feedback you receive won't inform future actions (or non-actions), there is little point in collecting it.
And, if you ask only one question, use it to measure your Net Promoter Score (NPS). 
6. Capture feedback from your organising committee
An often overlooked source for conference feedback exists among the members of the planning committee. After the conference wraps-up, you should consider collecting anonymous feedback from your committee to bring to a debrief meeting. This will allow members to vent frustrations they had during the process, discuss key lessons they learned, and suggest improvements for coming years. The layout of this survey, and the discussion following it, should look something like this. 
Before the meeting, ask:
1. What went well? What areas could be improved?
2. What did people spend the most time/money on? How might you change strategies to improve the event ROI for next year?
3. Did the event support the mission and goals of the organisation or society?
During the debrief:
4. Analyse the attendance and attempt to understand patterns that emerge. Are there any surprises here? If so, consider why.
5. Categorise your key metrics and goals for next year.
6. Agree on key strategies for next year: target audience (the same or different), the needs of your organisational team, how you plan to get feedback.
7. Celebrate the positive conference feedback
During debriefing meetings and while reading feedback in general, it can be easy to get bogged down in the negative. While it's important to consider what should be changed for future events, don't forget to celebrate your conference-planning wins. If you receive great feedback, pass it on to your team as a motivational boost. Create a space to celebrate your milestones and positive responses (whether it's a team group chat or 5 mins at the end of planning meetings). 
Conference feedback can be harsh at times. So, balance the negative effect of this by reframing your mindset from "What do people think we sucked at this year?" to  "What does this mean for our strategy in coming years?" 
8. Put your event feedback results to use
The volume of conference feedback data that's been collected and put on a shelf somewhere to collect dust must be enormous. If you collect data, but then do nothing with it, you've wasted valuable time and effort. Consider how to improve your conference using event data. Look at the data you have and create an event story to figure out what info is the most important for you to understand. (i.e. Why is churn so high? How can you encourage more people to attend? Why did no one attend certain social events?) Then, take those actionable insights and apply them to real strategic changes in the coming years. 
The Advantage Conference use positive feedback as social proof
Beyond making strategic changes, consider unique ways you can use the feedback provided to promote your conference or improve your organisation's website. Take a look at how the Advantage Conference used feedback to provide social proof and incentive to attend.
9. Don't forget to say "thanks"
One of the easiest, and most genuine ways to show participants you appreciate their efforts is to say "thanks." As simple as this gesture may seem, it's often overlooked. 
Depending on your resources and goals, you can express gratitude in a number of ways. At the very minimum, you should include a brief "thank you" message after participants submit their online survey. Or if you're asking questions using a push notification feature in your event app, have the message pop-up in the app afterwards. If you want to take it a step further, you can send personalised follow-up emails to engage attendees who gave rave reviews, and apology/solution emails to those who identified issues they faced during your event. 
Another useful strategy to encourage additional conference feedback is to send out a "Thank you to everyone who's responded so far…" email, with examples of how you'll be using suggestions to improve certain aspects of future events. If people know their feedback is being heard and acted upon, they are much more likely to fill out your survey and put effort into their responses.
More ideas to improve your conference feedback collection strategy
If you've checked off the basics above and would like to add a bit of creativity to your conference feedback collection process, consider some of these ideas:
Using

emoji button stations

to measure satisfaction throughout the event (i.e. as people are exiting sessions or during food and other networking times). These provide a quick and easy way for delegates to provide feedback that helps you measure sentiment.

Add photos and videos to surveys, and include pictures of speakers you may be asking about. This helps frame your questions and attendees will be able to keep speakers straight after a long day of presentations and networking.

Keep survey designs on-brand with your conference. The tools you use to collect feedback are also a touchpoint to promote your brand. And, if you're collecting feedback after the conference, it is a valuable platform to remind attendees of the message you hoped to deliver.
If you're planning an academic or association conference and are short on tools to collect valuable data and feedback, take a peek at Ex Ordo: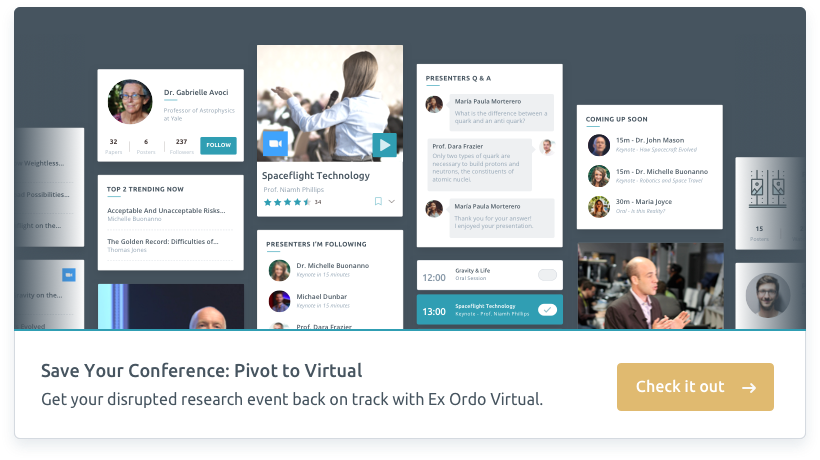 More resources on collecting conference feedback
This article gives some useful advice, especially around how to frame your questions for delegates. And this one has useful tips to help you nail writing your post-event survey.