Issuing your call for papers (aka call for abstracts) is probably the first interaction you'll have with your potential authors and delegates. And first impressions count. To make sure your call for papers hits its mark, it needs to be catchy, informative, and scannable.
When your call for papers lands in the already overflowing inbox of a busy researcher or academic, it'll be competing with dozens of other emails, all vying for the reader's attention. It'll probably take just a split-second for them to decide whether your message is worth opening or not.
So, how do you cut through the clutter? How do you get potential authors and delegates to actually open your email, engage with it, and follow your call to submit their work?
Below, we'll break down the process of ensuring your message doesn't get ignored, or worse, land up in the spam folder. We'll show you how to measure the success of your email campaign. And we'll give you some ideas on how to promote your call for papers using channels other than email, to reach a wider audience.
Let's get started.
Photo by Miguel Á. Padriñán
Decide on the goals of your email campaign
Like any email marketing campaign, your goals will inform the metrics you use to track performance. For a typical call for papers email campaign, we suggest these three main goals/metrics:
Increase your open rate.

Your open rate means the number of people who open your email. If people aren't opening it, they're definitely not going to be submitting, which means you've stalled before you've even started.

Increase your click-through-rate (CTR).

Your CTR is the number of people who click one or more links in your email. The whole point of issuing your call for papers is to get people to take action, so your CTR is a key metric.

Convert contacts into authors.

Any successful conference needs a varied programme of fresh content. You need to convince potential authors and delegates to submit their papers by articulating the purpose and value of your event.
Now let's look at practical steps you can take to achieve each goal.
1. Increase your open rate by…
a) Giving your email a strong subject line
The first thing people will see in their inbox is your subject line. It needs to be catchy, informative, and to-the-point.
Generic subject lines like 'Call for abstracts' can get lost in the crowd, and may even get caught in spam folders. Instead, your subject line should contain the gist of your email content and your call-to-action (CTA).
It needs to be relevant and super succinct. If it's too long, it'll get cut off, and your message won't be as effective. Ideally, use the shortened name of your conference.
'Last Call: Submit to DSEC2019 this week' is an example of what a strong subject line looks like
b) Managing your list of recipients
The last thing you will want to be to a potential delegate is spam. Imagine a salesperson calling you up repeatedly nagging you to buy. You wouldn't be too impressed. The same goes for emails. Emailing your call for papers to a vast number of people who don't actually want to hear from you may damage the reputation of your conference. It could also result in the recipients marking your messages as spam, so all your future emails may not reach them.
Build your list wisely so you don't disrupt the metrics you have in place for your call for papers email campaign. You can start with the list of authors and delegates who participated in your conference in the past. This will ensure that the list you're currently using only contains people who want to hear from you. 
A tool like Mailchimp is a tried-and-tested option to help you manage your list of subscribers (the free plan includes up to 500 contacts and 1,000 sends per month). It'll make sure your emails aren't marked as spam, and you can have different lists and send personalised emails. Plus, you'll be able to easily track open rates and CTR and other stats to improve your campaign.
Don't forget the 'consent to communicate' rule. The EU's General Data Protection Regulation (GDPR) requires you to include an unsubscribe link in every message you send to your mailing list. If a potential author or delegate from the EU opts out of your mailing list and you continue sending them unsolicited messages, your conference could be fined.
2. Increase your click-through-rate by…
a) Making your content easy to read & find info
While attention spans may be getting shorter, content that is highly relevant or entertaining will always hold its audience. To capture the attention of your reader, the info you include in your call for papers email should immediately make it clear what your conference is about, and who is organising it. 
If you have a rough idea about your conference schedule, or you have plans for invited speakers, it would be well worth mentioning these as any kind of special events (even social events), or guest lectures, could help attract potential authors and delegates. If your conference is partnered with an academic journal, or sponsored by an affiliate, these are all things you could consider including, too.
Because your message is competing for people's dwindling attention, it needs to do its work fast, which means a design that's easily scannable. Format your text into headings, subheadings, and paragraphs. Add some colours and spacing. Remember, white space is your friend. 
Some abstract management software gives conference organisers the ability to send a call for papers email to their entire contact list. Just make sure that the software you're using has formatting features like Headings, bold, italics, etc.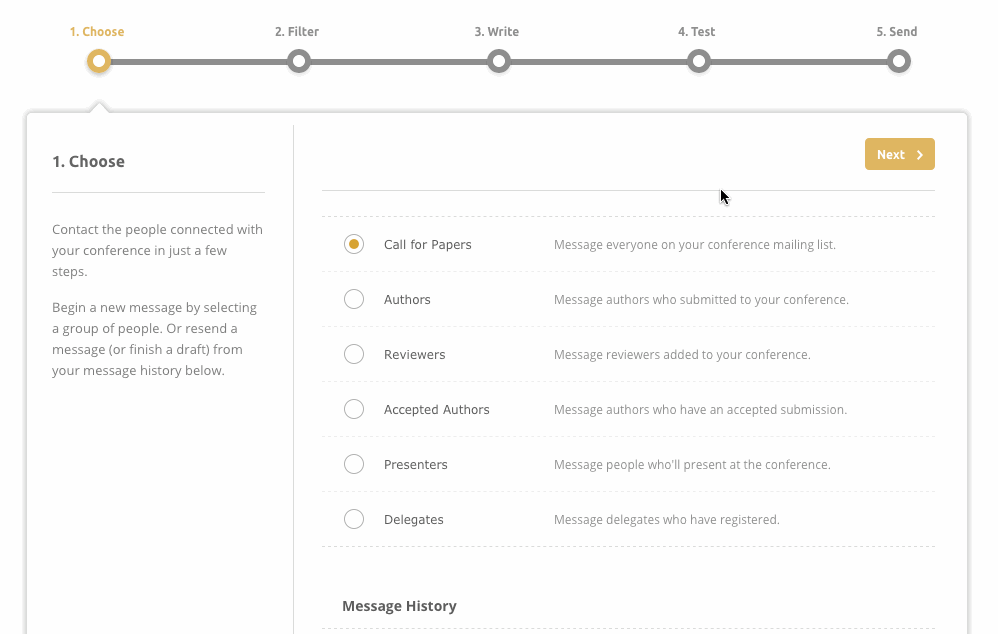 Sending a message on Ex Ordo
b) Ensuring your call-to-action stands out
In order for people to act when they receive your call for papers email, it's important that your CTA link or button stands out. A different colour font for the link or white space around the button can help. You should also place your CTA near the top of the email content. Compare the two examples below. 
This message feels like a wall of text that doesn't make it easy for the reader to scan for important info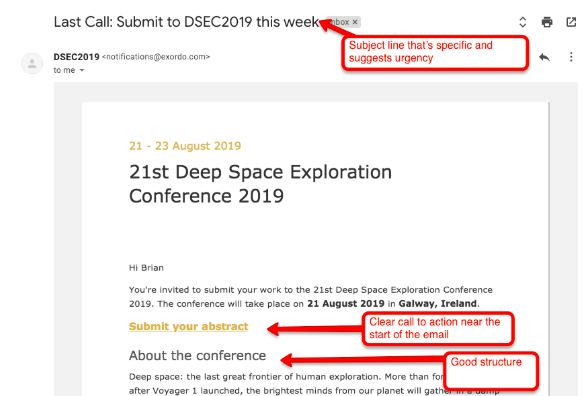 This message, sent on Ex Ordo, includes the most important info upfront, and a bold, coloured 'Submit your abstract' CTA link near the top
c) Not relying on images to communicate your message
Some organisations have firewalls to block images that appear in emails. If you love to pepper your call for papers message with images, there may be a lot of white spaces in the email by the time the recipient opens it. And if you've included any important info in the images, it'll be lost to the reader.
We strongly advise you not to rely on images in your call for papers email. Save the cool promotional images for social media (see more below).
3. Convert contacts into authors by…
a) Selling them on the importance of your event
Good stories are aligned with people's worldviews and their feelings of belonging to a group. Form your event's narrative so it appeals to the audience you hope to attract, and clearly articulate the purpose and value of attending your conference. If there's new legislation coming or changes in the field that your conference is going to address, your call for papers email needs to make it clear how your event will help authors and delegates respond or succeed.  
Keynote speakers have a lot of pulling power for conferences too. They often set the tone of the event and boost the conference's credibility. So don't be shy about name dropping in your call for papers. Authors and delegates are often attracted to particular conferences by the profile of the keynote speaker, or even an exciting breakout session.
b) Making it easy to submit
Your call for papers shouldn't end when someone clicks the CTA link or button. Think about your call for papers as extending right up until an author completes their submission. Your conference management system and abstract management software needs to be user-friendly, making it simple for authors to follow your submission guidelines and upload their work quickly. If the process is clunky or cumbersome, they may lose interest in completing their submission, which is bad news for the volume and variety of your conference programme.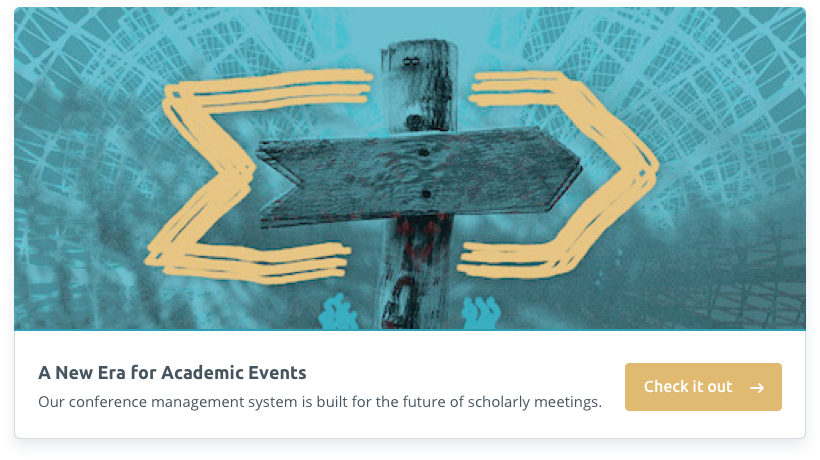 Promote your call for papers using other avenues
If you're only announcing your call for papers via email, you could be ignoring a whole cohort of potential authors and delegates. Social media, media releases, and tapping into your network can all help boost the reach of your call for papers.
Get social
Social media is a powerful marketing tool, not just to announce your call for papers, but also to promote your event and engage with attendees – before, during, and after your conference. LinkedIn and Twitter (as opposed to the likes of Instagram and TikTok) are probably your best options to reach potential authors and delegates within the scholarly and research space. Once you've decided which social platforms you're going to use, devise a content strategy, choose someone to manage your accounts, and start posting. 
Pitch & post
Write a media release for publications in your field, including your call for papers and a quote from your chair. You may also want to post this on any relevant listservs, which are moderated mailing lists used by researchers and academics.
Cross-pollination
Ask your conference sponsors to help promote your call for papers, as they want people at your event as much as you do. They could also encourage business partners to attend, and send your call for papers onto their contacts list.
If there's another conference with similar topics to yours (and you're not competing for authors and delegates), you can ask if they'll share some of your call for papers flyers in their delegate packs, and if you can give a short address at their event. Be sure to return the favour.