Trusted by Planners, Loved by Attendees
Conference organisers use Ex Ordo to deliver great experiences to their professional, technical and scientific communities.
799,187
Researchers & Professionals
170,888
Minutes of Content
Gather Your Content
Collect abstracts, papers or proposals for painless peer review.
Send your call for papers, then start collecting abstracts, papers or speaker proposals through a custom submissions form. Match submissions to the best reviewers, then track their progress. When you're ready, notify presenters right from your dashboard.
"We were drawn to Ex Ordo's abstract management system because its interface is very user friendly, not just for the submitter, but also for the administrator. It has been easy to customize the submission site for our needs, and we appreciate its versatility in accommodating different submission types."
Build Your Online Event
Create a virtual, in-person, or hybrid event that's designed for discovery.
Delight attendees with an event space that's packed with unlimited live sessions, on-demand videos and downloadable media like PDFs and spreadsheets. Every piece of content stays on your online conference platform for 60 days after your event ends.
"For this year's conference, we implemented a number of new processes including using Ex Ordo as the conference platform. Everything was much easier this year, and we got great feedback from delegates."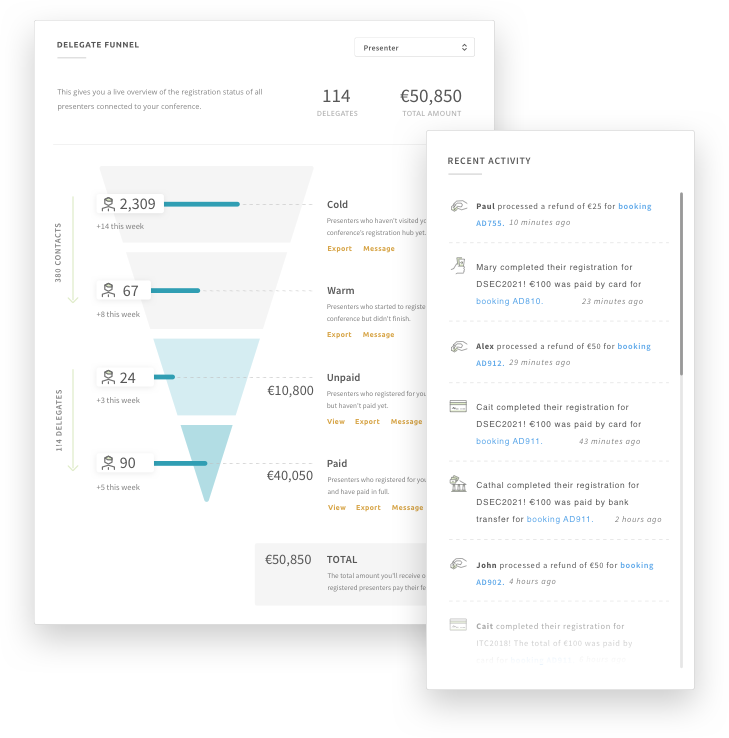 Manage Attendees
Register and collect payments, and keep everyone in the loop from start to finish.
Collect secure card payments or let attendees pay by bank transfer. Message authors, reviewers and delegates, and send reminders to anyone who needs them. Use your dashboard to maintain an overview of your whole conference.
"Ex Ordo provides high quality intuitive tools and amazing staff that is always available and proactively reaching out to assist throughout the program."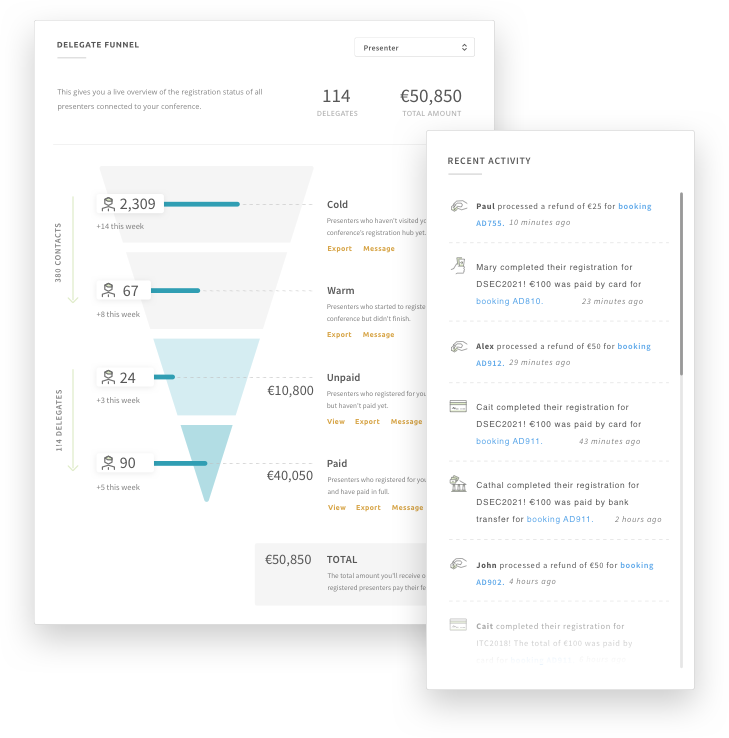 We'll Stand With You, All the Way
Events are about the people. So we'll make sure you're backed by humans, not bots. And we'll help you get the most out of our powerful platform.
See What Makes Our Conference Software Different
Discover why scientific, medical, and technical events in over 60 countries are powered by our conference management software.
Learn from the Event Experts
Learn from event experts in our ongoing series of free Ex Ordo Education webinars. Covering everything from event revenue to online formats and keeping your sponsors onside.