Creating a detailed conference budget is a vital part of the planning process. We've created a conference budget template to help. 
Before we take a look at our conference budget template, here are some tips to help you create an accurate budget for your research event.
1. Get feedback on last year's conference (if there was one)
There can be a fair bit of guesswork involved in event budgeting, especially if you're organising a first-time event. If the conference has taken place previously, eliminate some of the guessing by getting as much feedback as you can from last year's chair.
2. Separate your fixed costs from your variable costs
Your conference budget should include a combination of fixed costs and variable costs.
Fixed costs: For the most part, these costs won't change. Regardless of how many delegates attend, you'll need a venue, AV and room setup.
Variable costs: These will depend on delegate numbers and will cover things like catering and transport.
And some of your budgetary costs may also include a fixed and a variable element, for example, a professional conference organiser may charge a fixed fee as well as a per-delegate charge.
3. Build contingency into your budget
No matter how well you plan your event, there will likely be unforeseen elements.  And it's important your conference budget can handle them. Include around 15% of your total costs to cover the unexpected: like overtime for staff, extra supplies or currency fluctuations.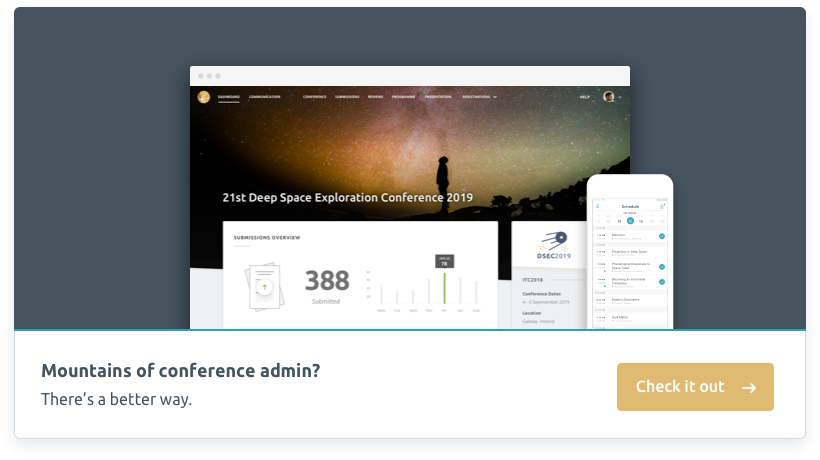 4. Include the cost of conference technology
A good abstract management system, registration system and mobile app will help eliminate the manual tasks required of every research conference, provide you with rich data and save you money on big-budget items like printing. We believe sourcing conference technology should be as much a part of your planning as setting a conference date. So include technology costs in your conference budget, right from the start.
5. Check if you qualify for tax exemptions
If your conference is organised through a non-profit organisation, you may qualify for tax exemptions on goods and services. Before you create your conference budget, check if you qualify. If you don't, be sure to include tax in your budget.
6. Use our conference budget template
Once you've got a good idea of your main costs and income, use our free conference budget template to create your own. Click the image below to download our template.
(Click the image to download)
Once you've filled in the budget template, your conference budget should look something like this
Your

fixed costs

, probably aro

und

35%

of your budget costs

Your

variable costs

, probably around

50%

of your budget costs

A

contingency

, probably around

15%

of your budget costs
Update your conference budget as you go. Regularly review your spending and your income so you know at what point you can begin to enhance your event or to cut back on costs.