Creating a detailed conference budget is a vital part of the planning process. Here are some handy tips and a conference budget template to help you get started.
Your conference budget plays a key role in your conference planning and management tasks. If you don't have a centralised place to manage your costs, important expenses might slip through the cracks and push you beyond your budget. 
Conference planning has evolved in many ways throughout the pandemic: you may be spending less on venue expenses (but more on software), all while dealing with the decision to reduce your registration fees for online events. An effective budget for your conference can help you with many of these key financial decisions. 
No two conference budgets are identical, planners range from being conservative to creative with their spending. But it's important you have a good understanding of key markers, like at what point your conference will be running at a loss, breaking even, or making a profit. Many conference organisers have accepted a loss from their conferences in 2020 and 2021, but with planning and an organised budget, profit is more than possible.  
So, before we take a look at our conference budget template, we wanted to share some tips to help you create an accurate budget for your academic conference.
1. Get feedback on last year's conference budget
There can be a fair bit of guesswork involved in event budgeting, especially if you're organising a first-time event. If the conference has taken place previously, eliminate some of this guessing by getting as much feedback as you can from last year's chair. Whether you're a fixed events team or the organising committee changes every year, using feedback from the previous year provides needed guidance for your conference. 
We know what you're thinking, the rapid change of the past two years seems to have made feedback from previous events irrelevant. You may be hoping to plan a hybrid event even if you went with a virtual conference for the past two years. The software and venue costs are likely to differ, but there's still plenty of insight you can carry into your new conference budget. And while you're at it, it's worth chatting to last year's chair about a number of other issues around conference planning (like how they promoted their event or managed exhibitors).
If last year's conference was similar in format, all that might be required is a quick edit to your old budget. A good suggestion to help you critique your conference budget each year is to add two extra columns to your spreadsheet: one for actual costs and the other for estimated costs. This will help you understand how accurate your estimations are and help you stay on budget. 
2. Agree on an efficient deal with your conference technology partners
A good abstract management system, virtual conferencing platform, registration system and mobile app will help eliminate the manual tasks of research conferences. They'll also provide you with rich data and save you money on big-budget and unsustainable items like printing. The right conference software can eliminate a lot of late nights, uninspiring work, and admin stress. This means you can focus on your #1 priority: organising the best possible conference.
We believe sourcing conference technology should be as much a part of your planning as setting a conference date. Not all systems are the same, some conference tech is designed for all types of events and other types specialise in peer review. So, it's important you're clear on exactly what you need for your event. It will help you fit the cost of suitable software within your budget constraints from the outset.
If you're searching for conference technology, find a partner that can help you save money long term. Providers like Ex Ordo can have long term license agreements with more flexibility in pricing. This will help your conference save money. And you'll have more predictable software expenses over the length of the license. That's one more stressful task ticked off the list. 
Check out Ex Ordo's pricing here. 
3. Separate your conference budget into fixed costs and variable costs
To help you keep track of your expenses, your conference budget should include a combination of fixed costs and variable costs. 
Fixed costs: For the most part, these costs won't change. Regardless of how many delegates attend. Fixed costs include things like venue fees, AV tech/support, conference software, and room preparation. 
Variable costs: These will depend on delegate numbers and will cover things like catering, transport, and any new software you want to try (that charges solely by # of attendees or presenters).
Some of your budgetary costs may also include a fixed and a variable element, for example, a professional conference organiser may charge a fixed fee as well as a per-delegate charge.
4. Build contingency into your conference budget
No matter how well you plan your event, there will likely be unforeseen elements. And it's important your conference budget has the wiggle room to handle them. The unpredictability caused by the pandemic was an excellent example of this, and the learnings from it can be applied far into the future. Conferences are complicated machines and you don't want to risk being caught out by unpredictable costs.
So, keep around 15% of your total costs open to cover the unexpected: like overtime for staff, extra supplies, or currency fluctuations. And, if you have to change from physical to virtual at short notice again, you'll need to make some last-minute decisions (whether that means more networking or exhibiting software to engage virtual attendees, you'll need some space for your budget to breathe). 
5. Check if you qualify for tax exemptions
If your conference is organised through a non-profit organisation, you may qualify for tax exemptions on goods and services. Before you create your conference budget, check if you qualify. 
If you don't, be sure to include tax in your budget. And if you're organising an international conference make sure you put some work into understanding how tax exemptions for nonprofits work in your host country. It is also worth checking how these exemptions work for an international conference being held in a local host country (with a global, virtual element). 
6. Use our conference budget template
Once you've got a good idea of your main costs and income, use our free conference budget template to create your own. Click the image below to download our template.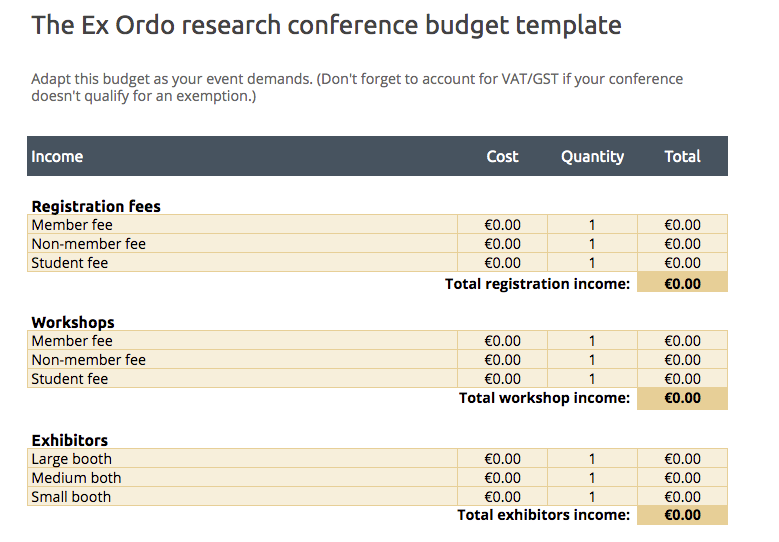 (Click the image to download)
Once you've filled in the budget template, your conference budget should look something like this
— Your fixed costs, probably around 35% of your budget costs
— Your variable costs, probably around 50% of your budget costs
— A contingency, probably around 15% of your budget costs
Update your conference budget as you go. The percentages vary depending on the costs of your software. Regularly review your spending and your income so you know at what point you can begin to enhance your event or to cut back on costs.
If you need further guidance for your event, check out our conference planning eBook. It can help guide you through the many steps of organising a research conference. This will save you time and enable you to focus on the many important details of planning your conference.