Creating a detailed and centralised conference budget is one of the most crucial steps in your event planning process. But it can be difficult to know where to start and how to approach it. We've put together a list of handy tips and a free conference budget template to help you get your event off on the right foot.
We saw conference planning evolving in many ways during the pandemic. You may have been spending less on venue expenses (but more on software), and having to deal with decisions such as reducing your registration fees for online-only events. Many conference organisers accepted a loss from their events in 2020 and 2021. Moving into 2023, it seems that most organisers have returned to physical events, usually with a strong virtual component in line with the increased expectations of attendees.
Why is a detailed conference budget so important?
Your conference budget plays a key role in your conference planning and management tasks. If you don't have a centralised place to manage your costs, important expenses can slip through the cracks, throwing your budget off track.
It's also really important you have a good understanding of key markers, like at what point your conference will be running at a loss, breaking even, or making a profit. Having a detailed and centralised conference budget can help you make key financial decisions at any of these points, to ensure you meet your financial objectives whilst delivering an outstanding event experience for your attendees.
Just as no two conference formats are identical (we like to think of hybrid as a spectrum), no two conference budgets are the same, and event planners range from being conservative to creative with their spending.
How do you budget the different elements of your conference?
Using feedback from the previous year's event can eliminate a lot of guesswork when it comes to creating your new conference budget. Once you have sight of the overall conference budget, you need to separate it into projected income and expenses, as well as a breakdown of costs by category.
But first, taxes…
Taxes
If your conference is organised through a non-profit organisation, you may qualify for tax exemptions on goods and services. And if you're organising an international conference, find out how tax exemptions work for NPOs in your host country. It's also worth checking how tax exemptions work for an international conference being held in a local host country, with a global, virtual element.
Income
While registration fees are the most obvious source of income for your event, they probably won't cover all your expenses. This is where conference sponsorship packages come in. Not only are they a great way of bringing in revenue, but partnering with the right sponsors can really elevate the perceived value of your event, which in turn will help you attract more attendees. You should also investigate funding opportunities available through organisations within your field, or the local tourism board. Exploring all these avenues can pay off handsomely.
Expenses
To keep track of your expenses, your conference budget first needs to be separated into fixed costs, variable costs, and contingency costs.
a) Fixed costs: 35% of your total conference budget costs
For the most part, these costs won't change, regardless of how many delegates attend. Fixed costs include things like taxes, venue fees, audio-visual tech/support, and conference software. It's likely you'll have a multi-year contract with each of these vendors, or at least be organised a number of years in advance.
First, you need to prioritise which expenses are essential to you, and which are optional, then research costs for each by getting quotes from multiple vendors. Do your homework. Know exactly what questions to ask. 
Venue
Venue fees can eat up a huge chunk of your budget, and with many hidden costs, there'll definitely be a fair bit of guesstimating involved. Talk through what is and what isn't open to discussion, and be prepared to negotiate. What incentives will the venue throw in? Discounted rates on delegate rooms? Complimentary accommodation for members of your organising team? Even small perks like an airport shuttle, or free tea and coffee, can help stretch your budget.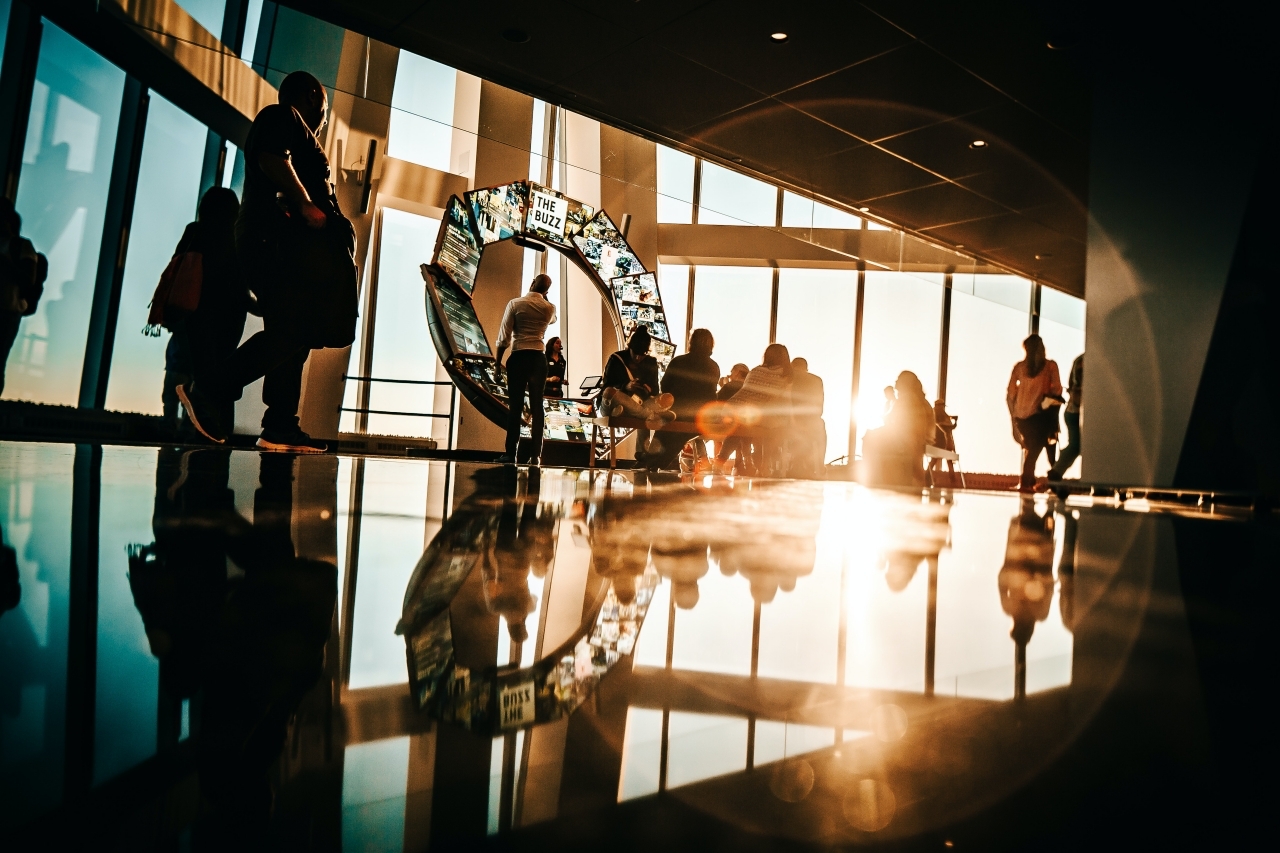 Photo by Helena Lopes
Conference technology
We believe sourcing conference technology should be as much a part of your planning process as setting a conference date. Just bear in mind, not all conference technology platforms are the same. Some are designed for all types of events, while others specialise in peer review. So, it's important you're clear on exactly what kind of system you need for your event at the outset.
A connected conference management platform — one with a good abstract management system, virtual conferencing platform, registration system, and mobile app — will eliminate mundane tasks and save you time, whilst delivering more value to your attendees. It'll also provide you with rich data, and can save you money by doing away with big-budget and unsustainable items, like printed programmes or a book of proceedings.
If you're searching for conference technology, find a partner that can help you save money in the long run. Providers like Ex Ordo offer long-term licence agreements with flexible pricing. This gives you predictable software expenses over the length of the licence, and puts cash back in your pocket for future events.
Choosing the right conference software can eliminate a lot of late nights, uninspiring work, and admin stress, leaving you more time and money to focus on your number one priority — organising the best possible conference. 
Check out Ex Ordo's pricing here. 
b) Variable costs: 50% of your total conference budget costs
These costs depend on delegate numbers, and cover things like catering, charges for using outside suppliers, over-time wages for staff, keynote speakers' fees, accommodation, flights, and transport, parking, sponsors or exhibit spaces, and marketing materials. 
When it comes to conference catering, you may be surprised by just how much you can save if you take the time to do a little research. Like one of our recent Ex Ordo Education webinar guests, Courtney Lohmann of PRA Business Events, pointed out in a discussion we had around conference sustainability: "You're wasting so much money in places you don't even realise. You need to go into the kitchen after every meal function, and see what food and beverage you have left over. You will learn what your attendees like to eat, what they don't like to eat, and where you're over-ordering, or under-ordering. Have a conversation with the chef and talk through the process of that food prep to see how you can minimise it. Just going back of house and witnessing what waste you have created is a huge eye-opening experience."
The good news is that more sustainable events come with reduced usage, fewer unnecessary purchases, and less waste — which is great for your budget. At an ICCB congress for 1,500 delegates, for example, MCI Buenos Aires produced an event with a low environmental impact (56% of waste diverted from landfill and 100% carbon offsetting) that saved the organisers $12,000.
So, if saving money and saving the planet is important to you, be sure to check out the recently launched Event Food Carbon Calculator, created by MeetGreen and Clear Current Consulting. Also, have a look at these venue checklist templates to help you know the right questions to ask when looking for the perfect home for your conference.
'Mixed' costs
Some of your expense items may include both a fixed and a variable element. For example, if you hire the services of a professional conference organiser (PCO), they might charge a fixed fee as well as a per-delegate fee. The fee for a PCO, or other 'mixed' cost items, should be included in the variable costs of your budget.
Speaking of PCOs, if this is your first time planning a conference, we highly recommend you consider hiring the services of one. Once you have an overall budget, you can simply hand that over to them and they'll take care of budgeting each element of your conference. This includes negotiating the best prices with vendors, managing day-to-day expenses, and taking care of bookkeeping and tax adherence. They will literally pull out all the stops to reduce costs and increase efficiency, whilst ensuring the quality of your conference is never compromised. While their services don't come cheap, from what our customers tell us, a good PCO is worth their weight in gold. 
c) Contingency costs: 15% of your total conference budget costs
Conferences have many moving parts. No matter how well you plan your event, it's likely there'll be a few unforeseen costs, and your budget needs some wiggle room to handle them. Severe weather conditions and travel restrictions, currency fluctuations, and other external factors beyond your control can mean the difference between a boom or bust situation for your event. Be sure your budget has room to breathe. 
Which brings us to what you've been waiting for…
Your free conference budget template
Click here, or directly on the image below, to access the template we've created to help you in your conference budgeting process.
Please note: We've made our template un-editable. Otherwise, people could delete sections or add their own bits, and it would descend into chaos. Instead, within the spreadsheet, select one of the options below, and you'll be motoring on:
To keep it as your own (editable) Google Doc, select File > Make a copy

To download and edit in Microsoft Word / Open Office, select File > Download as 
And here are some preliminary expense targets to get you started:
Fixed costs — allocate around 35% of your total budget costs

Variable costs — allocate around 50% of your total budget costs

Contingency costs — allocate around 15% of your total budget costs
Final tips to fine-tune your conference budgeting process
Taking the time to set up an efficient, centralised budget system and accurate expense tracking process in the early stages of your event planning can save you a lot of time and money down the line.
Your budget will probably shift as your conference planning progresses, so update it as you go. We suggest starting with a conservative budget and adjusting it as you secure funding and sponsorship.
Regardless of how tight or generous your budget might be, you'll need to continuously monitor it to make sure you're staying on track. This means regularly reviewing your income and expenses, so you know at what point you can begin to enhance your event, or cut back on costs. 
To help you critique your conference budget each year, you could add two extra columns to your budget spreadsheet — one for actual costs and the other for estimated costs. This will help you understand how accurate your estimations were, and streamline your budgeting process for next year.
If you need further guidance, check out our free conference planning ebook.