It can feel hard to know where to begin with sustainability. Here are nine sustainable event ideas you can start implementing today.
Event sustainability is one of the fastest-growing trends in the meetings industry, and for good reason. Conference planners have a vital role to play in addressing some of the sustainability challenges we face as a planet. And as younger, more climate-conscious researchers come of age, it may not be long before being a fully certified sustainable event is a minimum requirement. 
But when you already have a million things to manage — from corralling your committee to promoting your event — it can be hard to know where to even start. 
First up, if your aim is to become a certified sustainable event, you'll need the input of an independent third party. Once your conference is done and dusted, they'll measure your admissions and assess if you meet the criteria. (A quick note on avoiding greenwashing: You can't correctly label an event "green" or "sustainable" until after your post-event audit.) In the longer term, this should be the goal you're working towards. But if aiming for full sustainability for your next event isn't realistic, you can still work to reduce your impact, starting from today. 
The good news is that more sustainable events come with reduced usage, fewer unnecessary purchases and less waste. Which is great for your budget. At an ICCB congress for 1,500 delegates, for example, MCI Buenos Aires produced an event with a low environmental impact (with 56% of waste diverted from landfill and 100% carbon offsetting) that saved the organisers $12,000.
Here are nine sustainable event ideas to start with. 
1. Choose a venue with green credentials
"Your venue is one of the most important factors in hosting an event that aims to be sustainable or more conscious in nature. You're using their water, their energy and [likely] their catering. So they have a huge role to play," says Lisa Jade Kirkham, founder of GingerBiscuit a sustainable event and consulting company. If you can source a venue with solid credentials like a sustainability accreditation, it'll make your life much easier. 
But if an accredited venue isn't available to you, look for one with robust onsite waste management, low-energy bulbs, trained staff and legacy projects in place. "This will take the pressure off what you yourself need to do," says Lisa Jade.
2. Include event sustainability requirements in your RFPs and contracts 
Brief your suppliers so they're on the same page as you as early as possible, says Shawna McKinley, an event sustainable event consultant and trainer who runs the blog Eventcellany. "For example, you can reduce waste by selecting a more sustainable name badge system. But you make the biggest difference when you consider these choices early, while negotiating with suppliers." 
Comb through your requests for proposals (RFPs) and supplier contracts for conference products and services and ensure they include crystal-clear sustainability requirements. (PCMA's Annual Meetings Market Survey found only 11 percent of meeting professionals include environmental elements in their RFPs.)  
"Doing this will put vendors on notice that sustainability is an important consideration that will impact their ability to do business with your event," says Shawna. This is important, as it often means you'll be able to negotiate sustainable options on a cost-neutral basis, instead of trying to add them last-minute, often at a hefty markup.  
TIP: With the greenwashing of everything from "biodegradable" glitter to dodgy "green" supplier accreditations, it can be hard to know what to believe. So ask suppliers for proof of any sustainability claims they make. 
3. Ditch single-use plastic
The plastics kickback is coming and not a moment too soon. Only 10-13% of the plastic items we use are recycled world-wide. Many types of disposable plastic is difficult to recycle and there are a limited number of items that recycled plastic can be used for. 
"It should be unacceptable to turn up at a conference and see lots of single-use plastic," said British MP James Heappey at an event in Holland recently.  And pretty soon, it will be. The EU is to ban single-use plastic by 2021. And there's a growing number of US states who are swearing off it too.  
To boost your event's sustainability, take the initiative and ditch single-use plastic from your onsite experience, now. "That means no straws, no plastic spoons, no unnecessary single use plastic décor – you get the picture," says Lisa Jade. "Install water stations instead of offering bottled water. If that is not really necessary don't use it just to make things appear fancier or more expensive – remember, less is more, rather get creative. Consider what impact the items you use will have not only on the event itself but also on the community and environment in which your event takes place." 
4. Swap printed for digital
Those vinyl banners that feature heavily at conferences? They're not easily recyclable. And giving delegates reams of printed materials just means more content destined for your conference bins.
Guy Bigwood, founder of the Global Destination Sustainability Index, recommends swapping printed materials for digital to give your event a sustainability boost: "Digital signage, mobile apps, and LED screens reduce the need for printing signage, posters, and event programmes. And with 3D mapping, projection, and clever lighting, it's entirely possible to create more innovative, better and more sustainable experiences." 
Sending these plastics to specialist recycling centres may also add to your onsite spend. So cutting down on these means you could save money in the longer-term.
Recoup the cost of digital investments like LED screens or a online conference platform by offering sponsorship opportunities. What's digital is measurable, which means you'll be able to offer your sponsors clear return-on-investment metrics like views and engagements.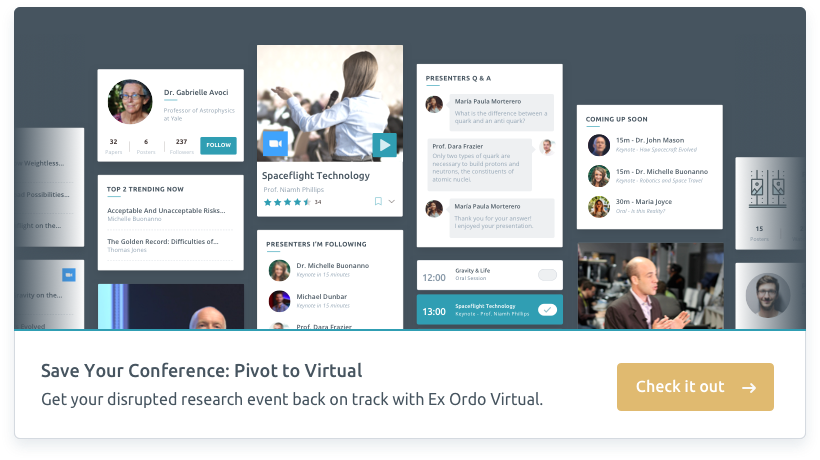 5. Reduce food waste…
Every year, consumers in rich countries waste almost as much food as the entire net food production of sub-Saharan Africa. But food waste isn't just a humanitarian concern—it's an environmental one. "Food waste is a massive, massive problem," says Lisa Jade. "Food waste which is sent to landfill contributes to the release of certain greenhouse gases, like methane, due to it decomposing in an oxygen-deprived environment. Methane is a gas which is known to cause global warming." And that's on top of the wasted energy and water it takes to grow, harvest, transport and package the food.
So how do you cut down on food waste for a more sustainable conference? Ask for delegates' dietary requirements in advance, get as clear a picture on final numbers as you can, and opt for plated menus instead of buffets. And don't fall victim to the fear of running out. "Under-cater between 10% to 20% depending on the type of event, to further aid in preventing food wastage," says Lisa Jade. "I've never been at an event where anyone went hungry. People generally don't want exceptionally big, heavy meals during the day. It slows them down and then after lunch they can't concentrate and engage sufficiently."
Going lean could save you big bucks, too. Guy cites a food-waste initiative begun by the Thailand Exhibition and Convention Bureau to tackle food waste in 10 hotels. "In only two years this created €530,000 in savings and prevented 383 tonnes of carbon emissions."
6. … And go veggie (ish)
Put the money you save from reducing portion sizes into sourcing good-quality, local seasonal vegetables and sustainable seafood. 
Visit Espoo is a Finnish convention bureau that serves only vegetarian and locally produced fish to the international association delegates attending its city receptions. "We know it's only a small step towards more sustainable meetings, but it's still a good amount of events that we are organising," says Miikka Valo, Visit Espoo's director of conventions & tourism. "To only serve this food is also very practical as we don't have to worry about different restrictions with meat."
What have delegates' reactions been? "Sometimes the positive feedback is that you don't hear about it! All the international delegates have been very happy with it. Last year we had only one person complain…and he was Finnish." 
7. Develop a thorough waste management plan
The average conference delegate produces 1.89 kg of waste per day, the majority of which (1.16 kg) goes to landfill. Factor in 500 delegates and that's a pretty sobering amount. Shawna has visited heaps of recycling and composting plants with event organisers. "Few return from the experience unaffected by the amount of waste and the complicated process of handling it," she says.  
If your venue and caterers already have good recycling and composting programmes, fantastic. If not, talk to them about what's possible. Can they recycle paper, cardboard, tins, glass, plastic, cooking oil? Can they compost? And is this a hidden venue cost or not? If you need to support your venue with additional resources for recycling and composting, use this as another opportunity for sponsorship.
Lisa Jade recommends creating a food rescue plan to donate anything edible to a local food bank or shelter. Before you do, check your local by-laws around food donation though. If this isn't an option, consider donating leftover food or kitchen scraps to a pig farm in the area as animal feed.  This is great for not only diverting waste from compost or worse, landfill, but it can also help you identify areas where you're over-ordering or over-catering.
TIP: There's no point investing in a solid plan for managing waste if bins aren't clearly marked, and delegates or staff end up dumping uneaten food into black bin bags. Provide waste stations, signs at eye level and monitors to help your delegates and exhibitors sort their waste. 
8. Add a carbon offset fee to your registration process
You can further minimise your event's footprint by encouraging delegates to offset their carbon by adding it as an optional fee in your registration process (or even better, by baking it into the price of registration fees).  "There are plenty of initiatives that will, for a small fee, plant trees, invest in renewables or other low carbon initiatives for you, " says Guy. 
Just make sure you're selecting a trustworthy and effective initiative like the UN Offset programme. And bear in mind that carbon offsetting isn't a silver bullet – it isn't going to count for much if you aren't putting other event greening steps in place.
9. Re-consider a more sustainable event design
The environmental cost of travelling to attend conferences is getting pretty hard to ignore. Air travel is one of the main causes of emissions for the meetings industry. And there's a big conversation needed about destination, venue selection and – ultimately – conference design. 
"If you are truly serious about acting on climate change you must look at hybrid event technology. And ask questions about what event format will best meet the desired outcome at the least carbon intensity," says Shawna. "This might involve connecting multiple, simultaneous event locations via technology, or perhaps hosting smaller regional conferences at different times, instead of a large international gathering." 
The reach of sustainable events
Conferences have immense reach. That's why people organise them. And when you hold a conference or event which aims to be sustainable, or one with visible event sustainability initiatives, you leave a legacy for your delegates and your host community.
"As event planners we forget that we hold a position of incredible influence," says Lisa Jade. "If you do it well enough, you are going to shift mindsets, whereby people will then take the legacy and awareness of the conference or event out into the world and start making a real difference. It's up to us in this position to hold ourselves accountable and take responsibility."
In terms of event sustainability, just going paperless and adding a few front-of-house composting bins simply isn't good enough anymore. As Keith Johnston put it all the way back in 2011, "Do what you must, but know this – Your attendees are not stupid."