How can conference organisers leverage emerging trends in event tech to best meet expectations of all attendees?
We're in a very different place than we were two years ago. Heck, we're in a very different place than we were just six months ago. The event tech environment has stabilised considerably, with platform providers now in a place to intentionally innovate, rather than just scramble to fill gaps in supply. And scholarly societies and associations have had a chance to look ahead and redefine how they connect with their communities.
In our second quarterly webinar for 2022, titled The crash course in event tech is over. So, what's next?, we asked a panel of event professionals to reflect on their learnings over the past two years. There were some stand-out observations from the conversation. Firstly, we may be over-complicating the concept of 'hybrid'. Secondly, we're probably under-estimating the possibilities of 'on-demand' content. And finally, enough emphasis cannot be placed on the importance of investing in the right event tech provider and platform for your unique needs.
Author Terry Pratchett once wrote: "If you do not know where you come from, then you don't know where you are, and if you don't know where you are, then you don't know where you're going. And if you don't know where you're going, you're probably going wrong." We tend to agree with Sir Pratchett and his pragmatism. Sometimes, in order to go forward, you must first go back.
In our case, we identified a prevailing uncertainty surrounding the concept of 'hybrid', and about what 'on-demand' content for events actually looks like. So, in an effort to clear up some of the misconceptions which seem to be holding a lot of conference organisers back, we did a bit of reverse-engineering. We soon came to realise that much of the consternation and confusion surrounding hybrid and on-demand stems not from ignorance, or aversion to change, but rather fear of the unknown.
And as we stripped back the concepts of hybrid and on-demand content to their core elements, we also noticed an elegant dovetailing of two concepts emerging – that of an asynchronous, bespoke event format, supported by on-demand access to bingeable, tailored content. And we believe that the symbiotic relationship between hybrid and on-demand is a significant revelation, particularly for conference organisers on a quest to provide both on-site and remote attendees with all the flexibility and variety of access options they've come to expect.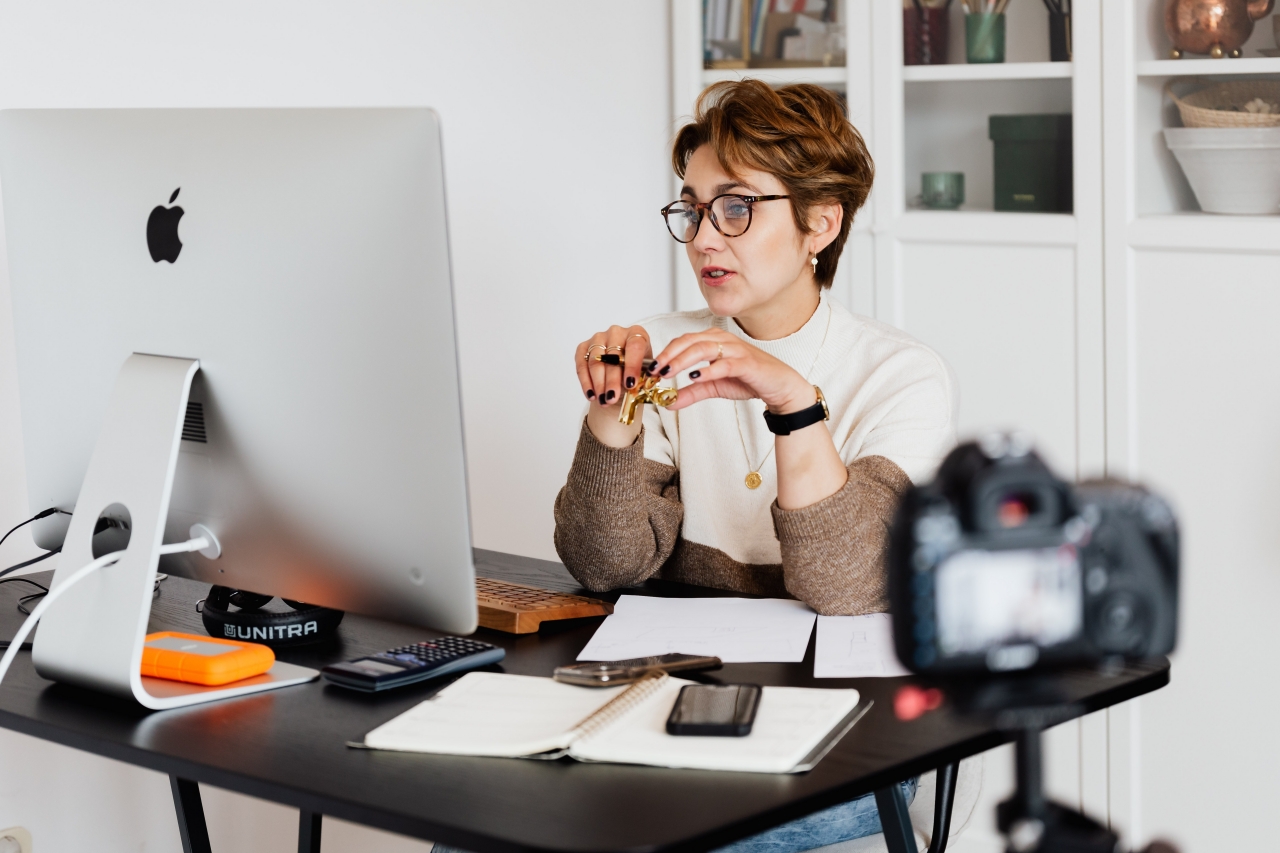 Photo by Karolina Grabowska
Hybrid: What it is, & what it's not
Some conference organisers are still under the impression that 'hybrid' is an event which takes place simultaneously in-person and online. They fret about time zone differences, and exorbitant AV costs, and not being able to offer on-site and remote attendees an equal experience. And they assume that because a hybrid event has to do 'double-duty', it is far more expensive than a physical-only or virtual-only event, and therefore reserved for only those with deep pockets.
Well, what if we told you that all of the above are fallacies? The word hybrid simply means "something that has two different types of components performing essentially the same function". Therefore, a hybrid event can be defined as "one that combines a face-to-face (F2F) event at a physical location with a 'virtual' online component for remote attendees."
Hybrid does not mean having to host dozens of live parallel sessions. Hybrid is so much more than just live-streaming the interactions of a group of on-site attendees to remote attendees, or having a remote attendee joining a session via video call and interacting with an on-site audience. Some sessions during your hybrid conference can be physical only, others can be virtual only. Live-streaming for remote attendees works well for plenary sessions and star speakers. But it's certainly not necessary for every single session. 
The fact that the ratio of physical versus virtual components is highly variable also negates the argument that hybrid has to cost an arm and a leg. Hybrid does not mean that you need to split the physical and virtual components of your conference 50/50. The golden ratio of your event design and how you go about achieving that perfect balance between in-person and online components, with the budget you have available, is totally up to you. With some careful planning, and prudent allocation of resources – time, money, energy – there is no reason why you can't pull off a hybrid event that meets the expectations of both in-person and virtual attendees equally.
Just remember, equal does not mean the same. 'Equal' means comparable, while 'the same' means identical. The event experience for an attendee in a brick-and-mortar conference room will obviously look and feel different to the event experience for a peer sitting on a laptop in their living room 15,000 kilometres away. But, the quality of the event experience can, and should, be comparable. 
Photo by Tima Miroshnichenko
On-demand: What it is, & what it's not
So, what exactly is 'on-demand content' anyway? Well, firstly, it's so much more than recordings of your in-person or virtual sessions hosted on YouTube after your live event. On-demand encompasses all of the content you can prepare and release before, during, and after your conference, via your virtual event platform and/or a central hub like your conference website. 
For example, in the lead-up to your event, you could collect everything from PechaKucha presentations, to poster PDFs, slides, images, and spreadsheets of raw data. You could gradually reveal this content as your event progresses, or bundle it and publish it a month or a week in advance of your event. You could also publish pre-recorded interviews with your expert speakers, live-stream a one-off Q&A session with an industry panel, and encourage attendees to prepare further questions to ask during sessions they plan to attend.
After the event, on-demand could include content generated during the event itself, such as recordings of keynote speeches, oral presentations, and panel discussions, packaged as videos and/or podcasts, as well as your book of proceedings.
On-demand can also be bundled with sponsored vendor/exhibitor content. It's a great way for brands to engage with their target audiences, especially for those companies that offer extremely niche products/services which require a hyper-targeted marketing approach.
Essentially, on-demand means an array of highly customisable, curated content that attendees can access and consume in their own time, at their own pace. Supporting year-round connection and ongoing communication through fluid content delivery can help to establish a trusted relationship between attendees and your institution/event brand. And repurposing content in various formats to build a library of digital assets is an excellent way to create a go-to repository of unique and original material, which can be used in marketing collateral for future events.
Photo by George Milton
Event tech providers & platforms: Separating the wheat from the chaff
Even if you're only planning a physical event, you should still invest in a conference management platform that syncs with – or even better, is fully integrated with – virtual conferencing software. It means you'll be covered in the event of unexpected glitches with your in-person plans, or seismic changes in the on-site conference landscape. For example, Ex Ordo Virtual is fully integrated with our Ex Ordo conference management platform. We've built our system on top of Cisco technology to deliver robust, enterprise-grade streaming quality so you can broadcast live to anywhere in the world, and host all that afore-mentioned bingeable, on-demand content from your online event space.
If you cover your digital bases for all eventualities, you'll avoid a lot of unnecessary stress and headaches. But how do you go about choosing the best technology for your needs?
"Finding the right tech provider can be a challenge. There are so many choices out there. First of all, I would recommend you connect with fellow meeting professionals through associations, such as MPI (Meeting Professionals International), PCMA (Professional Convention Management Association), AWE (AWE Global Meetings), and others, to see what technology they're using. I'd also recommend going to trade shows such as IBTM World (Incentives, Business, Travel, and Meetings), or IMEX Frankfurt (Incentive Travel, Meetings and Events Exhibition), or IMEX America. Once you've done your research, and you've narrowed it down to a few different vendors, I would be sure to request references from the planners using that same product in similar size events and types. It's been my experience that planners will be quite frank with other planners about what their experiences are. And that can really help you narrow down your choices as well." – Corbin Ball, meetings technology speaker, consultant and writer
Alternatively, you could hire the services of a specialist agency or consultant to research all the tech providers and platforms out there on your behalf. If you're time-strapped, this may be a more efficient and cost-effective approach.
"There's been such a boom in the event tech market over the last two years. It's a real rabbit hole. We actually used an agency to do all of the research for us, because we simply didn't have the manpower to do it ourselves. They have expertise in this area, and they know what's available in the market." – Nika Kurent, Head of Events, Chartered Institute of Arbitrators
Association technology experts like Jim Pearson at Ellipsis Partners consult to clients in the non-profit, association world. They are seasoned professionals, steeped in the fields of IT and internet strategy, and can advise you on everything from your CRM (customer relationship management) system, to your website CMS (content management system), as well as your event management platform, peer review software, and virtual conferencing software. They provide guidance on technology assessments, vendor selections, and system implementations. They can also handle your RFP (request for proposal) process, and advise you on strategies and tactics to present technology recommendations and gain buy-in from decision-makers, executives, and boards. 
Any way you slice it, the flexibility and ease-of use provided by the technology and platform you choose to power your event will have a crucial impact on the experience you are able to offer your attendees in 2022, and beyond. The digital strategy for your conference needs to be robust, and you'd be wise to make sure you have someone skilled sitting on your team to project manage all your web/digital initiatives.
"We are going to see continued and significant investment in event tech for meetings and events. When I started, we had a very small technology budget, and then all of a sudden it tripled. Now it's well over $200,000 with our 13 meetings and other technologies to support our work. And we're a small organisation." – Anne Ornelas, Senior Manager, Business Systems and Strategic Initiatives, CASSS – Sharing Science Solutions
The way we frame things affects how we make decisions. And when uncertainty is forced upon us, we often need help reframing. If you find yourself overwhelmed or stuck in moments of self-doubt about how to navigate this ever-evolving event tech landscape, just remember that uncertainty and possibility are actually two sides of the same coin. And that by focusing on the potential upsides of the unknown, you can transform uncertainty into opportunity.
Of course there will be setbacks. Like uncertainty and change, setbacks are part of life. By adopting one of many lenses that can help people recast setbacks – such as the learning lens (what you can learn from the setback), the gratitude lens (what you still have, not what you lost), the timing lens (it's just not the right time now, but that doesn't mean it won't ever be), and the challenge lens (you become the hero only by facing obstacles) – you can conquer your fear of the unknown, and start managing uncertainty like a boss.