Wondering how to organise a conference in 2019? Follow this step-by-step guide. Plus, some handy templates.
Organising a conference is a marathon, not a sprint. So, before we jump into the nitty-gritty of how to organise a conference, pour yourself a cup of tea.
Settled in? Great. Let's talk through the basics that'll get you to that finish line in one piece.
In considering how to organise your conference, you'll need to first think through every significant milestone along the way. Before you do anything else, consider each step, the resources you'll need and the estimated workload. You need to budget enough time (and hands) to get everything done in good time. And it's always a good idea to leave some wiggle room around deadlines.
1. Formulate your event strategy
Whether you're organising a one-off academic congress or the 75th annual meeting of an esteemed association, your first step in organising your event is to outline what you're hoping to achieve. The events market is busy – and getting busier. Event spending is on the up as a growing number of organisations recognise the value that events bring both to their revenue and their brand.
Being clear from the start on what you hope to achieve by organising a conference will help you differentiate your event from the 200,000 other ones out there. In thinking about your conference, can you express what it is your delegates want and need from your it? Do you understand what motivates your audience? Do you have a unifying idea for your event?
Use this event strategy template to help your team stay focused on what really matters.
2. Embrace conference technology
Online conference software isn't an add-on. It should be as much a part of organising a conference as choosing a venue or dates. It removes endless manual tasks, helps your whole team work collaboratively and will usually save you money in the long run.
You're all working hard on how to organise a conference,  but when you can't inhabit the same room, how do you ensure your team can share resources and collaborate? Free software like Slack for project messaging and Skype for group video calls can help you stop problems with communication from snowballing into issues that slow the organising process down.
And when it comes to managing the thousand-and-one tasks involved in organising a conference, software like Asana for project management and Trello for task management can help keep you motoring on.
Good-quality conference management software to collect and review submissions, build your programme and register delegates is also an absolute must. Most conference software will have a cost attached, and it may be significant. But we can't stress enough how much time (and stress) it will save you. Plus, you can often save money in the long run by not paying for printing.
Use the checklist in this conference planning ebook to help you find the right conference software for your event.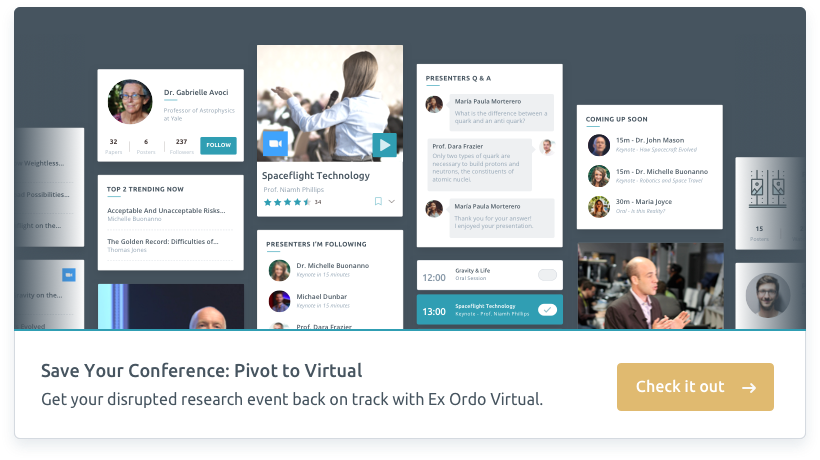 3. Delegate, dammit
There's a vast amount of work involved in organising a conference, so don't carry it all on your shoulders, get your organising committee on board early on.
How you organise your conference will likely depend on the people you have on your team.  For example, if you've got a small team, each person may be responsible for several areas. But if you've got a bigger team, you can assign individual responsibility for stuff like sponsorship, marketing and local arrangements. On top of your core organisers, you can also enrol students as volunteers to help you on the day or with smaller tasks in the run-up to your event.
Choose your team carefully. Look for enthusiastic, organised and driven team players. And to avoid death by committee, make sure everyone's clear on who's responsible for what.
If you're not a events pro, and it's your first time to organise a conference, consider getting help from a professional conference organiser  (aka a PCO or conference manager).  What happens if your plenary speaker pulls out the month before your conference? Or your AV supplier goes AWOL the week before? A professional conference organiser has seen it all before and, crucially, knows just what to do to keep things on track.
Use this template to work out your organising committee roles and responsibilities.
4. Think through your budget and pricing model
Unlike with most corporate or consumer events, the goal in organising a conference isn't usually to turn a profit — but it's not to make a loss either. So creating a detailed budget is a vital part of the conference organising process.
If your conference has taken place previously, get as much feedback as you can from last year's chair. Develop as clear a picture of your income and expenditure as possible. But recognise that there can be a fair bit of guesswork involved and your budget will shift as your conference planning progresses. So start conservative and scale as you go.
And don't forget that registration fees aren't the only source of income for your event. Create sponsorship packages and investigate if there's funding available. You can also go through your expenditure and look for areas to save money, but don't lose sight of the importance of creating a positive experience for your delegates on the day. If you skimp on stuff like AV or wifi, your delegates won't thank you.
Use this template to build your conference budget and this calculator to price your fees.
5. (Carefully) choose your venue
Whatever venue you choose, it needs to meet your needs (think: enough rooms for all your parallel sessions) and the needs of your delegates (think: comfortable, accessible venue).
Lighting and acoustics are often overlooked when it comes to choosing a conference venue, but they'll have a huge impact on delegates' experience. Schedule your venue visits when an event with a similar setup to yours is taking place to see the rooms in action.
And as well as looking at the cost of venue hire, look for hidden costs like charges for using outside suppliers, parking or wifi.  When it comes to the overall cost, talk through what is and isn't open to discussion – and be prepared to negotiate. What incentives will the venue throw in?  Discounted rates on delegate rooms? Complimentary accommodation for members of your organizing committee?
Even small perks like an airport shuttle or free tea and coffee can add up to big savings for your organising committee.
Use this venue checklist template to help you find the perfect home for your conference.
6. Build a website that does your conference justice
Your conference website will showcase your event, answer visitors' questions and allow them to submit, register and get in touch. And it should get them as excited about your event as you are.
Your website should welcome visitors with strong visuals and the most important event details first. Think: what your conference is about, where it's located and when it's happening. Aim to put all this info "above the fold" on your homepage (i.e. the part of the page that's visible without scrolling).
Getting your website live as soon as you can is an important part of organising your conference. So make some key decisions early on, get a bare-bones website up, and flesh it out as you go.
Use the checklist in this website template to make sure you don't miss anything important.
7. Invite your speakers and authors
Good keynote or plenary speakers will attract delegates and set the right tone for your conference. If you're organising a conference for academics or researchers, it's not the norm to pay professional fees to your invited speakers. But you'd usually cover their local and accommodation costs, and provide a small honorarium as a gesture of thanks.
And if you want to attract a speaker with a relatively high profile, you may need to offer a larger honorarium and perhaps cover their travel costs from overseas. So bear this in mind when you're making your speakers list.
Another thing to keep in mind is diversity. You want the people who are speaking to truly represent your delegates. So invite both well-known researchers and junior researchers, and maintain a gender balance. And make sure you have a plan B in case a speaker has to cancel at the last minute.
Use this template to help you craft a great invitation for your speakers.
Next up, you'll need to send a call for papers inviting authors to submit their presentations. Researchers get sent a LOT of call for papers, and most conference organisers send theirs four or five times, which adds to the noise. So ensure the calls you send are clear and compelling. And don't forget to list your event on a conference announcement site.
Use this call for papers template to help you write your own.
8. Get your reviewers onboard
If your presentations need to go through peer review, you'll need to include bringing reviewers onboard as part of how you organise your conference.
Managing your review process is a delicate balancing act. Conference peer reviews usually happen over a few intense weeks, with the majority of reviewers assessing multiple submissions. So reviewing for a conference generally means making a substantial time commitment, often with a big immovable deadline at the end of it.
So it's really important that you invite enough reviewers for your conference.
If you don't bring enough reviewers onboard, you'll end up overloading the ones you have. Overloaded reviewers are not happy reviewers. And unhappy reviewers tend to withdraw or go AWOL. When they do, you'll be left scrambling to replace them or off-loading their submissions onto other reviewers. Either way, there's a good chance your conference peer review process will be compromised.
Use this template to calculate how many reviewers your conference needs.
9. Build some hype
Your potential delegates are busy people and they're making choices in a world full of 24-hour media messages. So how can you grab their attention and build some hype for your conference?
Fear and greed play starring roles in the volatility of financial markets. But they're also powerful motivators for your potential delegates. Is there something changing in your sector that people are worried about responding to? Or is there a great opportunity in that you can help people maximise?
Create a strategy for marketing your event that includes sending some strong messages through PR, online content and email campaigns. Implement strategy on what content you're going to share, when and to whom. Publish interviews, blog posts, pictures, programmes, speaker announcements, etc on your conference website to help build some excitement.  And get people in on the conversation on social media by creating a hashtag for your conference.
Use this event marketing timeline template to help you schedule all your marketing activities.
Use this template to help you create your social media content calendar.
10. Get your last few bits ticked off
By the time conference day is on the horizon the bulk of the work will be done…but there'll still be lots to do.  So get your whole team on board.
You can use tools like MailChimp and the software you're using to manage your conference to keep in touch with your delegates and invited speakers. And make sure they get all the necessary details and instructions about your conference: venue address, guidelines, contact details, registration advice, and so on.
Use this conference planning checklist to delegate and check off your outstanding organising tasks.
Now go forth and conquer.