The scientific and medical conferences using creative breakout sessions to boost engagement.
Conference breakout sessions are typically used to gather delegates in smaller groups and get them engaged with a workshop or discussion. They offer people the chance to discuss, challenge or act on information they've learned at your event. Breakout sessions come in all shapes and sizes, but they're often scheduled in parallel streams to allow delegates to follow the stream they're interested in, before they rejoin the larger group for a plenary session.
These sessions are great for multiple reasons. They can help you divide sessions by knowledge or career level. They increase the sort of face-to-face interactions that are more valuable to delegates than anything they can achieve online. Adding a bit of creativity to your breakout sessions allows you to tailor content to different learning styles. And, because they're often based heavily on participation, they help ensure your delegates experience a more personalised event.
Plus, taking a break from lecture-style passive learning can be just the ticket people need after a morning of intense oral presentations.
Lists of innovative breakout session types abound online, but which formats suit scientific, medical and technical conferences? Let's take a look at what these eight scientific and medical conferences are doing.
1. The archaeology teaching slam
A breakout session to inspire new teaching methods.
Sessions which involves an audience passively listening can be great for imparting knowledge, but, just like in a classroom of learners, an audience that's given the chance to participate is often better able to retain and implement knowledge. To help inspire new teachers, and to furnish seasoned lecturers with some fresh ideas, the Society for American Archaeology Annual Meeting includes a Teaching Slam.
In this breakout session, presenters offer a three-minute lesson on one archaeological concept, with the help of one slide and one prop. It's inspired by the popular Three-Minute Thesis competitions, and the aim is firmly on audience engagement. The result is a fast-paced session that inspires.
2. The paediatrics marketplace
A session that puts learners firmly in charge.
Different delegates respond to different styles of teaching, and the most effective learning often occurs when we get info that's targeted directly at our needs. For this reason, breakout sessions are a fantastic time to pass the reins to attendees and let them direct the learning. This is what the conferences of the Emergency Medicine Society of South Africa do in their Paediatric Marketplace breakout sessions. A dozen or so market stalls are set up with materials like posters, interactive cases and quizzes on topics within the conference.
Delegates are free to browse at their own pace and chat with the stallholders who are experts in each topic. The experts tailor their teaching to each delegate's individual needs and the stalls have equipment so that experts can demonstrate skills where appropriate. And, unlike an exhibit by sponsors, the marketplace is non-commercial, it's simply a space for sharing expertise, skills and knowledge.
3. The microbiology meet-the-editors night
An informal session designed to put early-career delegates at ease.
Breakout sessions also provide the opportunity to let people join a discussion in smaller groups and ask questions they might not ask in a larger formal session. And they're perfect for creating a more personal feel that feeds off participation, which is what The International Society for Microbial Ecology does at the Meet the Editors pub night held during its symposium.
To encourage early-career scientists to ask questions about their writing skills or about academic publishing in general, the organisers buy the first round of drinks during this session. Then they give the students the time and space to have informal chats with the society's editorial team.
4. The urology debates,
Survivor
-style
A fast-paced breakout session designed for healthy competition.
Pitting presenters against each other in the name of fun can help enliven any event. Which is why the American Urological Association's 2018 Annual Meeting encourages its attendees to get heated in their Survivor Debate breakout sessions.
In these sessions, panelists debate hot topics in the urology field, using their knowledge and persuasion to avoid getting voted off the island. Debaters are gradually eliminated by an audience vote, until one is left standing. Fast-paced, interactive sessions like these are always a hit with delegates.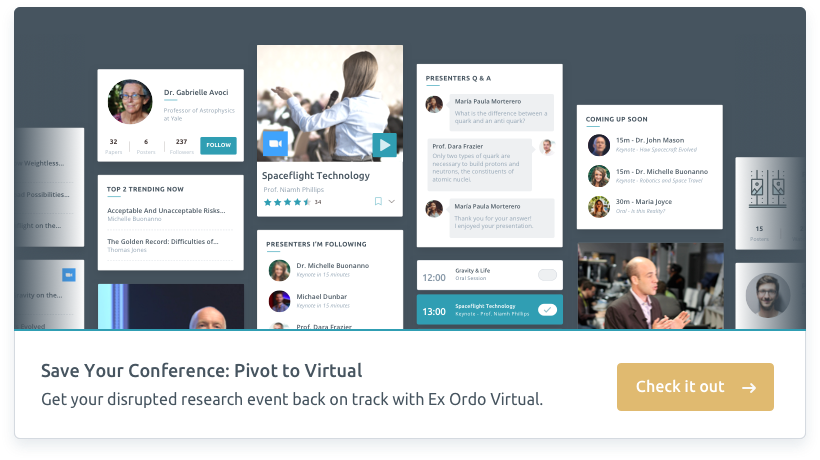 5. The cancer research dragons' den
A session designed to air research ideas to a lay audience.
Breakout sessions are a great opportunity to bring in people from outside of research to lend their lived experiences to the specialists in the room. This is what the National Cancer Research Institute does at its annual conference Dragons' Den sessions.  The "dragons" in these sessions are knowledgeable patients and carers who are already involved in research, and delegates have the opportunity to pitch their research projects to them and hear their thoughts.
The benefits of these practical sessions are twofold. Delegates get help and advice on everything from their study's design to its delivery. And the patients and carers gain the opportunity to support cancer research more effectively and productively.
6. The emergency medicine SIM competitions
A breakout session using role play to create a hands-on experience.
Those who practice emergency medicine rarely work in isolation, so a breakout session that requires teamwork and decisiveness is perfect. The Society for Academic Emergency Medicine conference uses their SIMWars sessions to do just this. SIMWars is a simulation-based competition between teams of clinical providers that compete in various aspects of patient care in front of other delegates.
This session emphasises experiential learning for the competitors and allows the audience to benefit from observing decision-making, and viewing and discussing practice variations across emergency medicine disciplines and institutions.
7. The nuclear cardiology walk and learn tours
A breakout session for small-group learning on the go.
Breakout sessions are a nice excuse to sneak some stress-reducing activities into your programme, such as taking the learning outdoors. The American Society of Nuclear Cardiology used Walk and Learn breakout sessions at its conference in San Francisco to ensure delegates saw the sights and explored the host city while acquiring knowledge on the go.
These walking tours allowed delegates to take part in intelligent discussions of the field's hot topics, while enjoying San Francisco's sweet and savoury attractions. Each session's discussion was tailored to the group's interests. And attendees sampled dim sum and watched as fortune cookies are made, while enjoying the collegial environment of a small group discussion
8. The meteorology town hall meetings
A session serving the hottest topics of the day.
Giving your delegations options on what they engage with gives them the power to tailor your event to their needs. The American Meteorological Society uses its annual conference Town Hall Meetings to do just this.
These breakout sessions are more informal than the technical sessions in the conference programme and focus on the field's hot topics. They draw some of the biggest names in the community as speakers and foster an open discussion for attendees.