Academics can receive hundreds of Call for Paper (CFP) emails every year (as you can see in the image below!); but how do you as a chair make your CFP stand out from the crowd?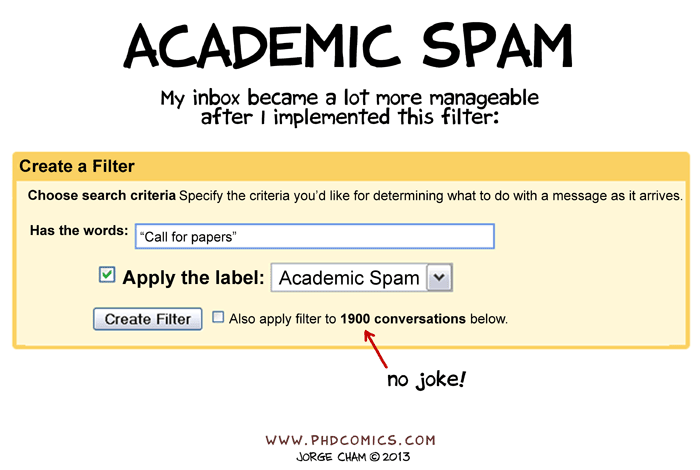 Credit PhD Comics and Jorge Cham for the image (Follow him on Twitter here)
Strong Subject Line
The first thing the receiver will see in their inbox is the subject line. It is very important that this is strong. This can have a bearing on whether the recipient opens the email or not. Generic subject lines can get lost in the crowd, and may even get caught in spam folders. Your subject line should summarize the email and should contain your action. If a subject line is too long, it will get cut off, and your message will not be as effective. You should also include the name of your conference (even the short name) in the subject line so the recipient knows which conference you are. Here is an example of a subject line containing all these elements:
Please submit your abstract to ODEG 2015
The Email
The next stage is the actual email. Getting your point across effectively is a mixture between the quality of the content included in the email and the design around this content. The content needs to be easy to read, not be too long and have a clear indication of what the next action is. When looking at the design element of the email, it is important to remember that some college systems have a firewall set up blocking images appearing on emails. If you rely heavily on images, there may be a lot of white spaces on the email by the time the recipient opens it.
While you may choose not to use pictures in your email, it doesn't mean it can't be visually effective. Take the two emails below as examples. The first one is just a plain email sent from any mailbox. It doesn't look any way easy on the eye or entice someone to read it. The subject line doesn't feel personal or significant in any way – it is generic as it doesn't relate to any particular conference. There are no headings to break up the different sections. The second is a typical email sent through the Ex Ordo system. It looks a lot clearer, yet no images have been used.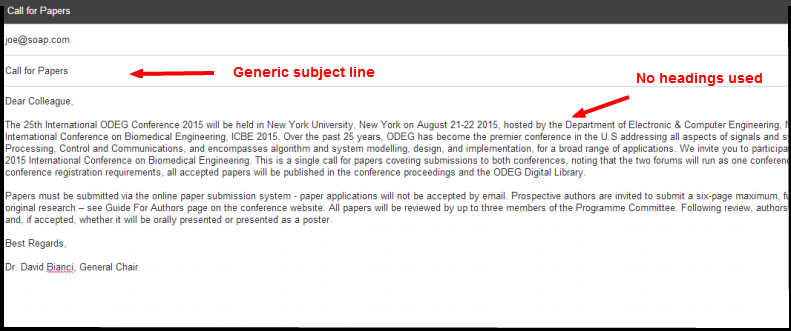 Versus:
While these steps seem very simple, they are often not carried out effectively. By having a good subject line and appealing content (both visually and to read) in the email to back it up, a good foundation will be in place for your CFP.
Happy Conferencing!