From dedicated event staffing software to connected conference management systems, here's our pick of the eight best tools for event planners at scholarly societies and membership organisations.
Regardless of whether you're planning a physical, virtual, or hybrid event, pulling off a top-notch research conference requires ninja-like organisational and time-management skills. From the complexities of abstract management to cross-checking whether your presenters have registered (and paid), conferences are tricky beasts to tame. You'll want to find a way to simplify and streamline the process as much as possible. However, finding the right software to plan your conference can be a complicated task in itself. To save you loads of research, we've whittled down a list of tried and tested tools to help you minimise admin stress, optimise workflow, and keep your committee or events team members invested and engaged.
But before we dive into the toolbox, we'd just like to briefly explain the difference between event management software and conference management software, to clear up any confusion there may be between the two.
💬 Event management software is the generic term for a wide range of software used for managing commercial or corporate events.
💬 Conference management software is event management software designed specifically for medical, technical, scientific, and academic conferences (aka research conferences). The core functionality of conference management software is abstract management (collecting submissions, managing peer review, and accepting or rejecting authors to present at the research conference), with further conference management features linked into this.
Right, let's get started.
1. Ex Ordo
Ex Ordo is custom-built for research conferences
For your research conference, will you be collecting, reviewing, and accepting all your submissions together? Or will you separate your programme into thematic areas aka tracks, each with its own chair, deadlines, topics, and set of reviewers? Will it be a one stage, two stage, or complex review process? Will you be going with an open review, single-anonymous review, or double-anonymous review process? (Note: In an effort to use more inclusive language, we are moving away from the terms single-blind and double-blind peer review.) Open review means both the author and the reviewer know who the other is. Single-anonymous review means the reviewer knows who the author is, but the author doesn't know who the reviewer is. Double-anonymous review means neither the reviewer nor the author know who the other is.
When you're managing submissions and reviews, it can feel like you're facing an endless march of admin if your system is not intuitive. This is where, when planning a conference, investing in the right kind of software for your specific needs can literally save you weeks of work. Ex Ordo is an all-in-one abstract management software, conference programme, registration system, and mobile conference app, with an integrated virtual conference platform to support online events. Unlike a lot of conference management software which includes basic functionality to manage submissions, Ex Ordo's abstract management isn't simply an add-on, it's the system's core functionality. 
You can automatically match submissions to the best-qualified reviewers. Track reviewers' progress and send reminders to those who fall behind. Re-assign, close, or disable reviews. Filter completed reviews by score or browse and inspect them individually. Request RSVPs and see which presenters have registered to attend (and those who haven't). Share accepted abstracts and sessions with delegates through the virtual platform or mobile app. And so much more.
💬 Ex Ordo – the best end-to-end conference management system for research conferences, big and small.
2. Eventbrite
Eventbrite makes event ticketing easy
Eventbrite is one of the world's best-known ticketing platforms. They work with all types of events, ranging from music festivals and pop-up events to research conferences.
Some conference management tools have a connected registration platform added on. But Eventbrite is a great choice if you are organising a small conference with low-cost (or free) entry. While it's not connected to other tools, it does give you a centralised place to send delegates to register. It's also good for finding new audiences by targeting attendees who have registered for similar events. 
💬 Eventbrite – the best tool for ticketing small research conferences.
3. Trello

Trello gives you a visual overview of what needs doing
Between booking caterers, choosing your online event provider, and building your conference programme, we know how challenging keeping track of your seemingly never-ending list of tasks can be.
Trello is a hyper-visual tool for task-management. A hugely customisable digital kanban board, it provides a bird's-eye view of what's going on at any given moment in time. At a glance, you can see where your conference treasurer is at in terms of finalising the budget, or which venues or virtual platforms your local chair has contacted for a quote.
You can create multiple boards to manage your entire list of conferences (including all your to-dos). And Trello's ability to tag other users on a card and tick off tasks on a checklist means you won't have to waste time sending emails to your events or executive team. At the very least, members of your conference organising team could use this great little tool to manage their own tasks for the event.
💬 Trello  – the best tool for tracking tasks.
4. Hootsuite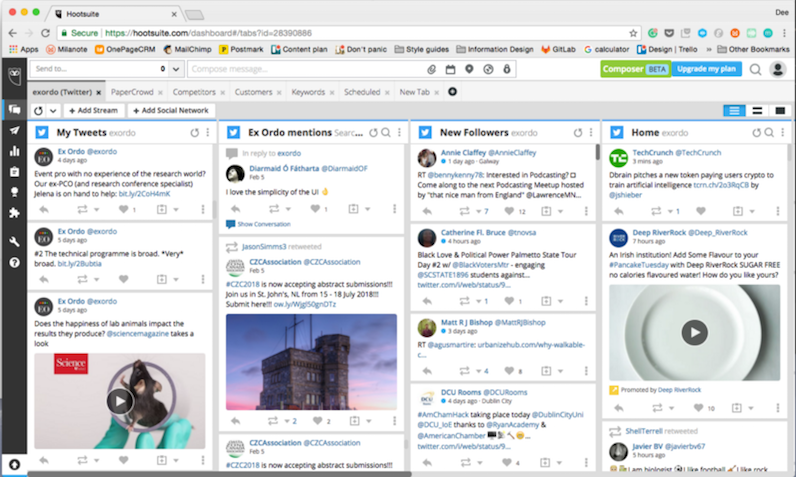 Hootsuite allows you to bring your social media conversations into one space
In a survey conducted at Canberra University, 83% of the academics surveyed said they use Twitter for their academic work. So, Twitter is a great way to get your conference out to the research community. And Hootsuite is a pretty sweet way to manage your Twitter accounts.
It allows you to save time by scheduling your posts in advance and bringing all your conversations into one manageable space. You can watch hashtags that relate to your conferences, and track mentions of your events. You can even use Hootsuite as an author or delegate support hub – a place to monitor conversations and answer questions about anything from submission deadlines to membership benefits. You can keep your finger on the pulse of your conference in live time, and immediately address any issues that may arise on social media.
So, whether you decide to have an individual account for each of your conferences, or promote your conferences from just one account, Hootsuite's got you covered.
💬 Hootsuite  – the best tool for managing your Twitter streams.
5. Guidebook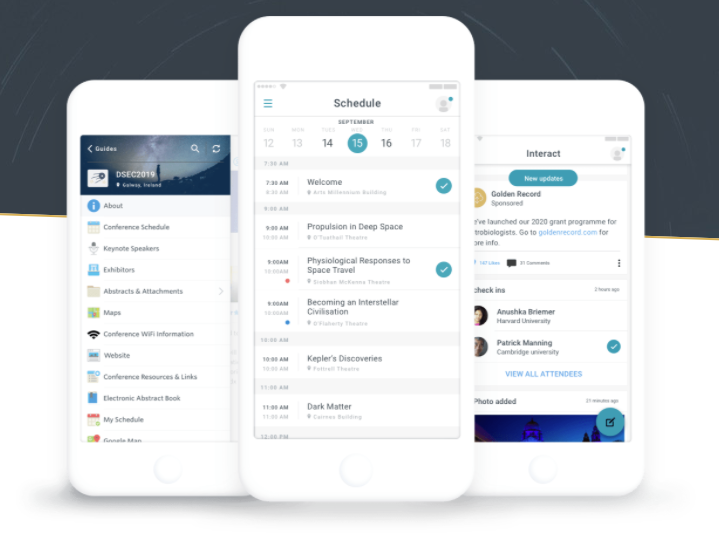 Guidebook lets you update your event programme on the fly
Mobile conference apps have quickly become a core piece of software for managing research conferences. Whilst mobile has always been relevant, it's become increasingly important with hybrid conferences, connecting the physical and virtual audiences. 
Guidebook makes it simple to create and manage a mobile conference app. It allows you to do handy things like quickly updating your programme when the usual last-minute changes crop up, and sending push notifications to delegates' phones. Guidebook also gives savvy conference managers an opportunity to earn some extra revenue by providing sponsorship opportunities for in-app ads. 
While some of your members may prefer the traditional printed programme, many conference-goers are now accustomed to digital ones. More and more event planners are going for the greener option of providing a mobile app at their conferences. Find a mobile app that is connected to your abstract management system and programme, and you'll be able to quickly sync the schedule, making your conference operations so much more efficient.
💬 Guidebook  – the best tool for taking your event mobile.
6. IFTTT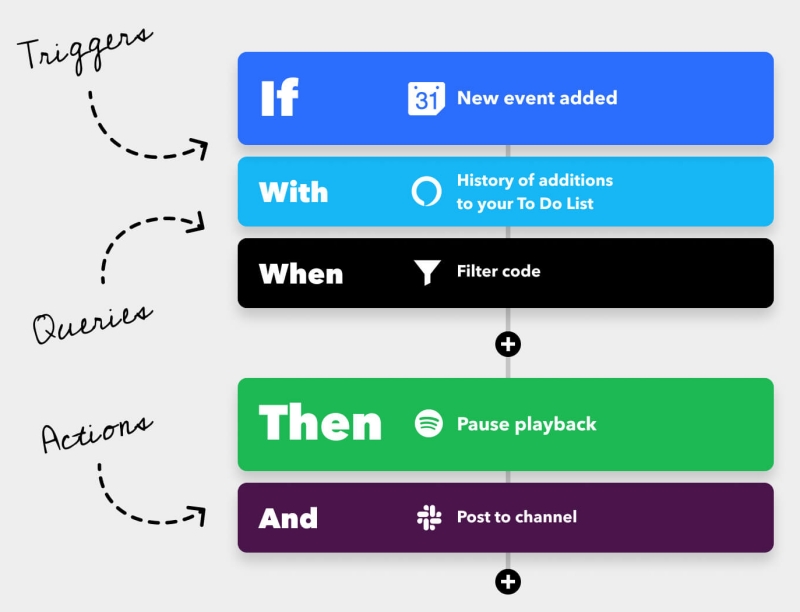 IFTTT (which stands for 'If This Then That') automates and integrates apps and devices 
Mundane and repetitive tasks can be a source of frustration and displeasure for many, especially those with more value-driven duties and responsibilities, which require human judgement and critical thinking.
IFTTT (pronounced to rhyme with 'thrift') allows you to automate many of these laborious tasks by getting your favourite apps and devices talking to one another. You can use this fabulous free tool to build automations, called Applets, that connect two or more of your favourite services to create a new experience. Each service has unique triggers, queries, and actions that allow you to build different Applets.
For example, you could build an Applet to receive a notification every time someone Tweets your conference hashtag, or an Applet to automatically email your committee meeting notes to a shared Google Drive folder, or an Applet to create events in your iPhone Calendar via Google Assistant. 
💬 IFTTT –  the best tool for automating and integrating your favourite apps and devices.
7. Rentman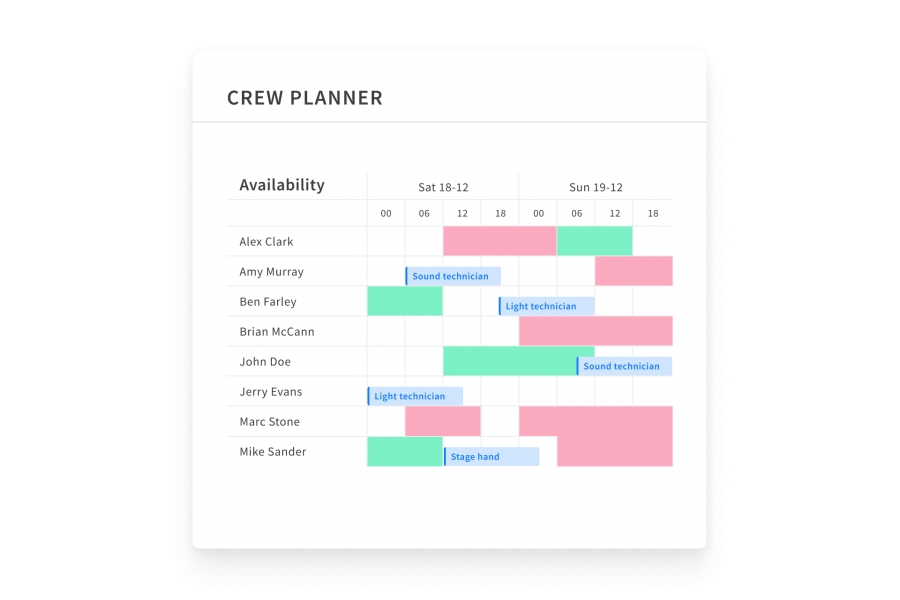 Rentman is event staffing software designed for the AV and Event industry
With the return of in-person conferences comes the often challenging aspect of event staffing, particularly keeping track of which crew members and freelancers are available for a job. It can be extremely time-consuming to monitor multiple communication channels such as emails, phone calls, or WhatsApp messages.
Rentman is event staffing software designed specifically for the AV and Event industry. It enables you to manage all communications with your crew in one central hub. You can view all planned jobs in a timeline, see availabilities of crew members, give your crew the option to proactively communicate their availabilities, request availabilities, filter your crew based on the job's required skills or expertise and certifications, and assign suitable crew members to job functions.
The app allows multiple planners to collaborate on the same schedule and easily view the current project status. All project updates are tracked, so you'll know if/when any time schedules were adjusted, extra staff were added, or a project was cancelled. Your crew members can also manage their personal schedules, appointments, and availabilities with free user accounts.
💬 Rentman –  the best tool for managing your event staffing needs.
8. CamScanner

CamScanner transforms your phone into a portable scanner
CamScanner transforms your phone into a portable scanner, allowing you to scan, edit, and manage files on the fly. You can sync and backup documents to access them across all your devices, anytime, anywhere.
This little app is incredibly useful when you've got contracts and receipts you need to turn into hi-res PDFs, and send to suppliers or your organising committee. It's especially useful if you're responsible for reconciling expenses at the end of each month. 
💬 CamScanner – the best tool for scanning documents on the fly.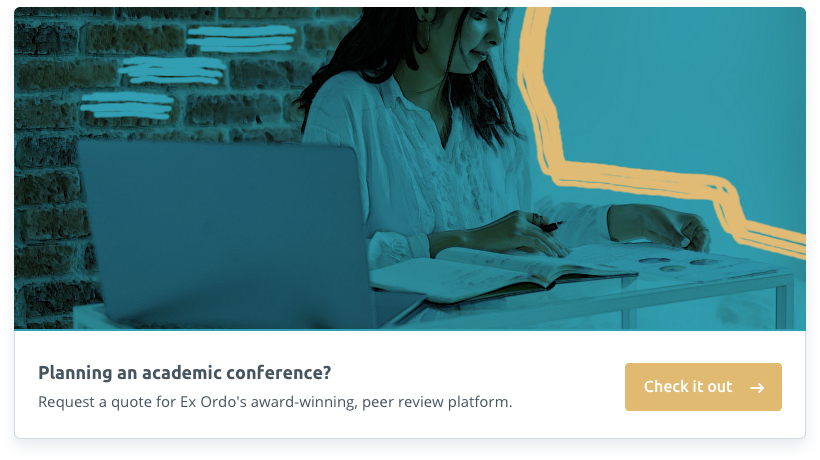 Using conference management tools to empower your team & boost productivity
By harnessing the power of technology and equipping your team with the right range of conference management tools they need to carry out their work as efficiently as possible, you can keep everyone invested and engaged. An empowered team is an efficient team. An efficient team is a productive team. And an efficient, productive team is one of the most valuable tools you have at your disposal. With minimised admin stress, optimised workflow, and your team functioning like a well-oiled machine, your conference will reap the rewards tenfold.