Your conference sponsorship packages need to sell sponsors on the benefits and be flexible enough to meet their needs.
Conference sponsorship packages are an important part of making any research conference a success. Most organisers know their conference budget would be struggling without the much-needed revenue they bring in. Even if that's not the case for you, having the support of just the right sponsor can still take your conference to the next level.
Professional conference organisers Robin Baldwin in Canada, Nicole Giacomini in Switzerland, and Sarah Jeffery in the UK gave us some background to sponsorship packages, and what to consider when you're creating one for your event.
Conference sponsorship packages need to…sell sponsors on the benefits
"A lot of the value in conference sponsorship packages is the perceived value, not the physical thing," says professional conference manager Robin Baldwin who works with The Willow Group in Ontario. "Exposure, branding, things like that. Which you can't really put a price tag on."
Before you put together any sponsorship package ideas, you'll need to create a marketing profile of potential delegates that breaks them down by their location and research field. This can also be used for your conference promotion, giving you a better understanding of your conference delegates. Are they high-level specialists in a particular discipline? Do they come from a cross-section of the industry but share a common interest?
While smaller numbers may make some events less attractive to sponsors, that's not always the case. "It depends on the quality of delegates," says Nicole Giacomini, a professional conference organiser with Meeting.com in Lausanne. "We organise the annual meeting of Swiss neonatologists. Even if there are only 100 or 200 participants, they're the best of Switzerland. So for sponsors, it's the place to be."
Make sure your sponsorship packages detail the benefits of being associated with your event.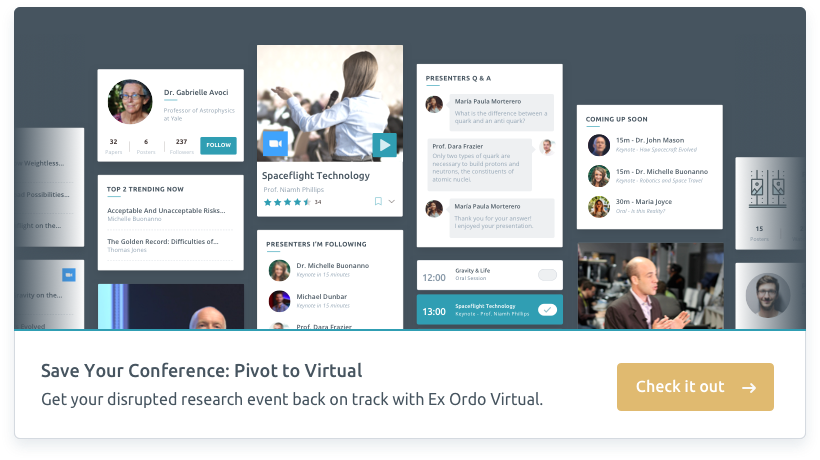 Conference sponsorship packages need to…be compliant with guidelines and regulations
Sponsorship packages for academic and research events must comply with whatever guidelines and regulations your organisation, region and industry abide by.
For example, the medical conferences Nicole organises in Switzerland operate under strict rules about what companies can and can't sponsor. As Nicole explains, "You don't have the right to sponsor a banquet totally. And it's the same for speakers, the costs cannot be covered by sponsorship." And organisers like Nicole can't use sponsorship to lower the delegate fees of the doctors who attend.
Before you put together your package, check what is and isn't allowed to be sponsored in your industry and your region. And, if necessary, get working with your programme and organising committee to ensure there's no conflict of interest where technical sponsors are concerned.
Conference sponsorship packages need to…be appropriate for your event profile
Any sponsorship you pursue will also be influenced by what's appropriate for your event.
"I work on an international conference for education and development," says Oxford-based professional conference manager Sarah Jeffery. "Making the event too branded goes against the grain. We don't have a lot of money to brand stuff, so if sponsors' branding is everywhere at the event, it could feel hijacked."
It comes down to what's right for your conference and what standards your delegates will expect, explains Sarah. "If they expect an impressive venue and lots of video production, then a higher level of sponsorship might be suitable."
10 Sponsorship package ideas for your conference
Once you're clear on what's allowed and appropriate, you can put together your conference sponsorship package ideas. Here are 10 sponsorship ideas to consider:
1. Conference meals
From refreshment breaks with logos on the screen, to lunches where you can have static branding, to gala dinners. Robin advises looking at your conference meals for sponsorship opportunities.
2. Goods and services
Sponsorship doesn't have to mean handing over money – a company could sponsor your conference by donating goods or providing their services for free.
3. Name badges
Name badge design provides a great opportunity for sponsorship. "Sponsored name badges mean everyone walking around with that company's logo," says Robin. "One of our name badge sponsors recently started providing us with lanyards as well as paying for sponsorship. Now everyone is walking around with their branded lanyards." 
4. Sell your space
The type of sponsorship you look for will also depend on what works well in your venue. If you've got a big exhibition hall where you can have all the conference meals and sessions in once place, sponsors' posters and stands will be visible for the duration, so will be an attractive offer.
5. Keynote speaker
Consider getting sponsorship to support travel expenses and accommodation for your conference keynote speaker.
6. Speaking opportunities
"Speaking opportunities for sponsors are almost invaluable,"  says Robin. "If you want to sell a large dinner sponsorship, throw in a 5-minute address for the company's CEO. The extra exposure they get is worth a lot to them."
7. Delegate bursaries and travel grants
Ask sponsors to provide bursaries or travel grants for early-career researchers or to improve the accessibility of your conference.
8. Your technical program
"For bigger sponsorship packages we include registrations," says Robin. "That way you're boosting your numbers and you're selling the value of your technical program to the sponsor. The registration also provides them with additional networking opportunities with the other delegates. Delegate-to-delegate conversations are far more effective than sponsor-to-delegate conversations."
9. Delegate packs
Packs offer ample opportunities for sponsors to display their branded pads, pens and delegate goodies.
10. Mobile app
A conference mobile app can help your delegates navigate the space, and with click-throughs that can be tracked, it's a prime spot to include sponsors' logos and details too.

An example of a sponsored post in Ex Ordo Mobile
Conference sponsorship packages need to…be flexible
Once you've got your ideas together, put some time into working out what your sponsorship packages should cost. But keep in mind that when it comes to sponsorship, everything's negotiable.
"The internet is a great resource for this kind of task," says Robin. "Look at similar events and see what kind of pricing they've put their sponsorship packages at. It's worth it to put in the research to find where the threshold is for your industry."
"If sponsors aren't interested in your sponsorship package ideas, talk to them about their marketing objectives," says Robin. "Then you can put together a custom package that fits their needs."