Use these innovative events ideas to add creativity to your conference.
When it comes to innovative events ideas, there's a world of inspiration out there. So when you're putting together your plans to organise a research conference, don't forget to add a splash of creativity as part of your programme planning. Use these examples of creative approaches to event planning to help you engage (and delight) delegates at your conference.
The TED Conference created connections over mealtimes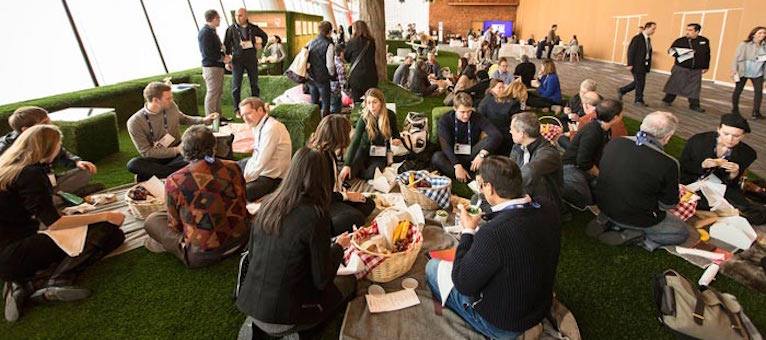 Photo: Ryan Lash/TED
One of the top reasons delegates attend conferences is to network, but walking up and introducing yourself to complete strangers can be daunting. That's why meals are a great opportunity to inject some creativity into your conference. Which is exactly what this indoor picnic at the TED Conference did. 
Delegates were offered picnic baskets with food for six, and invited to find five others to share it with. Planning an indoor picnic can really facilitate networking at your conference, even between your less-talkative delegates.  And, because it's indoors, it's suitable for any time of year and any type of climate.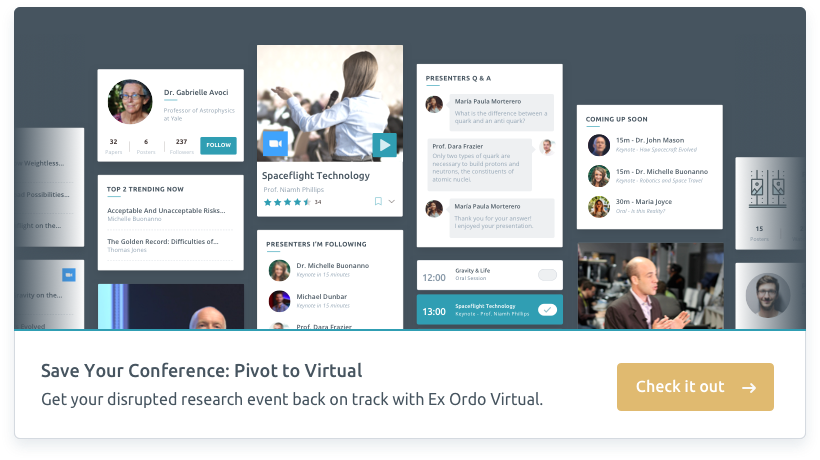 The Siebel Scholars Conference "killed" delegates to grab their attention
Video: Siebel Scholars
Truly innovative events ideas grab the full attention of delegates. Which is exactly what the 2017 Siebel Scholars Conference did when it issued each delegate with a flashing LED wristband which simulated a heartbeat.
The conference opened with a film that played through the likely fall-out of a cyber attack on the US energy grid. The film outlined the resulting empty supermarkets, scarce drinking water, and lack of medical care. As it ticked through the days after such an attack, delegates' wristbands began to shut off, representing death. By day 365, only 10 percent of the lights were still flashing.
This creative conference idea took that year's theme of cybersecurity and brought the theme to life for every delegate in the room. 
The SXSW Conference created themed meetups to boost networking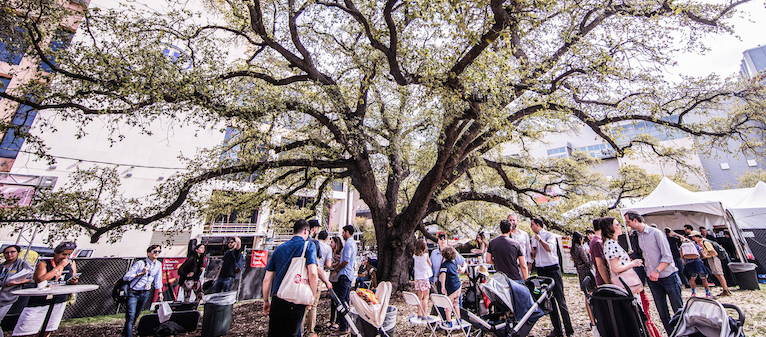 Photo: Amanda Cain
Don't underestimate the power of the connections delegates will make at your conference. They'll remember them long after they return home (and good connections make them more likely to attend again next year). To help foster these connections, take a leaf out of The South by Southwest (SXSW 2018) Conference playbook, where the organisers used themed delegate meetups like "25 and Under" and "First Time to SXSW".
These informal gatherings were tailored to create the perfect networking spaces for delegates to meet others with common traits. And they're a little more creative than the usual conference icebreaker of "Tell us a fun fact about yourself…"
The GLOBE Forum switched off the noise during sessions
Video: Patrick Dixon
Running a "silent" session may seem like an odd thing to do to a bunch of researchers, but if you're short of breakout rooms, it might be just the thing. Take inspiration from the GLOBE Forum, which ran parallel sessions in the main auditorium, using speaker microphones and receivers similar to those used for live interpreters.
The result was a silent disco of sorts, where delegates could move freely between sessions as they wished. A creative solution to a lack of conference space and a way to give delegates more freedom in which sessions they attend. And it's innovative breakout sessions like this that can set your event apart from the rest.
Google I/O used a pass-it-forward note board to aid collaboration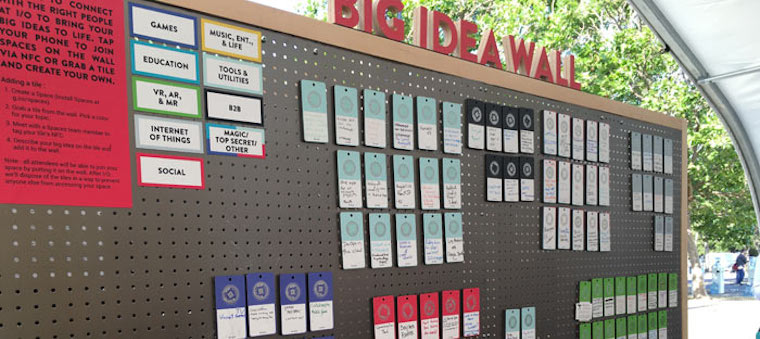 Photo: Google
It's not surprising that Google's annual developer conference, Google I/O, is full of innovative events ideas. This "Big Idea Wall" invited delegates to share their ideas with the world and invite like-minded delegates to collaborate. With a pass-it-forward note board like this, researchers can connect over similar pain-points and share solutions. And it's great for delegates who aren't skilled at face-to-face networking.
The OMED Conference prompted delegates to look after their own health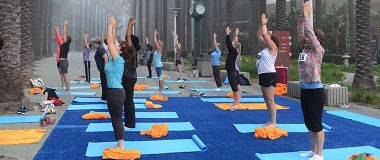 Photo: OMED
The best conference ideas are those that strike a chord with delegates. The organisers of the Osteopathic Medical Education Conference (OMED) knew they were planning an event for health professionals who often neglect their own health and suffer burnout as a result. So they took the opportunity to pepper the event with wellness elements. Each day began with yoga followed by smoothies, juices, and yoghurt. And in the main hall, delegates could get flu shots, take part in healthy food demos or learn yoga exercises they could do at their desks.
IndustryConf used badges to help delegates strike up conversations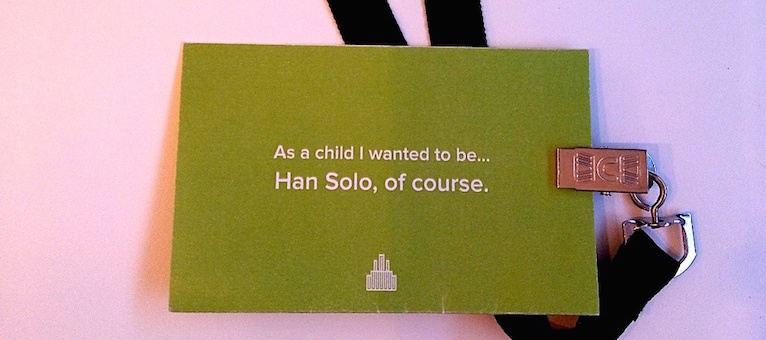 Photo: Tito
Delegate badges are prime real-estate for creative events ideas. The organisers of IndustryConf wanted to make theirs a conversation starter. Each delegate was prompted to answer a question about their childhood aspirations before the conference. These were then printed on the back of each badge. Because when you add fictional characters, superpowers or childhood passions into the mix, striking up a conversation in the hallway between sessions becomes a whole lot easier.
Using creative conference ideas at your event
Leave paint-by-numbers conference formats in the past, and take some inspiration from these creative approaches to event planning. Thinking outside the box for your conference will not only be fun for you, it'll but fun for your delegates to experience. It'll help them engage more fully, create deeper connections, and stop your conference from becoming just a listening event.