Whether your conference is local, national or international, you need a great conference website to showcase it. 
Your conference website is your digital shop window. It's aim is to help people find out what your conference is about, submit successfully, and register for your event.
So to build an effective website, put yourself in your visitors' shoes to figure out what information they'll be looking for and what actions they want to take. The best conference websites take the hand of attendees to guide them towards submitting and registering. Each element in these websites communicates effectively to visitors that a conference is worth attending and can be used any anyone who needs extra information. 
Carefully consider the following 14 conference website elements to make sure your website is up to the task. 
1. Conference name, dates and logo
The visitors on your website probably got there from an online search or a recommendation from a friend or colleague. You want to immediately reassure them they're in the right place, so your name, dates and logo should be clear and prominent. 
The best way to do this is to include them in the header (right at the top) of every page. Add the conference name and dates in text instead of as an image — this helps search engines like Google push your conference up the search results. You should also make sure that important deadlines like submission and registration are easy to find on your homepage, so consider giving them pride of place near the top.
Your logo is a great way to project the personality of your conference on your website. A conference logo is an integral part of your branding and can influence people's perceptions of your conference, so make sure it's not distorted, stretched or fuzzy (pixelated). 
2. Location
Provide all the information concerning the venue, the address, and instructions on how to get there. Adding a Google map can be really helpful, and it's also a good idea to share information on public transport and parking.
If your conference is international, add instructions for overseas delegates on things like visa policies, airports, and any useful info on the country.
Present the venue with a link to its website and some pictures.
Delegates will likely also appreciate some help in finding their accommodation. Give them some guidance and a list of hotels near the venue. Consider including useful information on the city as well, like places to eat and drink, tourist hotspots, and local activities.
jQuery UK Conference
3. Keynote speakers
Keynote speakers play a vital role in the decision-making process of your website visitors, so make sure they're clearly visible. List the speakers that will take part in your conference and provide their bio, headshot and links to their websites or social profiles. To save time, ask speakers to submit their own bios — it's likely they have one prepared from previous speaking appearances. But give them some guidance and set a word limit so you don't end up editing compositions the length of War and Peace. 
And if you've managed to snag any big-name speakers for your event, add them to your homepage; they'll have serious pulling power.
4. Submission
One of the most common uses of your conference website is for authors to submit their abstracts or papers. So give priority space to a link to a user-friendly submission system, as well as detailed guidelines on how to submit. Include instructions for authors, submission deadlines and a brief description of your review process.
5. Committee
Introduce the members of your different committees on your website, and add a bio and a picture if possible. This is a good way of showing recognition for the key role they play in organising your conference. But it's also important in terms of earning your visitors' trust in your conference. If they see that respected researchers in their field are involved in building a technical programme and inviting keynote speakers, that can help to demonstrate the level of quality content your conference will have.
6. Registration
Your registration page should contain clear instructions on how to register for the conference: deadlines, how much it costs, payment methods and any T's & C's. If you're offering tiered pricing like early-bird discounts, make it clear what the deadlines are, and how much money people will save by registering early.  You should also include a link to a good registration system that's accessible from all the pages of your website (in your header for instance).
7. Contact information
The best conference websites have a dedicated contact page that lists which people to contact in relation to various queries. For example, the programme chair, registration chair, and logistics and sponsorship contacts. Where possible, include phone numbers for these individuals, so someone can reach them in an emergency.
This also means you won't be fielding all enquiries through one central person, and can help people find the answers they need, fast.
OceanObs'19
8. Social media
Social media is brilliant for building conference awareness and creating a buzz around your event.  Authors and delegates want to make sure your conference is worth attending, and social proof — the power of honest opinions and testimonials — is one of the most persuasive ways to convince them. 
Include social media buttons on your website. Encourage visitors, delegates and everybody involved in your conference to interact on Twitter, Linkedin, Facebook and other social platforms and promote the conference. And don't forget to create — and share — an official hashtag for your conference too.
9. Schedule
Delegates will want to study your schedule in advance, and a strong one may attract last-minute registrations, so it's vital that visitors can access a detailed schedule easily from your website. 
Bear in mind that lots of delegates will access your schedule from their phone or tablet before and during the event, so it's a good idea to make it mobile-friendly. But depending on how functional and interactive you want your schedule to be, you can pick from a simple PDF to an online programme to a mobile conference app. And make sure delegates can still access the schedule if the venue wifi goes down.
If your conference schedule has loads of tracks and parallel sessions, it can be hard to present it in a clear way. So if you're using scheduling software, look for a package that's built for research conferences.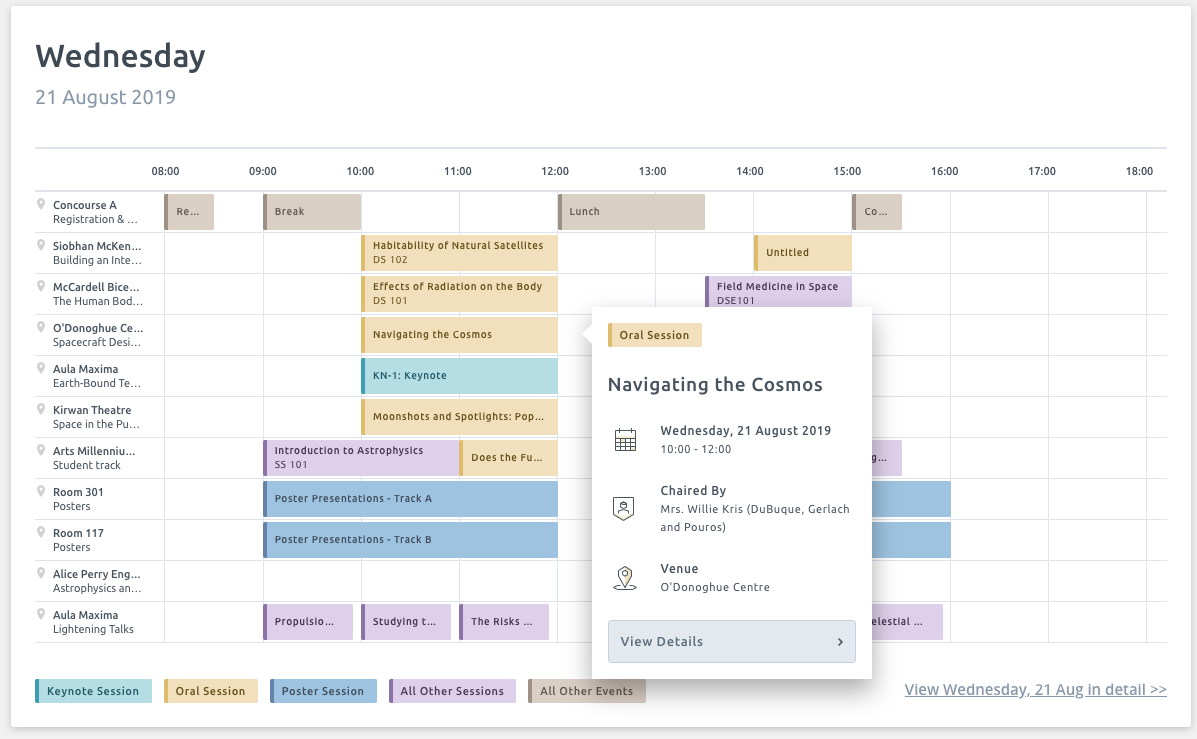 An Ex Ordo online conference programme with parallel sessions
10. Sponsors
You want your sponsors to feel appreciated too, so it's crucial you give them an opportunity to be seen. Allocate some space on your website to showcase them and put active links to a relevant page on their website (recommend they create a specific page — aka a landing page — for your conference visitors). 
Many conferences rely heavily on sponsors and if you can display creative ways of showcasing them it's likely you will get a larger sponsorship next year. 
SIGGRAPH Conference
11. Conference history & why attend
Many conference websites include a page telling the story of the conference: when it was created, key milestones, some statistics to highlight its success, etc. Delegates really enjoy features like this as it shows how a conference has evolved over time. It also gives you an opportunity to build your conferences reputation.
You can also include a "Why attend" section. This is a simple page outlining what's unique about your event and what delegates can expect to gain from attending.
12. Promotional material from past events
One way of generating buzz about your conference is to make some promotional videos for your website.  Video is well documented as an effective marketing tactic and it's a great way of offering visitors a teaser of your event to pique their interest and show them what they'll get out of attending it. 
In these videos, you can introduce your topics and your organising committee, give a tour of the venue, interview attendees or show some clips from past presentations, talks and social events. 
13. FAQs
There are some recurring questions visitors have. The answers to these questions should be scattered in the relevant pages of your website, but adding an FAQ page to your website can group them all in the same place, and save your visitors from having to search.
This will also save you time when it comes to answering emails in the run-up to the conference.
14. Blog
Even though it's time-consuming, creating a blog is a great marketing tool to promote your conference. You could use it to tell the stories of organising the conference, give visitors insights into the speakers and the location, and share exciting news with everyone who's interested. Blog posts are great for sharing on social media and in your conference newsletter too. 
Creating a successful conference website
These are just 14 ideas of what your conference website could contain. It doesn't mean you need every single element for your conference website to be effective, but carefully weigh up what's essential for your delegates.
Once you decide which elements you want to include on your website, define how they'll be distributed and how they'll be displayed. This is when you determine your website's structure and start wireframing it.