From mobile apps to apps that help you stay on budget, here are the 10 best conference apps for running your next event.
[Editor's note, 24 March: Meeting planners are creative problem solvers; so are event tech companies. And we've been listening carefully to what you need to weather the storm of Covid-19. Right now, we're figuring out how best we can help you bring your community together with a virtual conferencing solution. If you'd like to be kept in the loop about how we can help you host your event despite the disruption, sign-up below.]
Want to find out how we can help with virtual conferencing? Sign up.
Nothing is certain but death, taxes, and that conference planners are bloody hard workers. So when a conference app comes along that allows you to outsource just a smidgen of your workload, you'd sign up immediately, wouldn't you? 
Well thankfully there are a whole heap of conference apps out there that can help you cut out the busywork, communicate better, and eliminate the mental clutter. Lots of these apps are built by event planners themselves, so you can use them to lean on the shoulders of those who have gone before — and who learned what works, and what doesn't. 
1. Ex Ordo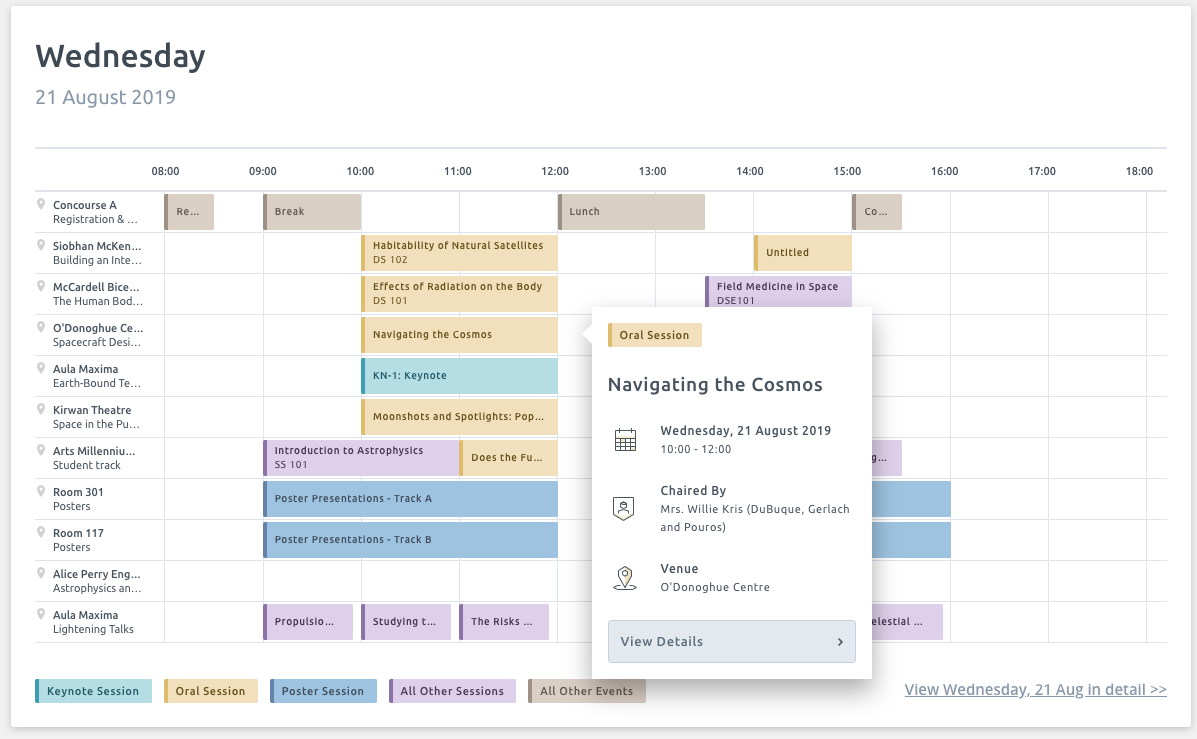 Ex Ordo is an all-in-one abstract management, registration, scheduling and mobile conference app. Unlike a lot of other conference management tools, Ex Ordo counts former conference organisers in its ranks. (When founder Paul Killoran, was a student, he helped organise an engineering conference, realised how awful the software was, and knew he could build something better.)
Ex Ordo is designed for academic and research events. And all of the different features communicate with each other. This allows you to spot reviewers that are falling behind, track which presenters have registered to attend, and much more. 
Covid-19 update.
To help you meet the challenges of these unparalleled times, Ex Ordo is building a virtual conference platform. Ex Ordo Virtual will be designed with scholarly events in mind and will go beyond simple webinars. You'll be able to empower presenters to share their research and give sponsors their moment in the spotlight.  And you can do things like:
Create a live space for your audience to connect, consume content and see what's new.

Use integrations with tried-and-tested streaming and video software. Ex Ordo Virtual will cater to your content's diverse needs.

Make your conference accessible to everyone, or restrict it to those who've paid.

Rekindle the magic of in-person events by helping your audience to connect and send messages on a virtual meeting platform.

Bring your first virtual conference to life with the help of a friendly, dedicated support team. 
In this time of crisis, Ex Ordo can help you provide a virtual space for your scholarly community to gather.
Ex Ordo — the best conference app for managing your event's content.
2. HelloSign
Going paperless is a good way to cut down on your printing costs and your clutter. But it doesn't just apply to your conference programme or proceedings book, it also applies to your supplier contracts and waivers. 
There are heaps of electronic ways to send your suppliers an event contract or liability waiver. But getting them to sign and return your document (without needing to send multiple reminders) can be a horse of a different colour.
Thankfully, HelloSign is an app that'll help you do just this.  You can use this app to sign documents yourself or request signatures from multiple people at your conference. You can set up automated reminders for your signees, and keep track of your document's progress. And once something's fully signed, everyone gets a copy delivered to their inbox. And best of all? HelloSign's eSignatures are legally binding.
HelloSign — the best conference app for managing your contracts / collecting legally binding signatures from your suppliers.
3. Colloquium Numbr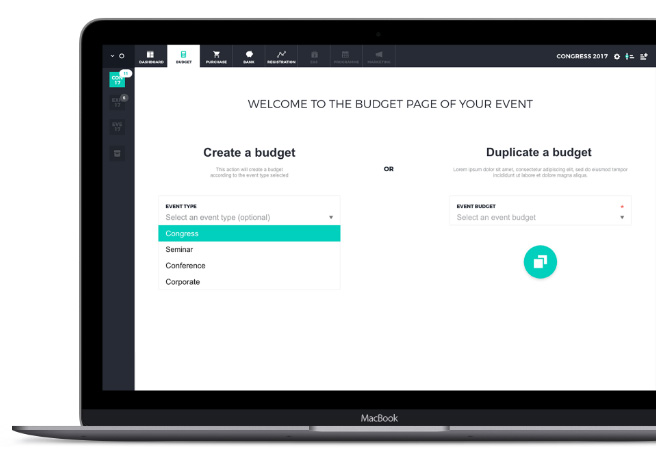 Creating and maintaining a detailed conference budget is an inescapable part of the planning process. But it's time consuming. And wouldn't you rather spend your time sourcing top-class speakers, or engaging your delegates with digital content? Colloquium Numbr is a budgeting app that bills itself as "The greatest event management solution made by event managers." Ok, sounds promising.
From creation to your closing process, this conference app will assist you in managing each step of your budget. It's the brainchild of professional conference organisers (PCOs) Colloquium. And Colloquium CEO, Elvire de Chalus, says, "The way you draw up a budget will influence the whole event organisation. As a PCO, we were looking for a digital tool that would allow us to monitor our events' budget and our events' data. Although we receive tons of emails about new event tools every day, none of them matched our needs." So they decided to build their own app. 
Colloquium Numbr lets you select a budget template (preloaded or customised) and gives you handy advice to help you manage your budget for the entire lifecycle of your conference. At any time, the app will calculate an accurate evaluation of your income and expenses in order to help you make good decisions. Need more proof? Colloquium Numbr won the IAPCO Driving Excellence Award 2019.
Colloquium Numbr — the best conference app for saving you from budgeting nightmares.
4. Eventopedia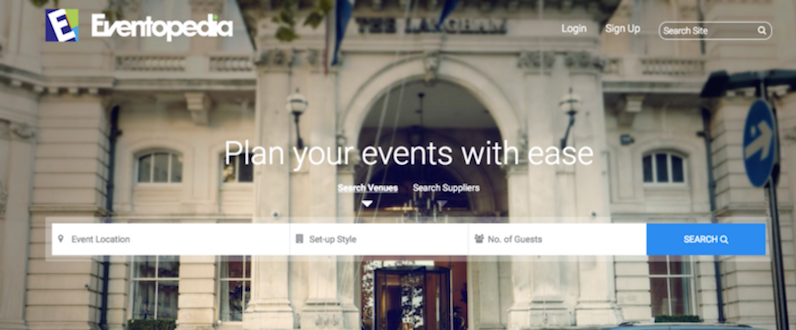 When it comes to event suppliers, you want every link in your conference planning chain to be solid. And that's conference planners take supplier recommendations pretty damn seriously.
Eventopedia is a conference app that lets organisers rate and review suppliers, making it easier for fellow event planners to find ones that are helpful and value for money. It's another app that's built by event planners, for event planners, and as the founders say, "As seasoned events professionals, we wanted to create the events platform that we could never find, that delivers what events professionals actually need rather than what someone from outside our industry thinks we need."
Eventopedia is still a pretty new startup, so right now it's only useful if your conference is taking place in a major city like London, Hong Kong or New York. But keep your eyes peeled, as it has ambitions to become a global supplier resource.  
Eventopedia — the best conference app for sourcing solid suppliers.
5. Google Assistant
Google Assistant is one of those apps every conference organiser should get to grips with. Its reach is far and wide, as it's not only on Android phones, but, thanks to partnerships with other companies, Google Assistant is now on a staggering range of devices, from headphones to speakers and cars. (And yes, it's even on your iPhone.)
And boy, can it make your life easier. Use it to set deadlines for projects, set up a tranche of shortcuts that'll save you time (and save your fingers the strain of unnecessary typing) and set reminders based on your location. So if you need to remember to do something when you reach the venue, you'll get a handy nudge at just the right moment.
The lads over at PlannerWire know their stuff when it comes to event tech, and here's what they say about it. "Using a smart assistant is the smart thing to do because your little friend can help you remember things, talk to a client in another country, find out when the conference VIP is landing, and get the skinny about rain on your literal parade. Oh, and before you Siri people get all snippy at me, Siri is good too. Just not Google good." There you have it, folks. 
Google Assistant  — the best conference app for making your life that bit easier.
6. IFTTT
No more are the ring-binder and clipboard the trademark of conference planners around the globe. But even with blessed digital, content like your committee meeting notes and event tweets still require some time and effort to manage.  
IFTTT (aka If This Then That) gets your apps and devices talking to each other. And it's a great conference app for planners who find themselves wasting time on repetitive tasks.
Conference planners can use this free app to create chains of simple conditional statements known as "recipes". These triggers set off corresponding tasks — so you don't have to. You can use IFTTT to do things like get a notification when someone tweets your conference hashtag, send your committee meeting notes to a shared Google Drive folder or save photos you're tagged in on Facebook to a Dropbox folder. So get exploring and free up your time to work on other aspects of planning your conference.
IFTTT  — the best conference app for automating away the busywork.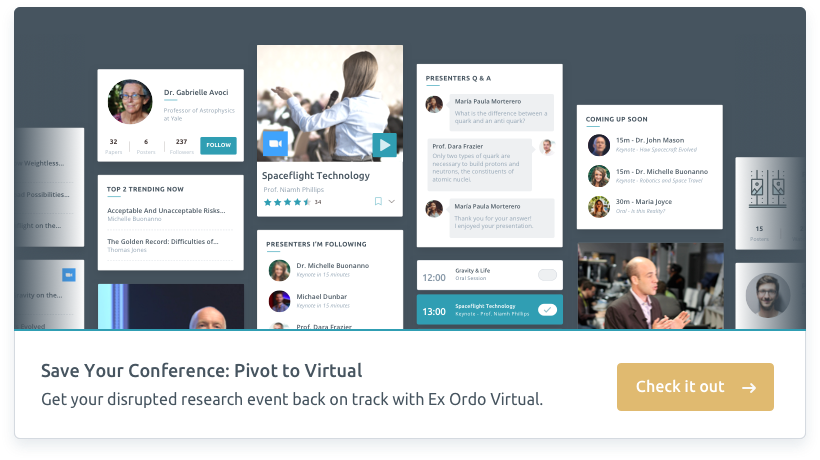 7. Livestream
Due to increasing awareness of carbon emissions, visa restrictions, and budgetary and time constraints, your community can't always travel to attend your events. This is why an increasing number of conferences are piloting the hybrid meetings model. Live streaming some or all of your conference sessions lets you deliver your conference content right to your community. 
Consumer tools like Facebook and Twitter allow you to live stream for free, but if you want a conference app that gives you a lot more control over your content, Livestream is for you. This app lets you do things like add your branding, watermark your stream with your logo or add sponsors too (which could add another income stream to your sponsorship packages). 
It also gives you the option to monetise your conference live stream through pay-per-view, and share it on your website or on popular social platforms. So you can connect with your audience, wherever they are.
Livestream — the best conference app for, well, live streaming.
8. Learning Toolbox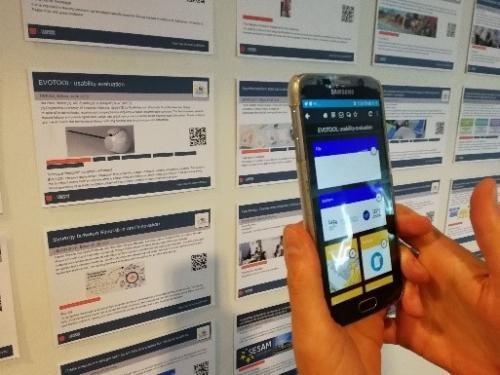 Poster presentations are a time-honoured tradition at research conferences. But now you can take your posters digital with conference app Learning Toolbox.
The ePosters on app can contain media-rich resources like videos, images, audio, apps, presentations, twitter and links to interactive online resources. And if you still want your poster presentations to include a display element, you can create a mini-poster for each one. Each mini-poster shows a brief summary of the ePoster and its unique QR code. Your delegates can use their phone to scan the mini-poster's QR code, open the ePoster and start exploring. 
Delegates can also collect posters using their smartphones and take them with them for future learning.
Learning Toolbox — the best conference app for collecting and sharing posters.
9. Google Analytics
What you can't measure, you can't improve. If you're selling conference registrations online, then measuring traffic to your website is a must. Adding Google Analytics to your website lets you look under the hood and see who's visiting your website, and what they're doing when they get there. 
Google Analytics also lets you segment your site visitors by demographics like age and location.
So you can use it to demonstrate to your sponsors that your delegates fit their target market. And you can see which channels are giving you the most traffic – whether it's a social media account or a conference directory like PaperCrowd. Which means you can concentrate your efforts – and your marketing budget – in the right place.
If you're a Google Analytics novice, it's an app with so much possibility that it can be a little daunting. Eventsforce have created a handy guide to Google Analytics for conference planners to get you started.
Google Analytics — the best conference app for measuring your online traffic.
10. SurveyMonkey
Just like any other event, academic conferences need to adapt and evolve. One of the ways to do this is by gathering event data. Data gives you reliable info on what attendees want, what you're doing well and where you're falling down. Then you can use this to craft a powerful strategy for improving your event.  
Now, your mobile conference app is your best bet for sourcing real-time polls and surveys, and Twitter can be a great way to  keep an ear on the ground and monitor trending topics, but when you want to send a detailed, post-event survey SurveyMonkey is the conference app for you.
Asking busy people to give you detailed feedback has always been a bit of a challenge. So it makes sense to use an app that's designed for asking questions – and eliciting responses. And to make things easier on you, they have lots of survey templates to choose from – including this post-conference survey that can help you get the answers you need to make better decisions. Excellent work, SurveyMonkey.
SurveyMonkey — the best conference app for sourcing honest feedback from delegates.