Organising a research conference? Find help in the places you need it most with our recommendation of the 10 best conference apps and software tools for 2023.
Thanks to huge strides in event tech, you now have the ability to host in-person, virtual, or hybrid conferences. And your delegates have the option to attend an event physically, remotely, or even a combination of the two (perhaps, for example, they'd like to check out the keynote in-person, and watch a smaller breakout session from their hotel room).
So, with attendee expectations at an all-time high, you really need to bring your A-game. And we know that delivering a mix of captivating speakers, engaging content, first-class production, and powerful networking opportunities can be a challenge – regardless of whether you're a veteran or a rookie. This kind of mammoth undertaking requires a whole suite of up-to-date software solutions, and a robust conference organising committee or events team, with all members operating at optimal efficiency.
Below you'll find a curated list of conference apps and tools that'll help you plan, manage, and execute an epic events programme; one that'll not only knock the socks off even the most discerning attendee, but excite your sponsors too. Marvellous tools you'll wonder how you ever lived without.
Let's dive right in.
1. Ex Ordo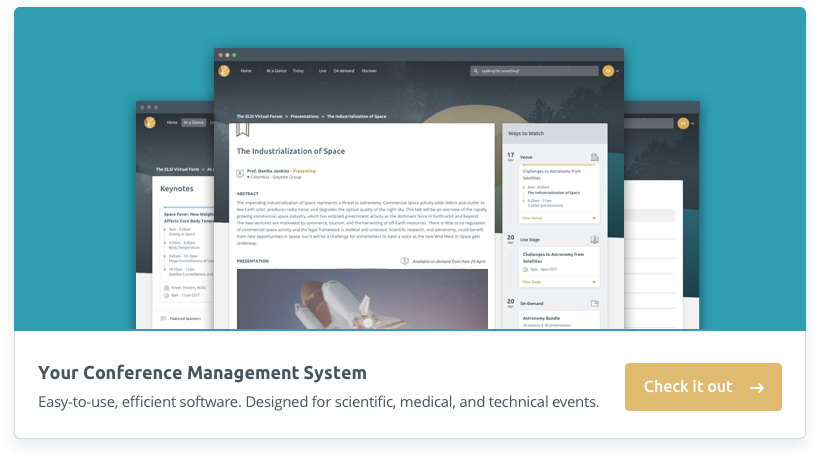 Ex Ordo allows you to plan, manage, and execute your research conference in one central hub
A connected conference management system, like Ex Ordo, is designed specifically for the complexities of scientific, medical, and technical events. If you're expecting to receive more than 50 submissions, we strongly advise you invest in an end-to-end software package like this, rather than a stand-alone tool for abstract management. Why? Well, because trying to manage lots of stand-alone software tools that don't talk to each other, and having to manually copy info between systems, eats into your time. It's also where mistakes happen, as you'll have a million other things vying for your attention in the run-up to your event. Ain't nobody got time for that.
Ex Ordo gives you everything you need to plan and execute your in-person, virtual, or hybrid conference in one central hub. Managing your event from start to finish in a single, seamless system means you can easily share the workload with your team, and eliminate a lot of unnecessary late nights and admin stress. 
The Ex Ordo platform has several features linked into its core abstract management software, such as a conference programme, registration system, and mobile conference app, with an integrated events space that allows you to broadcast live sessions to remote attendees, and publish bingeable, on-demand content. You can use Webex, Zoom, Google Meet, Microsoft Teams, Restream, or any live streaming platform of your choice.
Case Study: How the American Society for Engineering Management (ASEM) moved to a hybrid format with the help of Ex Ordo 
Opening your in-person conference to a remote audience instantly expands your reach. Not only does it make your event content accessible to those attendees who – because of physical, financial, or other barriers – cannot attend the physical conference. It also gives in-person attendees far more flexibility in how they experience your event content. Gaining the personal freedom to go as 'hybrid' as they like for the duration of a conference – choosing to attend some sessions in-person, and other sessions virtually – is a huge win for in-person attendees. Especially for the introverts among us who know all too well the fatigue that comes from a drained social battery.
Ex Ordo – the best end-to-end conference app for in-person, virtual, and hybrid conferences.
2. Guidebook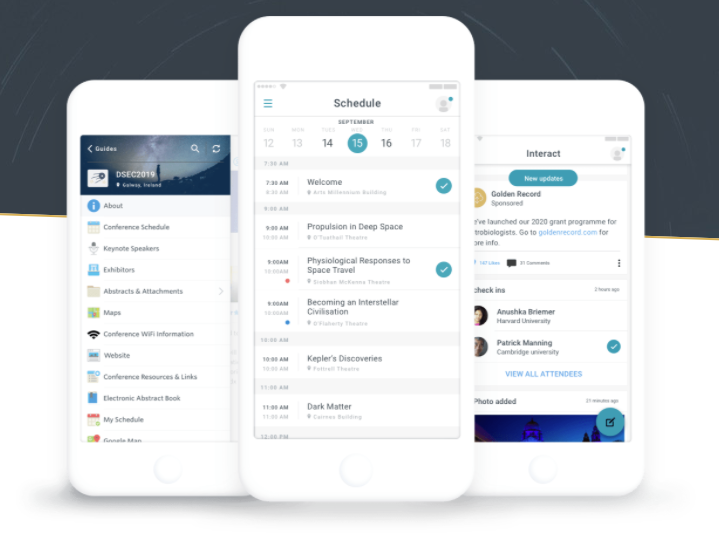 Guidebook makes it simple to create and manage your own mobile conference app
Mobile conference apps have quickly become a core piece of software for managing research conferences. Whilst mobile has always been relevant, it's become increasingly important with hybrid conferences, connecting the physical and virtual audiences. 
Guidebook makes it simple to build and publish an elegant mobile conference app, so attendees can conveniently navigate your event right from their phones. Find a mobile app that is connected to your abstract management system and programme, and you'll be able to sync the schedule, which allows you to quickly update your programme when the usual last-minute changes crop up, and send out push notifications. Guidebook also gives you an opportunity to earn some extra revenue by providing sponsorship opportunities for in-app ads. 
You have the creative freedom to design your very own branded app, customised with your own theme colours and logos, which attendees download directly from Google Play or the App Store. Your branded app can host multiple guides for multiple conferences. And because all your guides are in one centralised location, you can collect comparable data within your app year-on-year.
While some of your members may prefer the traditional printed programme, many conference-goers are now accustomed to digital ones. More and more event planners are going for the greener option of providing a mobile app at their conferences. 
Guidebook  – one of the best conference apps for taking your event mobile.
3. Webex Events Community Platform
Webex Events Community Platform allows your attendees to connect and engage all year round, adding value to and enhancing their overall event experience
The Webex Events Community Platform can be used to support your entire events programme, and help build active online communities for year-round attendee engagement.
Key features of the app include networking, banner ads, gamification, video rooms, and post-event metrics. You can host virtual events, virtual roundtables, games, and more, to facilitate opportunities for conversations and collaborations. Attendees can post on social walls, book 1-2-1 video meetings, and participate in topical industry discussions to level up their knowledge. You can personalise their experience with exclusive content and targeted messaging for different membership levels or segments. And fully customisable layouts allow you and your sponsors to keep everything on brand.
Empowering attendees with high-level engagement tools that allow them to connect with other attendees on their own terms – and not just at your flagship event, but all year round – will certainly add value to and enhance their overall event experience. 
Webex Events Community Platform  – one of the best conference apps to build online communities for year-round attendee engagement.
4. TRACE by isla
TRACE by isla captures emission and waste data from your live, hybrid, and digital events, generating impact reports in real-time
TRACE by isla is the definitive carbon measurement platform for sustainable events. The tool captures emission and waste data from live, hybrid, and digital events, generating impact reports in real-time. It helps you understand your impact quicker, and gives you insight into the environmental cost of your event. TRACE helps you capitalise on the data you're already collecting and provides guidance on additional information you may need to generate your impact report. And you can take advantage of the in-app reduction tips and guidance to plan your next event with an even more positive environmental impact.
TRACE by isla – one of the best conference apps for measuring the environmental impact of your event.
5. VoiceMap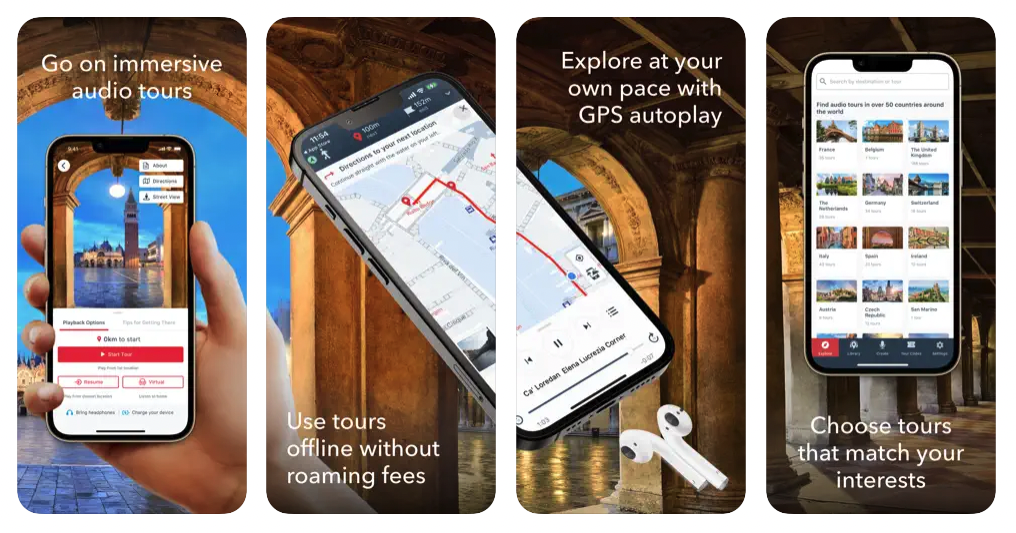 VoiceMap is a mobile app that allows attendees to explore your conference venue's surroundings with a safe, self-guided audio tour
Sitting in back-to-back sessions, possibly day-in and day-out over the course of a multi-day event, can be physically and mentally taxing. Encouraging your attendees to stretch their legs and clear their heads will do wonders for everyone's concentration and engagement levels during sessions. And what better way of exploring your conference venue's surroundings than with a self-guided walking or cycling tour. No awkward groups or rigid schedules. Just a safe way of navigating unfamiliar streets, and being able to take in the sights at your own pace.
VoiceMap is a mobile app that boasts over 1,000 immersive audio tours narrated by insightful local storytellers. These tours are available for more than 30,000 locations, in almost 350 destinations, across 64 countries around the world. You can also create your own tour for attendees, which could include photos, 360 videos, 3D objects, and music. Anything you want to personalise the experience for them.
Once attendees download your tour onto their phones, both the map and audio will be available offline, so they don't have to pay roaming fees. The app uses GPS autoplay, so they can just put in their headphones, tap on Start, and let VoiceMap guide them. If they do wander off in the wrong direction (perhaps towards a dodgy part of town they are unaware of), the app will play an audio alert, and they can follow the map on their screen to the next location. Their access to your tour doesn't expire, so they can listen to it as often as they like. A wonderful little memento to accompany any personal photos they snap or videos they film on their tour, to share with family, friends, or jealous colleagues when they get home. 
VoiceMap – one of the best conference apps to help your attendees acclimate to their surroundings and enjoy a bit of sight-seeing in your conference's host city.
6. Eventbrite
Eventbrite is a great place to get your attendees to register when you're organising a small conference with low-cost or free entry
Eventbrite is one of the world's best-known ticketing platforms. They work with all types of events, ranging from music festivals and pop-up events to research conferences.
Some conference management tools have a connected registration platform added on. But Eventbrite is a great choice if you are organising a small conference with low-cost or free entry. While it's not connected to other tools, it does give you a centralised place to send attendees to register. It's also good for finding new audiences by targeting attendees who have registered for similar events. 
Eventbrite – one of the best conference apps for ticketing small conferences.
7. Rentman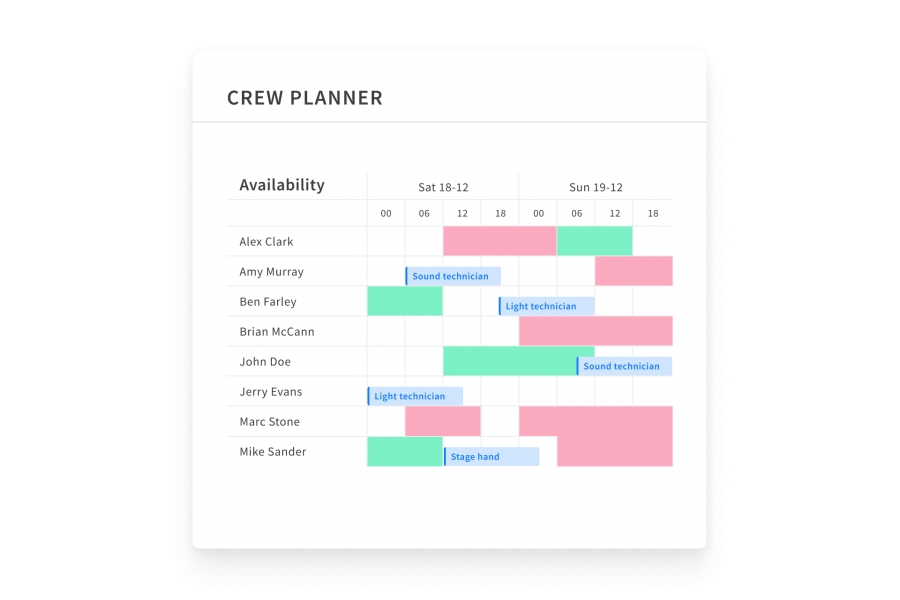 Rentman allows you to manage all your event crew scheduling and communications in one central hub, rather than multiple, unconnected channels
With in-person conferences comes the often challenging aspect of event staffing, particularly keeping track of which crew members and freelancers are available for a job. It can be extremely time-consuming to monitor multiple communication channels such as emails, phone calls, or WhatsApp messages.
Rentman is event staffing software designed specifically for the AV and Event industry. It allows you to manage all communications with your crew in one central hub. You can view all planned jobs in a timeline, see availability of crew members, give your crew the option to proactively communicate their availability, request availability, filter your crew based on the job's required skills or expertise and certifications, and assign suitable crew members to job functions.
The app allows multiple planners to collaborate on the same schedule and easily view the current project status. All project updates are tracked, so you'll know if/when any time schedules were adjusted, extra staff were added, or a project was cancelled. Your crew members can also manage their personal schedules, appointments, and availability with free user accounts.
Rentman –  one of the best conference apps for managing your event staffing needs.
8. Trello 

Trello gives you a visual overview of all the tasks that need to be tackled at each stage of your conference planning process
Trello is a hyper-visual task management tool, much loved for the highly customisable and super intuitive design of its digital kanban boards which allow you to track a project's progress, from start to finish. If your team is working remotely and/or asynchronously, a tool like this can hugely enhance efficiency as you individually and/or collectively work through tasks during each stage of the conference planning process. 
Essentially, a Trello board gives you a bird's-eye view of your entire project, using 'cards' (sticky notes) to represent tasks, and 'lists' (columns) to represent stages. A simple board might have lists for 'Planned', 'In Progress', and 'Completed' stages, but you can add as many lists as you like. Cards will be moved from left to right across the lists as they progress through the stages. At a glance, you can see which tasks have been assigned, quickly assess what's been completed, and then focus on what still needs to be done.
Advanced checklists help you break down complex tasks into detailed steps, which can be assigned to different team members, with a due date allocated to each checklist item. Everyone then has sight of who is tackling what, by when, and how it all fits together. And no matter where or when anyone checks in on the board, they'll see the most up-to-date status of all cards, which means a greater level of transparency and accountability.
Trello  – one of the best conference apps for tracking progress and ensuring no task slips through the cracks. 
9. IFTTT 

IFTTT (which stands for 'If This Then That') automates and integrates your favourite apps and devices 
Mundane and repetitive tasks can be a source of frustration and displeasure for many, especially those with more value-driven duties and responsibilities, which require human judgement and critical thinking.
IFTTT (pronounced to rhyme with 'thrift') allows you to automate many of these laborious tasks by getting your favourite apps and devices talking to one another. You can use this fabulous free tool to build automations, called Applets, that connect two or more of your favourite services to create a new experience. Each service has unique triggers, queries, and actions that allow you to build different Applets.
For example, you could build an Applet to receive a notification every time someone Tweets your conference hashtag, or an Applet to automatically email your committee meeting notes to a shared Google Drive folder, or an Applet to create events in your iPhone Calendar via Google Assistant. 
IFTTT –  one of the best conference apps for automating and integrating your favourite services and devices.
10. Google Analytics 4 (GA4)
Source: Statista – Market share of leading web analytics tools worldwide in 2022
Adding an analytics tool to your website lets you look under the hood, see who's visiting your site, and what they're doing when they get there. It shows your sponsors that your attendees fit their target market. And you can see which channels are generating the most traffic, whether it's a social media account or an advertisement in a journal.
If, like millions of others, you're currently using Google Universal Analytics as a tracking and reporting tool, and haven't yet made the switch to Google Analytics 4 (GA4), the clock is ticking. Google will begin sunsetting Universal Analytics on 1 July 2023. From this date, Universal Analytics will no longer process any data. While you'll still be able to see your reports for a period of time, any new data will only be processed in GA4.
While we know change is painful, the benefits of making the switch from Universal Analytics to GA4 sooner rather than later are significant. GA4 tracks your website and apps in the same property (in Universal Analytics, you have to track your apps and websites separately). GA4 has features to keep up with privacy laws across various countries, such as the EU's General Data Protection Regulation (GDPR). GA4 also offers powerful reporting, predictive intelligence, and a deeper integration with other Google products, such as Google Ads.
Google Analytics 4 (GA4) – one of the best conference apps for tracking your attendees' journey across multiple channels and devices.