Mobile apps are key to conference success and keeping attendees connected. But what should you look for when choosing yours?
We are firmly in the digital age. If you're in the event or conference planning industry, you know that technology is a central aspect of making your conference a success. And when it comes to making the most of the tech that's available, mobile conference apps are an obvious answer. Mobile conference apps are quickly becoming a pillar of conference success and of the delegate experience.
With a conference app comes the opportunity to offer delegates an interactive version of your programme and book of proceedings, and to connect with them in a more immediate way. An app will also help your delegates navigate the conference, pick their agendas, get crucial updates from you and your chairs, network with other attendees, and supply you with the feedback that's crucial to improving your next event.
So it's not surprising that 91% of conference organisers said they saw a positive return on investment from their conference app.
But with the constantly shifting landscape of mobile app technology, it's easy to lose sight of what's important when choosing one. This guide will provide you with insights to the benefits of using event apps, what common app functionality is available, as well as some broader issues to consider before you make the leap to buying (and using) a mobile conference app.
Why might you need a mobile app?
Let's dive into the nitty-gritty of how a mobile app can benefit your event.
Networking
One of the key reasons delegates attend conferences is to connect with other professionals. And the messaging systems and delegate profiles built into an app don't just facilitate existing relationships between delegates, they also help delegates identify others they'd like to meet. Whether they're using your mobile app to meet new people or to find out exactly who's attending, the benefits are clear.
Personalised agenda
We've worked with conferences that have over 35 parallel sessions. Can you imagine trying to find your favourite session in a timetable as jam-packed as that? With many conferences, the amount of sessions, tracks and topics can make it challenging for delegates to find the session they want, and a mobile app simplifies this. Your delegates can browse or search sessions and add them to their own personal schedule.
Sponsorship opportunities
Sponsorship is a huge part of any event, and using a mobile app for your conference gives you a prime chance to showcase your sponsors directly to your delegates. There are a number of mobile app sponsorship methods you can offer, such as sponsored surveys, pages and offers. And providing sponsors with this increased level of exposure to delegates represents a great opportunity to upsell your sponsorship packages while you're at it.
Polling and surveys
Feedback on your conference is crucial to improving the delegate experience next year. The strong data you can collect directly and in real-time from your delegates is one of the most valuable benefits of using a mobile conference app. You can do this through polls and surveys during certain sessions, throughout your event, or after the fact.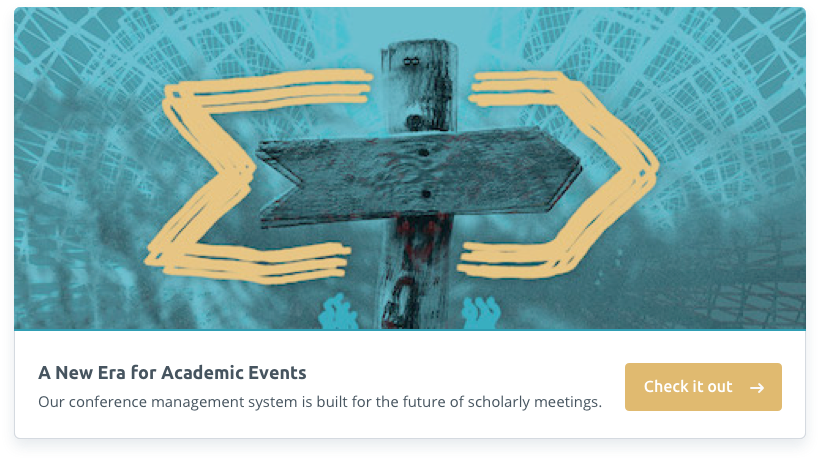 What are event planners saying about apps?
We've had conversations with our customers about the current state of mobile conference apps. Conference planners are seeing the mobile conference app become more and more important as 86% of them expect to have one at their events. When conference planners are mulling over which mobile app to go for, it usually comes down to four deciding factors: the ability to integrate with other software like an abstract management platform, the cost, the level of support and the visual design.
What do you need from your mobile conference app?
When you think of mobile conference apps the first products that come into your mind will have a basic set of features. Mobile app salespeople often spend a significant amount of time selling buyers on extravagant features that aren't all that useful. So let's look at what you really need from your mobile app.
Social sharing
We have already highlighted that mobile apps make networking easier. Networking is a driving force behind delegates attending conferences and social media can complement this. Your mobile app should encourage social sharing and have active links to delegates' social media accounts. This makes it easier for them to create new connections before and during your event, and get a great return on their investment
Multiple editors (with different privileges)   
Ideally, you want your conference app ready for delegates around 2 weeks before your event. A great way to build it fast is to give multiple members of your committee access. Having several editors in your mobile app with different editing privileges lets you quickly add everything you need while keeping control of who can edit what. Some mobile app providers charge extra for this feature, so ask if it comes as standard or not.
Personalised content
Personalised content is great for any business right now, and there is a good reason why, apps with personalised content have a vastly higher delegate engagement rate. Which means more impressive numbers for your sponsors, higher levels of feedback, and more bang for your buck. Check that any conference apps you're considering give you the ability to build a unique experience for each delegate.  
Ability to update from your phone
That hectic on-the-day feeling of a conference can't be replicated. You and your team are buzzing with a million things to do, and this is just when a last-minute edit will crop up. Mid-exhibition hall, or sitting in a session, you might not have your laptop handy. So you need to be able to edit or make changes to your conference app right from your phone.
Targeted notifications
Your early-career attendees are vastly different from your cohort keynote speakers; your mobile app should help you ensure you treat them differently. Check that any app you're shopping for will allow you to target notifications to groups of delegates, like everyone who's attending a particular session, or even one specific delegate. This will ensure you don't spam everyone each time you send a message.
What do you need to know before you pick your mobile event app?
There are a few key issues that need to be addressed before you narrow down your options and make the final decision on your mobile app. The following sections will give you a much clearer picture of what mobile app best suits your conference's strategy and help you ensure you're making the right decision before you buy.  
Your priorities
By the time you've finished deciding if conference apps are right for your event, you and your team should agree your priorities. A good place to start when listing your app priorities is to grade each one in order of relevance. This makes it easier to identify the provider that meets you and your team's criteria and eliminates any last-minute disagreements.  
What your users want
Different apps are built for research conferences, others for muddy festivals, understanding the demands of your users will help you narrow the field. But you should also consider the needs of the different types of people who'll be using your app. Deciding who takes priority (for example, do your sponsors outweigh your delegates?) can further clarify exactly what functionality is most important.
Chatbots and artificial intelligence
Artificial intelligence capabilities are stronger than ever and it's becoming ever-more-likely you'll come across a chatbot while browsing. Mobile conference apps have embraced AI, and you need to give some thought to whether it would suit your conference or not. As a technology that's still new to the events industry, it's difficult to fully understand the impact it will have. Whether it's a personal assistant like Siri, machine translation or something that helps delegates identify new contacts, consider whether your delegates could benefit.
Roles and responsibilities
At this point in your journey towards purchasing a mobile app, it's important to consider the staff who'll manage and control the app at your conference. To ensure everyone is on the same page, involve them in reviewing your shortlist. Your team will be in charge of persuading all the exhibitors and speakers to upload their information in a timely fashion. The very same staff will bear the on-the-day responsibility for the mobile app, answering any queries or updates needed. So getting them involved now, before you make your final decision, is a good shout.
GDPR
Delegate data is sensitive stuff, and it's crucial for you as a conference planner to be GDPR compliant. Mobile apps have this very same responsibility, so you need to ensure that your provider respects data privacy. Even if you're based outside of the European Union (EU) and think GDPR doesn't apply to you, if anyone using your app is an EU citizen then you need to comply with GDPR. So, out of respect for your delegates, it's in your best interest to work with GDPR regulated mobile apps.  
How do you whittle down your shortlist to one final app?
You won't always have the luxury of spending weeks analysing and choosing the ideal mobile app so it's great to read up on the few things that will push you towards a final decision. You will have narrowed down the shortlist at this stage and after you've had a quick demo with your leading choices, it's time to make a decision. There are three factors that go far beyond the list of features and prices that you've collected.
Support
If you've worked with Ex Ordo before, you know customer support is close to our hearts. And if you respect your own time (and stress levels) it'll be close to yours too. When you can't get a feature to work correctly, and panic creeps in, it's important to know someone will be there to help. Ultimately, the level of support has a huge impact on how easy an app is to set up and use during your conference. A chatbot just won't cut it.
The visuals
Can the app match the branding of your event? Does it look clean and modern, or like it crawled from the bowels of the internet? You want an app that's modern in design, one that users of all ages can easily navigate. And, as well as a pleasing user interface, check that the backend builder isn't over-complicated for the team who'll be assembling the app.  
Dependability
Let's say you have the perfect mobile app, but your venue's wifi is slower than Christmas, what then? How functional is the app itself when the wifi lags (or goes down altogether)? What about when a thousand delegates log in at once to take part in a live poll? Try and get the provider to give you a guarantee on how the app would function in circumstances like these.