We've been chatting to virtual meeting planners. Here's what they've learned about planning online conferences in 2020. 
Like or loathe them, online conferences are with us for the foreseeable future. And so – in some form or another – we're all virtual meeting planners now. 
And we've been looking on in admiration at the events folks out there who have been kicking arse this year. Who are facing new technology – and coming at it with a growth mindset. Who are designing new ways of learning – and educating their audience on how to engage with them. Who are taking on the unknown – and running with it.  🙌 
So, if you're looking at planning your very first virtual meeting, take comfort from the fact that you don't need to reinvent the wheel. Lots of folks have gone before you, and learned bucket loads along the way. Here are eight lessons we've collected from talking to these trailblazers via our webinars, ExOrdoCon and calls with Ex Ordo customers who have moved to virtual this year.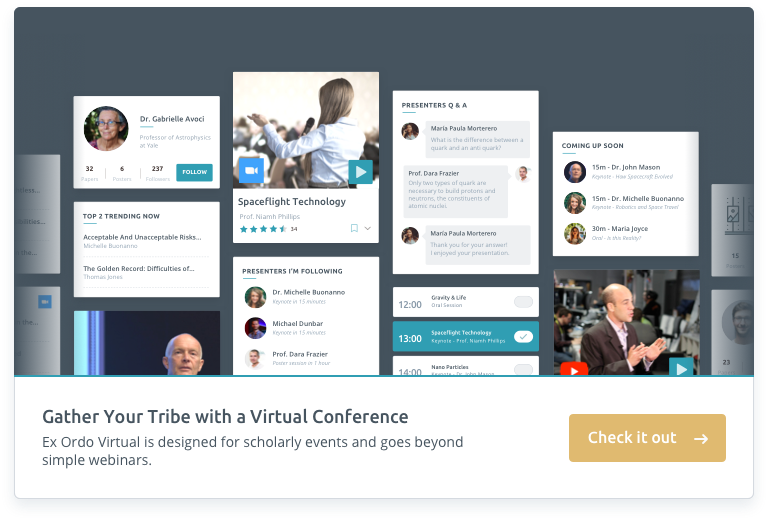 1. Take advantage of a key virtual meeting benefit: Access to new audiences
One of the winning qualities of virtual meetings is the accessibility they add to established events. Back in March, the team at the American College of Osteopathic Family Physicians had to move their annual meeting from a New Orleans venue to an online conference in just seven days. Bob Moore from the organisation spoke at our webinar Scholarly Events: Is Virtual the New Norm? about the importance of keeping your community in the loop during the decision to go virtual: 
"The communication really helped us. Overnight we picked up several hundred people who were never planning to come to New Orleans in the first place. For whatever reason, because of their schedule or because they didn't want to spend the money on flights and hotels. That was our pleasant surprise, that we picked up all these new people who were excited by the opportunity to participate."
2. Put your virtual meeting's purpose under a microscope
One thing virtual meeting planners should do right from the off is consider the primary purpose of their event. Sam Burrell is the programme chair for the Society Street conference, an event that brings learned society leaders together for discussion and networking opportunities. Sam spoke at ExOrdoCon about the process she went through in rethinking her online event:
"We went through a product-design process [with the Society Street conference], which means asking fundamental questions about what it is you're doing and why. These kinds of questions help you work out where to go next. Questions like: Who is your conference audience? Why is what you're offering going to improve their lives? What problem is it trying to solve? 
"What we discovered at Society Street is that our product isn't really a conference. There is a huge, pent-up demand for our community to talk to each other. And we discovered that we are actually a convener of a community, and that conferences are just one part of what we do."
3. Virtual meeting planners take note: Don't neglect the needs of early-career members
Running a virtual meeting this year or next means empowering your presenters to share their work and get the visibility they need to progress their careers. But don't neglect the professional networking aspect, which can be all-important for your junior members. Use an infographic maker to engage and encourage them
The team at the American Geophysical Union (AGU) is hard at work considering how to guide their junior members through this new territory. Lauren Parr from AGU gave ExOrdoCon attendees a few tips on helping the early-career group:
"We will hold some open office hours ahead of time to talk about how to network at a virtual meeting. The other key thing we're doing is making sure we pair more senior researchers with early-career and student volunteers. To say: 'Hey, these people can help you moderate your session. Because you need the moderation, you need someone in the session who's going through the questions and helping out.'  It's just one way of giving our students and early-career folks a lot of facetime with more senior researchers." 
4. Beware trying to copy+paste physical habits into a virtual meeting
When faced with the unknown, we often cling to what we know. But some of the familiar aspects of physical events simply don't fit in a virtual format. The pandemic has forced many of us out of our ruts, meaning now is a great time for virtual meeting planners to get creative and re-imagine how to plan a virtual conference. 
Earlier this year, one of our medical conference customers held every session in their virtual meeting live. While this meant they achieved some lively engagement, it was at a cost to their attendees who were dispersed around the globe. Some people had to get up at 3am in their own time zone, while others stayed up after midnight. Speaking to our founder, Paul, one conference committee member said:
"We need to rethink the whole event… Maybe it would be better to have a week-long virtual conference instead of a two-day one, that way we could hold live sessions only in the middle of the day so that everyone can access them. Or maybe we should hold a series of shorter, more focused meetings instead."
Another customer who ran a virtual scientific meeting with us said something similar when discussing their choice to deliver most presentations on-demand: "We needed to stop thinking of our event as a live conference that's been imported to an online environment and start thinking of it as something that's different. Don't be married to what's been done before."
5. Consider serving up technical presentations on-demand
One physical familiarity that virtual meeting planners often try to transfer online involves their content format of choice: Streaming presentations live. Live virtual presentations can work well for emotional speakers and presentations that involve lively discussion or debate. But most of the virtual meeting planners we've talked to agree that dense, technical talks work better delivered on-demand. This allows attendees to watch at their own pace and consume only the ones they're interested in. 
One scientific conference we work with released their technical presentations on-demand and saved their live sessions for Q&A slots with presenters. Here's what one of the organising committee told us after: 
"The blend between on-demand and live worked together really well. Because people had more time to digest and analyse the presentations in advance, they came to the live Q&A sessions with questions prepared. We had so many good questions that we actually could have used a little more time for our Q&A sessions."
6. Virtual meeting planners should learn from social media and drip-feed content 
Dan Stevens, president of WorkerBee.TV and creator of Association TV® wants meeting planners to re-consider how they release their content. Speaking at ExOrdoCon about hybrid events (though his advice could equally be applied to virtual meetings), he said: 
"[With a hybrid conference] we can accidentally fall back into thinking, 'Well the dates are fixed and the sessions are fixed and the tracks are fixed and the plenary is on at this time. And so we should just livestream everything.' And we don't have to. You can livestream a select amount of content and be pre-recording and re-releasing some of your other content at a later date. We should all learn from social media. They don't line up all their content on Monday morning and blast it out and then do nothing for the rest of the week. They drip it daily, hourly. And we have become used to the fact that we can go there and find new content all week long. Associations can learn from social media, after all they are the largest virtual platform…"
7. Learn about new tools from your virtual meeting community 
As a fledgling virtual meeting planner, your in-house skills and knowledge around virtual tech stacks might not be exhaustive, but it's ok to reach out to your community for help. When the Cognitive Neuroscience Society worked to move their conference online in two months they fixed on a virtual conference platform. But some of their attendees wanted to get a little more creative.
"During our meeting, one enterprising symposium chair said, 'We're going to organise a virtual reality viewing of a keynote address.' And my heart stopped…" said Ron Mangun from the society at our Scholarly Events: Is Virtual the New Norm? webinar. "But the chair said, 'Don't worry about it, I'll handle it.' And he did. People who 'do' VR have a platform where they all meet. He broadcast the keynote address there and anyone who had a VR set could join."
"One of our younger members actually wrote to us after the event and said, 'You should reach out to us and we'll help you with suggestions about what [apps] we use every day.' There are lots of ways to make use of social media and other tools — whether they're part of your conference platform or not — and the people that know about them are the young people in your community…. We were afraid to try new tools, but actually all you've got to do is ask. There are lots of things that are possible, and people are able and willing to help. "
8. Get plenty of hands on deck to run your live sessions
When running your virtual meeting, you'll need people. Lots of people. So bulk up your team of facilitators because, as virtual meeting planners will tell you, engagement at online conferences takes more work than you'd think.
One planner we work with put it like this: "A live, virtual session set-up isn't like the simple room set-ups we're all used to at in-person events. If you have any extra bodies, put them to work. You might not get it until you start to practice. But once you see it in action, you'll thank yourself."
Their response was to divvy up responsibilities into lots of roles, so that people could be fluid if needed: "For each live session, you need someone monitoring attendee questions and interacting with the folks who ask them. Then you need a host focusing on the tech side – ensuring presenters can share their screens, and muting and unmuting folks. And another host focusing on the actual content of the session. Having two hosts also means that if one person freezes, the other can take on their role. When you're running at the sort of quickfire pace our event is known for, you need to build in fluidity in case something goes awry."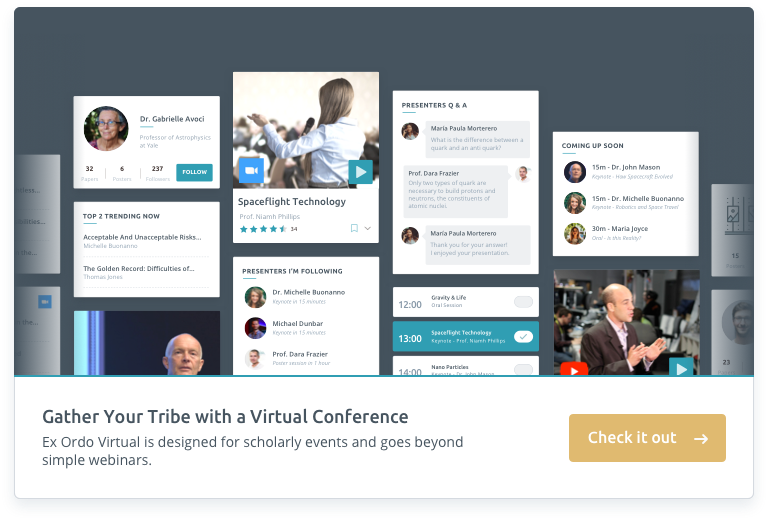 Learn from the virtual meeting planners who've laid the foundations
Even if you've had a virtual meeting planner role unexpectedly thrust into your lap this year, you're not alone. There are so many people out there who can help you get to grips with what online means for you and your event. So, whether you and your committee are transposing an existing event to an online environment, or you're starting afresh with a brand-new event, lean on the shoulders of those who've gone before.
👉 And if you're looking for a virtual conference platform that's built for technical events, check us out.