If you've never been involved in logo design before, you probably haven't considered how much thought goes into these little guys.
Let me give you an example.
You know those logos? You're not sure what's wrong with them, but you know they're just not quite…right. "Make a logo," someone probably said, "make it look like it's about community and global issues." And that's about the depth of thought that went into it.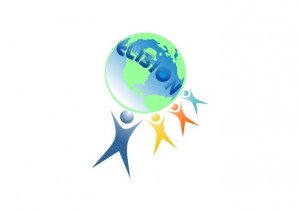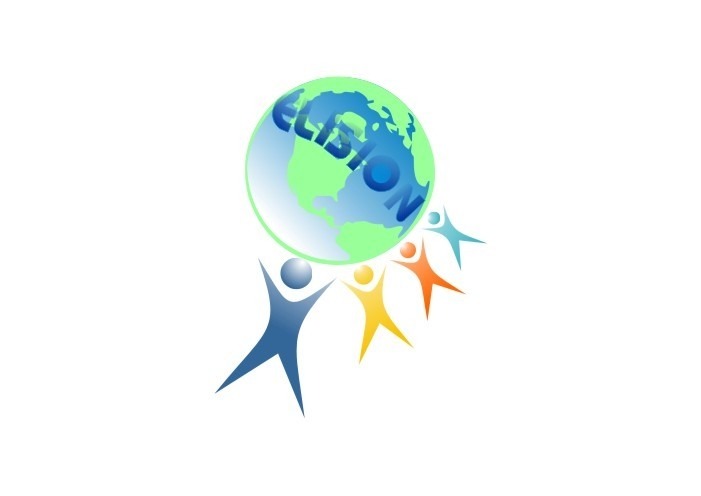 You know those logos that look a little…off? (Courtesy of Ugly Logos)
These logos don't just make you stop and wonder, "Why are those people glued to that globe?" They're also a reflection on the business (or the research conference) that's associated with them.
If you're using a conference logo, it'll pop up on almost everything along the way. From your conference website, abstract management system and book of proceedings, to tote bags, name badges and t-shirts, it's going to be one of the main images your delegates associate with your conference. So if you are getting a logo designed for your conference, or you're wondering how to use an existing logo, give it some thought.
Make sure you understand what a logo is
Because you'd be surprised how many people don't. A conference logo is not where you put details of your conference's dates and venue. That's what your conference website and invites are for. A logo is for helping people identify and feel familiar with your event, from start to finish.
A conference logo can be: a word mark (think, Coca-Cola), an illustration (Batman has a pretty memorable one), an abstract symbol (like the Adidas trefoil), or some combination of these.
Consider some basic logo design rules
Like a good winter coat, your conference logo should be simple and versatile.
Think about the different ways your organizing committee may want to use it, then keep these basic rules for logo design in mind.
Your logo should not hurt the eyes.

So no complicated illustrations and no clutter.

Your logo is not a technicolored dreamcoat.

Keep colors to one or two, your logo

should still work well in black and white.

Your logo should not be an illegible mess.

It needs to be easy to read whether it's projected on-screen in between presentations or printed on a certificate of attendance.

Your logo should not be deeply unbalanced.

In design, like in many things, balance is good. A balanced logo is one

where the colors, illustration and size have an equal "weight" on each side.

When it comes to shape, your logo should aim for average.

You don't want your conference logo to be too tall, or too wide.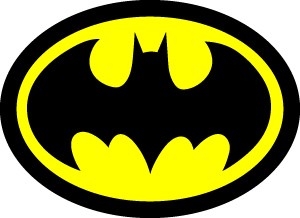 Batman took great pains not to clutter his logo – and it worked. (Courtesy of Pixabay)
Decide how you're getting your conference logo designed
Google "get a logo designed" and you'll be bombarded with options, from super-cheap logo generators and freelance-sourcing websites to big budget options like hiring a design agency.
Cheap is always tempting, but it's important to be aware that a lot goes into designing a good logo, and that kind of skill and effort doesn't cost 5 bucks. While you might get lucky picking an inexperienced designer online, paying a credible designer a fair price is the most likely way to get a logo that works well for your conference.
Consider looking for freelance designers in your area (ask to see a portfolio of their previous logo designs) or check out sites like 99designs which offer logo design contests. And if you're affiliated with a third-level institute, check if their communications office has a designer who can help.
Ultimately, what you choose will depend on your budget and your needs. But if a super-cheap option looks too good to be true, well, it probably is.
Write a decent brief for your logo design
If you are getting a logo designed for your conference, make sure you can clearly communicate what you want to your designer (or to your Professional Conference Organizer, if you're using one).
Can you articulate what type of impression you want your conference logo to give delegates? Should it be thoughtful? Inspiring? Provocative? A good logo design brief can remove a lot of the pain from the creative process.
Finally, don't abuse logos at your conference
There's a particular feeling you get when you're at an event and faced with a logo that's been abused. It might be strangely stretched, painfully blurry, or blown way bigger than it was designed to be. Whatever's causing the problem, it's not a good feeling to have to look at one of these all day.
So regardless of whether you've had a logo designed for your conference, or you're using your institute or association's logo, make sure you're using it correctly.
Use the correct, high-resolution version of the logo.

If you're using an organization's logo and you're not sure you have the right version, get in touch with their communications department.

Get a copy of the logo in vector form

if you want to project it or display it in a very large format.

Don't distort your conference logo

by stretching it. Scale it instead, so that the logo's width and height keep the same ratio.
Conference logos and Ex Ordo
Visuals can make a hell of a difference.
Earlier this year, we transformed the dashboard our conference organizers (and their authors and delegates) see when they log into Ex Ordo. We introduced the ability to add conference logos to help bring conferences to life. And because it can be hard to pack a lot into a logo, we also added the ability to upload a personalized cover image for each conference.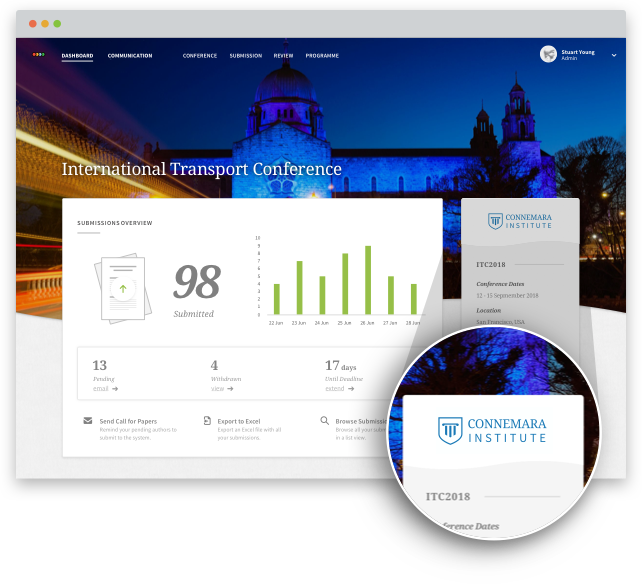 Ta-dah: the new Ex Ordo dashboard.
We're pretty proud of how it looks, and we love when we spot conferences adding beautiful cover images and striking logos. If your conference is on Ex Ordo and you haven't added any visuals yet, what are you waiting for?
Happy Conferencing.
PS. Want to learn more about the wonderful world of logo design?
Got 5 minutes: This post should give you some idea of the cost of getting a logo designed.
Got 7 minutes: Dr Zen takes a squinty look at logos and conference posters.
Got 47 minutes: Like podcasts? This 99% Invisible episode on logos, politics and passionate fans shows just how much thought can go into logo design. It's well worth a listen. Promise.