PaperCrowd is Ex Ordo's new, global research conference directory. It fixes the Call for Papers problem. Best of all..it's free!
The Call for Papers problem.
Here in Ex Ordo, we've worked with hundreds of research conferences since 2008. One thing that has bugged us from the start is how poorly the traditional Call for Papers (CFP) serves today's research community.
A conference is typically announced by way of a Call For Papers or Abstracts, which is sent to prospective presenters. It describes the theme, topics, dates and what kind of abstract or paper has to be submitted. A CFP is usually distributed using a mailing list. There's a number of issues with the CFP process:
The time and cost of sending a CFP by snail mail used to be a limiting factor. With email, there are no limits:
        We know of one organiser who emailed a CFP to over
        28,000 researchers. He received just 120 abstracts.
It's spammy. Every year, researchers are flooded with hundreds of unsolicited emails from conferences they are not interested in.
It's outdated. People move continuously and the mailing list invariably contains email addresses that are no longer in use.
It's limited. The list is only contains researchers known to the organisers and colleagues. It excludes "unknown" researchers who may wish to attend if they knew about the conference.
You can read more about the CFP problem on our blog here and here.
Announcing PaperCrowd! It's Free.
PaperCrowd is our solution to the CFP problem. We built it as a contribution to the global research community. PaperCrowd is based on a simple, but powerful concept:
Ex Ordo creates an online directory of research conferences.
Organisers add their events, making them visible to researchers across the world.
Researchers search and follow conferences of interest to get updates.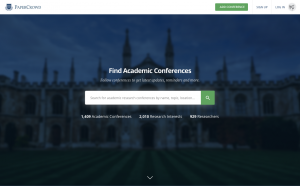 Following an intensive 3-month build, PaperCrowd v1.0 went live on 30 March. As of now:
Organisers can add their conference and make them visible to the global research community.
Researchers can find and follow conferences and get updates.
Organisers can add the PaperCrowd Widget to their conference website to show who is following their event. They can download the followers of their event and add them to their mailing list.
It's restricted to academic research conferences.
That's just the beginning. As PaperCrowd develops:
Users will get monthly updates on events they manage or follow.
Researchers can specify research and geographical criteria and get an email when a new conference matching their criteria is added.
Researchers can follow other researchers to see conferences they're attending.
Organisers will be able to check PaperCrowd to make sure their conference date doesn't clash with a similar event.
There are some other conference directories out there, but only PaperCrowd addresses all of the CFP issues fully.
PaperCrowd needs your help.
PaperCrowd is Ex Ordo's contribution to the research community. We've committed to keep it free. We'll continue to develop and support the platform as a side project to offset the development costs. Making it light-touch to use and to support will minimise the on-going costs.
Now, we need the research community to step in.
Hundreds of thousands of research conferences take place every year, and we don't have the resource to find and add them to PaperCrowd. So we're asking the research community to embrace PaperCrowd, populate it and make it your own. Every time a new conference is added or followed, PaperCrowd becomes more effective for the entire research community.
A simple tweet will help spread the word. Please send this tweet across the research community, and let's solve the Call for Papers problem together:
---
Disclaimer: We've committed to keeping PaperCrowd free. Are you organising an academic/research conference? If you're looking for an online conference management system, please consider Ex Ordo. This helps us pay the bills so we can support and develop PaperCrowd for the entire community.