It's one week before the end of reviewing and everything has being going according to plan up to now. You open your email to find that five of your reviewers have said they can't complete their reviews for one reason or another. Alarm bells sound in your head – you've already a million and one things to do and now you have to find more reviewers!
Almost all reviewers accept to review voluntarily. Reviewers are happy to help develop the quality of research being published in their area, but other unforeseen commitments sometimes do get crop up. This may hold up the reviewing process if proper procedures aren't in place.
You also have to think about your authors. They've invested a lot of time into their research and will spend their money to attend the conference. They deserve to be given a thorough review and comments as to why they've been accepted/rejected on time.
Replacing reviewers in a rush, reassigning the submissions and making sure you collect their reviews in time can quickly become a hassle especially if you're using a manual system to manage your submissions.  You need to look at your list of reviewers, figure out which one would suit, email new ones to see if any of them are available, and send more emails to make sure they review.
An online system can make this process much more efficient. Let's take the example of the Ex Ordo system and how we help conference organisers with this tricky situation by making the reallocation of a submission quick and easy.
For each of the submission you have in the system, you can replace any of the reviewers to which it's been assigned to another reviewer. There are four ways Ex Ordo can help with the reallocation of submissions to reviewers:
By choosing a recommended reviewer
If you choose the recommended reviewer option, the system will present a list of 3 recommended reviewers based on the statistical analysis of the submission versus the available reviewers. You're guaranteed that a recommended reviewer will be a reviewer with the highest relevance to the submission, will not be overburdened with review assignments and will not have an identified conflict of interest with the submission.
By searching by name or email in your list of reviewers
You may also have someone particular in mind that you know is available to review more submissions. You can search the list of available reviewers by their first name, last name, organisation or email address.
Each reviewer is given a "star rating" based in his/her suitability for the given submission. It's based on the number of topic areas shared between the reviewer and the submission. Each reviewer will also be given a "workload" rating, which represents the number of submissions assigned to each reviewer – so you can easily tell if a reviewer has a heavy workload.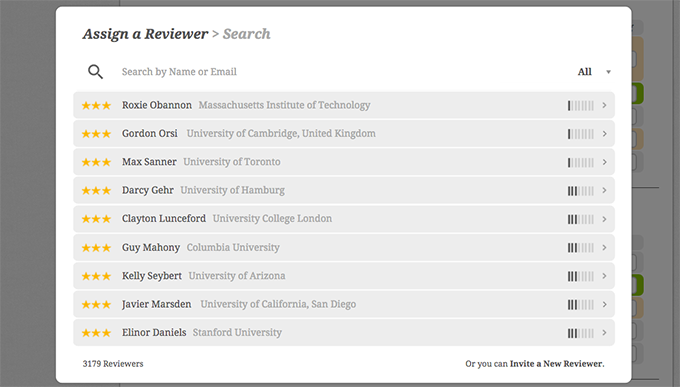 By inviting a new reviewer
If you can't find a suitable reviewer using the Recommended Reviewers or the Search option, you can invite a new reviewer simply by adding their first name, last name and email address to the system. The system will then send that reviewer their details to access the submissions you want them to review.
By removing the reviewers without reassigning the submission to someone else
Finally, you can choose to assign "No Reviewer" for a given review slot. This might be useful if there were already some reviews done on the submission and you are happy with what was said.
Of course, once you've picked the right option, the reviewer who's been removed from the submission will automatically receive a notification and so will the new reviewer.
It's as simple as that! It saves countless emails and phone calls to find suitable reviewers and also doesn't dramatically affect your review process.
If you'd like to learn more about our system, or have any questions, why not see a live demo with one of our mentors.
Happy Conferencing!