Sourcing abstract management software for your upcoming conference? Here are 11 things you need to do before you set it up.
Good abstract management software is a non-negotiable when you're organising a research conference. Simple as. But here's the catch: this software can only do its job if you configure it correctly. You'd be surprised how many organisers don't, and are forced to make on-the-fly decisions, carry out unnecessary manual checks, or clarify confusion among authors, reviewers, or delegates. A solid support team can go a long way in alleviating a lot of your stress, but there's also only so much they can do. 
When you're deliberating big decisions like whether to run your event in-person, virtual, or hybrid, it can be easy to miss small, but key, details in your submission process. It's well known that one of the best places to make a great first impression on delegates, which influences their overall event experience and ultimate success of your conference, is through your abstract management software. So, as your members get excited about your upcoming conference, you need to prepare their crucial first point of engagement. 
Be sure to consider these 11 conference planning tips before you set up your abstract management software, and start building your event reputation from day one.
1. Define your submission parameters
So, you've got a conference date in mind, and have already decided which formats you'll be accepting (abstracts, extended abstracts, or papers). Great. But have you considered whether you want authors to upload their bios? Or if you want student submissions to be flagged as such? Will you have a maximum word count, or formatting conventions? Information about things like file uploads, anti-plagiarism statements, and copyright transfers should all be included in your guide for authors.
Any good abstract management software will allow you to configure your submissions form so you get exactly what you need from authors. And the best platforms will do this in an intuitive manner, relieving any areas of uncertainty for your authors during the submissions process. So, before you even craft your your call for papers and open submissions, figure out the configuration options in your abstract management software to ensure your conference has the precise setup it needs.
Use the data from previous years, whilst also considering the format in which your content will be consumed. Depending on your attendees' needs, you may have to configure your submissions differently for virtual, physical, or hybrid conferences. It's a simple first step to an intuitive peer review process. 
2. Decide how you'll allocate submissions
When it's configured correctly, an abstract management system can save you a huge amount of valuable time – especially when you're allocating submissions to reviewers. If you choose submission software that can automate this task (after you set it up, of course), you'll be smiling.
Most of the conferences we work with agree on a list of submission topics. And reviewers then select the topics for which they're best equipped to review. The way submissions are matched to reviewers can vary. There are some important decisions to be made upfront.
Will authors be allowed to submit papers to an unlimited number of topics, or be restricted to just one or two? Will reviewers have the option to decline certain submissions while accepting others? Will you allow nepotism, where an author and a reviewer share an affiliation, such as a country or organisation, e.g. university? Preventing nepotism means that reviewers cannot be assigned to submissions if they have the same affiliations as the authors. 
If you outline exactly how you plan to handle submission allocation right off the bat, it makes for a much smoother, more transparent process. 
3. Decide if you're using tracks or review groups
Clarify your review process. Single or double-blind review? Single-blind means the reviewer knows who the author is, double-blind means they don't. In both cases, the author doesn't know who the reviewer is. How will reviewers score submissions? Reviewers on Ex Ordo conferences generally score on criteria like: technical merit, readability, relevance, originality, and format.
A lot of conferences collect, review, and accept all their submissions together. But if your conference is broad, you may want to separate your technical programme into thematic areas (tracks). Tracks work like sub-conferences within a conference. Each track can have its own chair, deadlines, topics, and set of reviewers. 
If your conference is narrower in focus, but you're expecting to receive more than a hundred submissions, think about creating review groups – these allow different people to chair separate groups of submissions. It's important to plan ahead, to try and anticipate how many submissions you're going to receive. But given the levels of access to new audiences thanks to virtual conferences, predicting the number of submissions may be difficult. So, just take a look back at previous years and try your best to identify trends. 
Some societies have found that breaking down their largest events into smaller, more regular symposia, is an efficient way to engage members, and get the most out of the system they're using for abstract management. It's more work for your events team, sure, but it does help you better manage the tracks or review groups for the big annual meeting. 
Don't forget, if your conference needs tracks or review groups, you'll need to enable them in your abstract management system before you open submissions.
4. Assess your reviewer workload (and be realistic)
Take a moment to do the sums. How many reviews does each submission need? How many submissions does this mean each reviewer will have to complete? And how much time will each review take? (As a rough guide: a 300-word abstract could take 30 minutes to review, whereas a paper could take a full day.) 
Even if your system has aced the allocation process, when reviewers have too many submissions, they will miss their deadlines, or go AWOL. And when they do, you'll be left scrambling to replace them, or off-loading their submissions onto other reviewers. Most conferences rely on volunteer reviewers, and you need to be respectful of their time. If you think you're overloading reviewers, invite more, or consider dropping the number of reviews each submission needs.
If you configure your peer-review software to limit the number of submissions each reviewer receives, you can avoid this all-too-common academic faux pas. And your reviewers will thank you for it.
5. Define your marking scheme
We've seen more than a few conference committees that didn't give their marking scheme proper thought. And more often than not, this ended with one committee member having to make a snap decision, which is the last thing you should be doing when you've got a bucketload of submissions to review.
A good marking scheme will boost the quality of reviews and, by extension, the quality of your conference's technical programme. Define your marking scheme before you open the review phase in your abstract management system. Lay out your scoring criteria, and be clear and concise about what you expect of reviewers during the peer-review process. Add weight to certain scoring categories if they warrant it. Decide if you want to make it mandatory that reviewers write comments. And decide whether or not to make reviewer or chair comments visible to authors. 
Reviewers are key to a quality conference programme. And they're shouldering a large volume of the work needed to secure great content for your conference. So, make sure that your submission and review system is easy to use and set up correctly.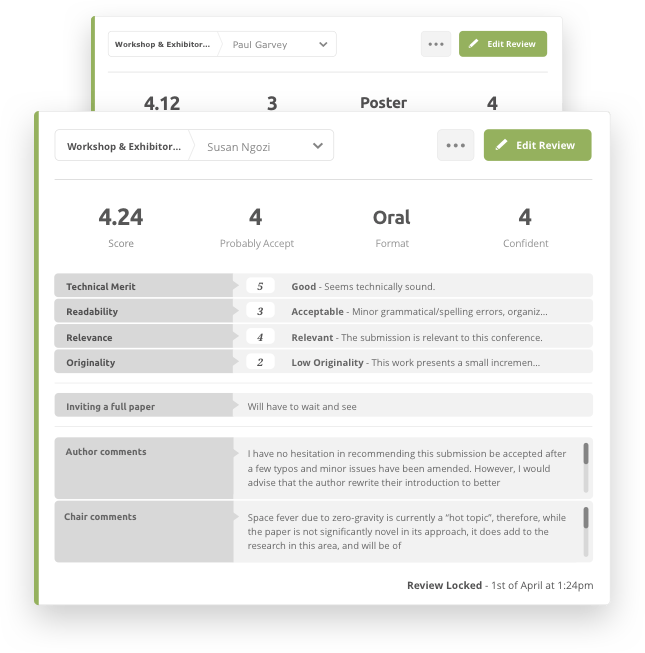 6. Agree on conference presentation types
Whether you put the focus on oral and poster presentations, or on workshops, panels, and symposia, decide how you want your accepted authors to present. Perhaps you aim for your annual meeting to have both poster sessions and symposiums, to allow for a more comprehensive overview of your conference content. 
It may seem a long way down the line, but deciding this before you configure your abstract management system gives you an advantage. It means you can ask authors to indicate which type of presentation they'd like their submission to be considered for. And it means reviewers can recommend that submissions be presented in a certain way on your conference submission platform. This will keep you more organised, and enable you to optimise the content of your conference. 
This is actually more important than ever, with delegates potentially attending in-person, virtually, or in a hybrid fashion. You need to understand the best formats to use when scheduling the work of submitting authors. 
7. Assign roles in your abstract management system
Any good abstract management system will allow you to give users different levels of permission. Before you open the submissions floodgate, decide who on your committee or events team needs an account, and what responsibilities each account should have. 
Don't let important decisions go down to the wire. Take the time to work out who will manage tasks like inviting reviewers, sending reminders, extending deadlines, or making final decisions on submissions. Ensuring each team member understands their role and responsibilities properly from the outset will quell pesky headaches down the line. 
8. Decide how you're publishing your book of proceedings
Your book of proceedings is the official record of your conference, and includes: a front and back cover, foreword, sponsors, table of contents, full list of abstracts or papers, abstract images, page numbering, and an author index. It can be published in traditional print format, or more eco-friendly digital format, available for download from your website or mobile conference app. It should be noted that mobile apps are quickly becoming a pillar of conference success and the delegate experience.
The sooner you decide how you'll be publishing your book – in print and/or digital format – the better. As sustainability becomes increasingly important across all industries, many deem the printed book of proceedings to be outdated and unnecessary. However, not everyone agrees.
The importance of giving your attendees the event experience that they want, rather than what you think they want, cannot be overstated. Hold a mirror up to your audience and ask them how you can best serve their needs. This is the kind of data that can provide real value for your current and future conferences, not just in terms of meeting delegate expectations, but also potentially sparing you the costs associated with design, formatting, and printing of hard copies. 
With a platform like Ex Ordo, you can create your book of proceedings directly from your abstract management system, using a ready-to-go template. Bear in mind you'll be making loads of changes and tweaks to your programme as your event takes shape. Because your data is available across the whole platform, any changes you make to the programme – right up to and including conference day itself – will be accurately reflected in your final book of proceedings. Magic!
9. Build in contingency time
The decisions you make when collecting and reviewing submissions in your abstract management process will have a huge impact on your conference timeline. For example, if you configure your system for a two-stage review or to collect camera-ready submissions, you'll need to leave enough time for this to take place. 
Review your whole conference timeline (see the conference timeline in our eBook, and our foolproof conference planning checklist, broken down by month and task) to make sure your deadlines are realistic. And then add in some contingency to cover you if you need to extend submission or review deadlines. If you don't add some wiggle room, you may end up scrambling to pull things together at the last minute – which could mean late nights for you and your committee. Be prepared, and give your team a cushion of time to ensure the peer review process runs smoothly.
10. Assign the correct time zone to your conference
It's easy to overlook the potential for confusion that's created by time zone differences. Make sure your abstract management system is configured to your local time zone – and then make sure your authors and delegates are aware of this. This needs to be made crystal clear, as you have more important things to do than field angry emails from authors who misread the time zone and missed your submissions deadline. 
11. Keep your content connected on a single conference management platform
Academic event planners need to use loads of varied software to keep on top of things. It can often get confusing. So, the value of being able to manage all the content for your event in one central place cannot be over-emphasised. A connected conference management system, like Ex Ordo – which provides not only dynamic abstract management capabilities for painless peer review, but also a registration system, virtual conference platform, and mobile conference app – is a game-changer for planners. 
Life's too short to stuff a mushroom. Identify a platform that works best for your conference needs, and then make sure it's well-configured for everyone to use from the get-go. If this is backed by solid support – a team of experts whom you, your team, your authors, and your reviewers can lean on – then all parties will be well primed for a straight-forward, streamlined, and thoroughly enjoyable event experience.